Rdio Bets Big On Live Radio To Stand Out In Streaming Music War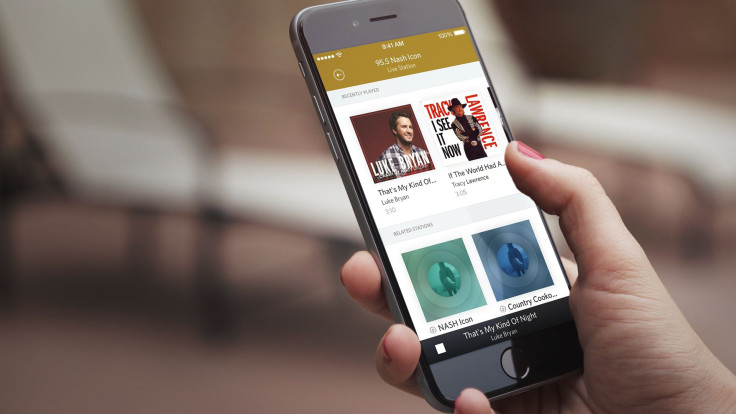 Once upon a time, it was widely assumed that streaming music services, with their fancy algorithms and bottomless catalogs, would sweep aside our radio and our record collections and usher in a new mode of music consumption. Today, those same streaming services are desperately trying to use radio broadcasts to entice users to try their services and gain market share, and if you're looking for proof, there are hundreds of new pieces of evidence airing on Rdio right now.
The streaming music service announced Wednesday that users can access nearly 500 live terrestrial radio broadcasts in the United States, all owned by the radio broadcast network Cumulus Media. The move adds Rdio to a growing list of streaming services, including Apple Music and Spotify, that have added terrestrial radio broadcasts, or elements of them, in hopes that consumers might regard them as a new way to access familiar content, rather than as purveyors of a new service that might be too unfamiliar -- and too expensive -- to sign up for.
"We wanted to continue to make the radio service the best radio service on the market," Rdio's senior vice president of product, Chris Becherer, told International Business Times. "Better than Pandora, better than any other service on the market."
Users on any Rdio tier will be able to save songs that are airing live to playlists so they can listen to them later. In addition to top stations like KFOG in San Francisco and PLJ in New York, users will be able to listen to games broadcast on CBS Sports Radio, as well as dedicated channels for things like March Madness and the Kentucky Derby.
Removing 'Unnecessary Complication'
For most of its history, there was no radio in Rdio. From 2010 to 2013, the subscription-based app leaned on its catalog of over 30 million songs, letting users decide what to listen to from song to song, or album to album.
Then in 2013, the company decided to change, after noticing that its vast catalog was satisfying only some of its listeners' needs. "Our research was showing that a lot of our users were going to Pandora too," Becherer said. "That seemed like an unnecessary complication."
To remove it, Becherer and his colleagues built a number of different kinds of stations, or audio channels, where users could enjoy a continuous stream of songs that were chosen either by an algorithm or by a team of human curators.
Of course, Becherer was not the only executive to notice Pandora's popularity in 2013. That was also the year Apple launched iTunes Radio, and Spotify had launched a free radio-style offering on mobile six months earlier.
Today, these radio-style services are a core component of every streaming service, and they are also at the heart of the services' marketing. Apple, for example, which just launched its own streaming music service, has aired an ad that promotes Beats 1 nearly six times more often than a spot that advertises Apple Music as a whole.
"We wanted to see if we could create a really interesting bridge from the old-school broadcast world to the interactive world," Becherer said. "We hope we can introduce them to Rdio through a broadcast."
Music Streaming US Market Share | SoftwareInsider
Potentially Huge Audience
But experience is only part of the story. Getting radio listeners to listen to their favorite shows through a streaming service like Rdio could give that service access to an enormous audience. Some 245 million Americans listen to the radio on a weekly basis, according to Nielsen, with listening among African-American and Hispanic audiences at all-time highs.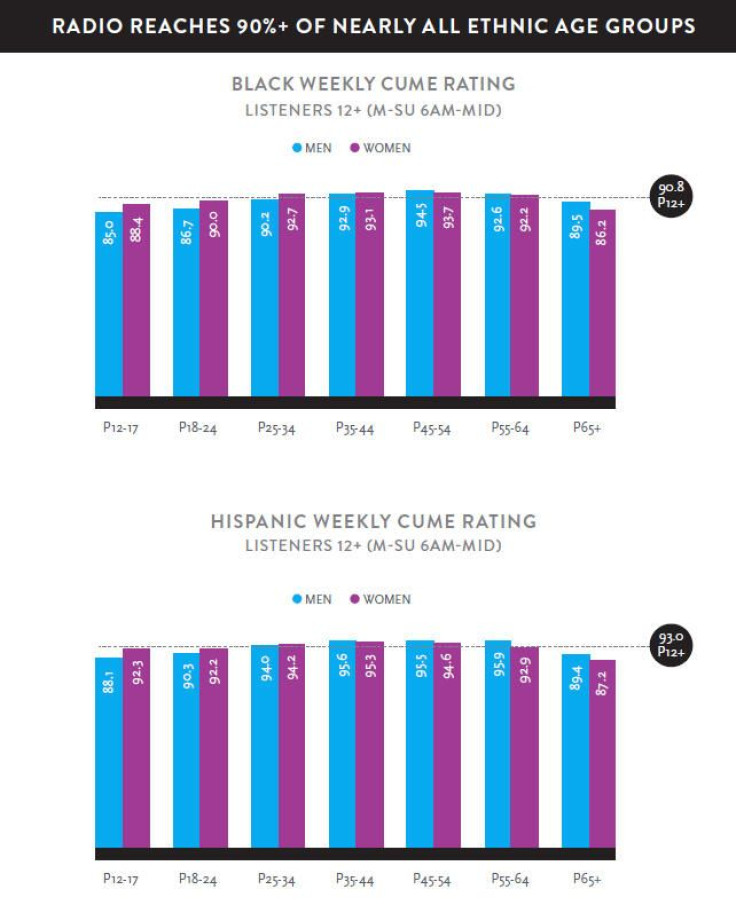 Cumulus already reaches a very healthy chunk of them. The company says it reaches 140 million people every week, which dwarfs the number of people currently using on-demand streaming services in the United States.
It is difficult to say how badly Rdio might, or might not, need that audience. The company has never disclosed how many users it has, so it is hard to say whether it's in the same weight class as Spotify or Tidal.
Regardless, offering those listeners a souped-up, improved version of a product they're already familiar with gives Cumulus and Rdio not just the chance to deepen engagement, but the chance to sell more ads; as part of their partnership, Cumulus Media now sells all of the ads heard both on terrestrial broadcasts and on Rdio's algorithmically driven stations. It can target ads to users based on their gender, age and location, and will soon be able to target people based on their music tastes.
Changes On The Air
As such, Cumulus stations and DJs are going to start talking about Rdio -- a lot. "We're in this together," Becherer said. "In radio advertising, you need to be persistent. You need a lot of call-outs on the air."
At the moment, the ads that one hears when one tunes a radio dial to a particular station will be the ads one hears when one accesses that station using the Rdio app, but the company has the ability to dynamically insert different ads during commercial breaks. As radio becomes a bigger and bigger part of Rdio, it will enable Cumulus to sell bigger ad packages around the app experience along.
How that revenue is divvied up remains a secret. A representative from Rdio called the deal's details confidential; Cumulus did not respond to requests for comment.
Taking The Show On The Road
Five hundred radio stations might sound like a comprehensive offering. But for a company like Rdio, which has pursued a globally focused strategy under CEO Anthony Bay, those stations are a drop in the bucket. "We wanted to start with a trusted partner we could iterate with," Becherer said. "But once we have it up and running we expect to be adding more."
While Becherer declined to name specific countries he would target next, he noted that Latin America and Europe are both areas where adding terrestrial radio could help Rdio stand out. "A lot of the countries we're live in do not have streaming radio services," Becherer said.
In a matter of months, that could change.
FOR FREE to continue reading
✔️ Unlock the full content of International Business Times UK for free
offer available for a limited time only
✔️ Easily manage your Newsletters subscriptions and save your favourite articles
✔️ No payment method required
Already have an account?
Log in
© Copyright IBTimes 2023. All rights reserved.