Rdio To Battle Apple Inc.'s Beats 1 With Local Radio Stations Backed By Indie Labels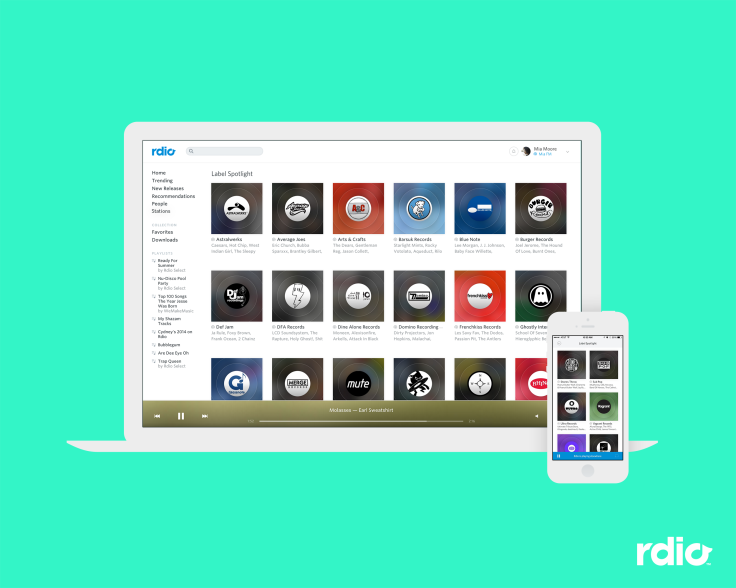 Apple Music may have Zane Lowe and Drake, but Rdio announced Tuesday it's launching specialty radio stations of its own, helmed by its own stable of tastemakers. A number of top indie record labels, including Glassnote (home of Phoenix), DFA (home of LCD Soundsystem) and XL (home of M.I.A.), along with taste-making blogs and sites including Consequence of Sound and the Hype Machine, will be launching radio stations in a number of markets around the world, including the U.S., the U.K., Canada and Mexico.
Rdio's major label partners, Sony Music India and Universal Music India, will be launching branded radio channels in India.
"In keeping with our objective of providing the world's best Internet radio experience, we are proud to partner with key influencers and the label community to program their own branded stations," Rdio CEO Anthony Bay said in a statement.
"These stations not only help extend each labels' brand presence but they also let our listeners anywhere in the world discover music from credible brands that they trust and respect."
As the war around streaming music services has intensified over the past few months, radio-style features have emerged as an early battlefront. Last month, Google unveiled a free tier of its on-demand streaming service, Google Play Music All Access, which offers access to artist- and context-specific playlist stations. Back in May, Rdio launched a cheaper, more affordable version of its service, Rdio Select, that offers subscribers unlimited access to its radio stations and the ability to download a limited amount of music onto their phones.
Apple has been busy promoting Beats 1, a live radio station with programs hosted by a number of high-profile artists and tastemakers, including the former BBC DJ Zane Lowe, star hip hop artist Drake and the indie rock luminary St. Vincent. Even LINE, a Japanese messaging app, decided that radio would be an effective way to introduce music into its ecosystem: it launched MixRadio inside its app several weeks ago.
And while features like Beats 1 or Google Play's freer tier are truly global propositions, with the same programming available in 99 and 58 countries, respectively, the label stations Rdio announced today veer in the opposite direction. Most of the stations are only available in one or two territories, and many of the labels that are debuting shows, like the Filipino label Viva Music Group, which specializes in Pinoy music, figure to have limited appeal outside of specific geographic areas.
The specificity of the label stations is in keeping with Rdio's plans to compete in a large number of markets around the world: the service is available in more than 85 countries, more than most of its competitors but behind Apple's 110 and Deezer's 180.
Whether stations like Rdio's convince consumers to sign up for one service or another could be key in determining which companies emerge as leaders in the largely untapped on-demand streaming music market; just 41 million people around the world are currently subscribed to some kind of streaming service, according to the IFPI. While some analysts say they expect the market will be big enough for multiple companies, it is unlikely that there is enough oxygen for all of its current participants, which include Spotify, Deezer, Rhapsody, Google, Apple, Amazon, Rdio and Tidal.
It is difficult to assess where Rdio lies in that dogpile – it has never publicly announced how many subscribers it has – but it seems clear that it expects radio will help it get to the top. In addition to the label stations, the streaming service also announced the launch of Rdio DJ, a new tool that makes it easier for people to creating and curating radio-style channels and sharing them.
© Copyright IBTimes 2023. All rights reserved.