'Real Housewives Of Orange County' Star Vicki Gunvalson Claims She Has 'Proof' Shannon Beador Shared Marriage Secrets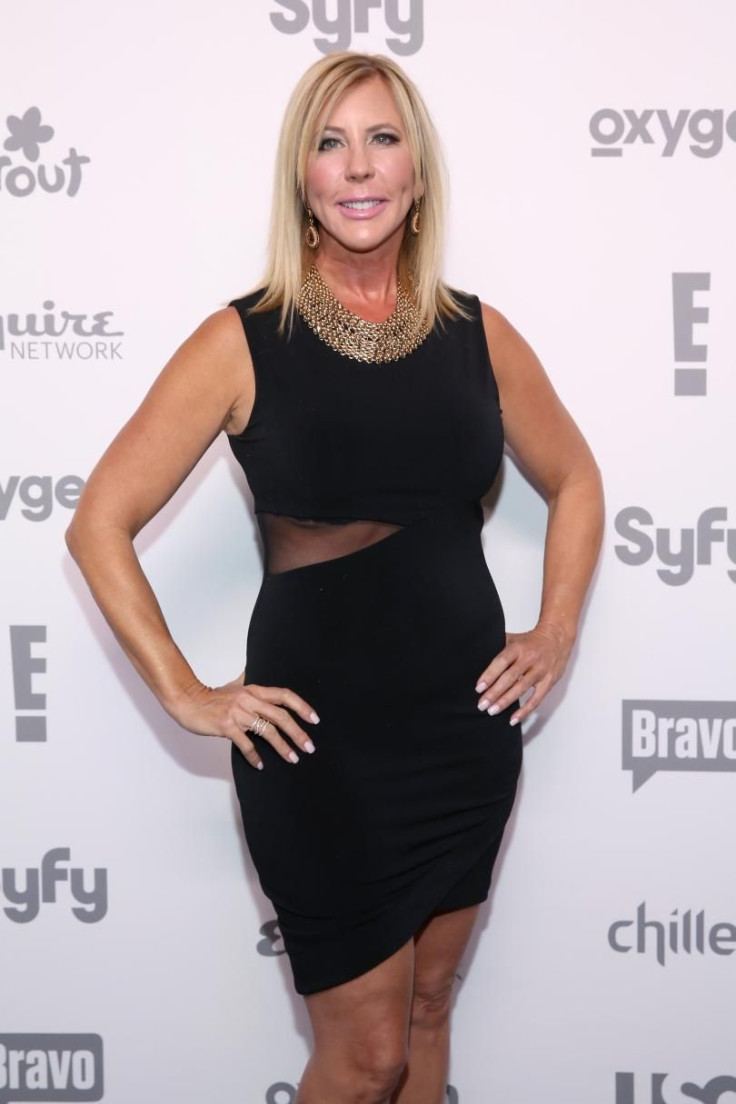 One of the most affluent areas of California has turned into a war zone following the airing of the final two episodes in Season 11 of Bravo's "Real Housewives of Orange County." Kelly Dodd and Vicki Gunvalson have officially been ostracized from the group and based on recent posts on social media, it seems they're fine with that.
While the Season 11 finale aired on Monday, Vicki took a moment to respond to fans weighing in on the drama that pitted her and Kelly against Heather Dubrow, Tamra Judge and Shannon Beador. One "RHOC" viewer tweeted that she "wouldn't be surprised" to find out that Shannon — who allowed many aspects of her struggle to cope with husband David Beador's affair be filmed for Season 10 — had shared secrets with Vicki about her relationship. The grandmother of two replied, alleging that she can can prove that the conversations, during which she claims she was told that David had been abusive to his wife, occurred.
Vicki's tweet provides a stark contrast to Vicki's outlook in the Season 11 finale of "RHOC." During the episode, she and Kelly were invited to attend a party thrown by Shannon and Heather for Tamra following her big fitness competition win. None of the women were particularly thrilled to have Kelly and Vicki in attendance, but decided not to exclude them. Vicki arrived at the party with an apology note for Shannon, whom she's been at odds with since Season 10. Shannon was less than impressed with Vicki's inability to voice her apology and made it no secret. She, Heather and Tamra spent much of their night avoiding both Kelly and Vicki, though it was only a matter of time before the drama began.
In an effort to bring about laughs — or start drama — Tamra decided to gift each of the "RHOC" ladies with a shirt that featured a fake mugshot along with the crime they'd most likely be convicted of. Vicki's shirt was, as she told viewers, intended to be a huge "f--- you," and that's exactly how it was perceived by her former BFF. The crime listed on the shirt was "lying," which Vicki said was "damaging" for her to read. From there, Kelly decided it was time to speak out, confronting Shannon about their issues. This, for some reason, seemed like the perfect opportunity for Heather to tell Kelly that she felt her problems stemmed from her being "insecure," which prompted Kelly to unleash her wrath. The spotlight then shifted from Kelly to Vicki, with Heather and Tamra teaming up to make her aware of how fed up they were. Vicki then insinuated that she — the "OG of the O.C" — may be done with "RHOC" forever.
The confrontation stems from an incident that occurred during Season 11, episode 17 of "RHOC." After a long night of partying, Kelly found herself at the center of an attack from the other "Housewives" who claimed Vicki told them she'd been speaking ill of them. On the bus back to Shannon Airport in Dublin, Ireland, Kelly fired back by alleging that Vicki had told her several secrets about the marriages of the women on the "RHOC" cast. One rumor suggested that Tamra's husband Eddie Judge had been unfaithful and was gay, while another revolved around an alleged violent incident between Shannon and David. Both Tamra and Shannon were adamant that there was no truth to either story.
© Copyright IBTimes 2023. All rights reserved.