Real Madrid Transfer News: Pogba, De Gea, Morata In? Benzema, Bale Out?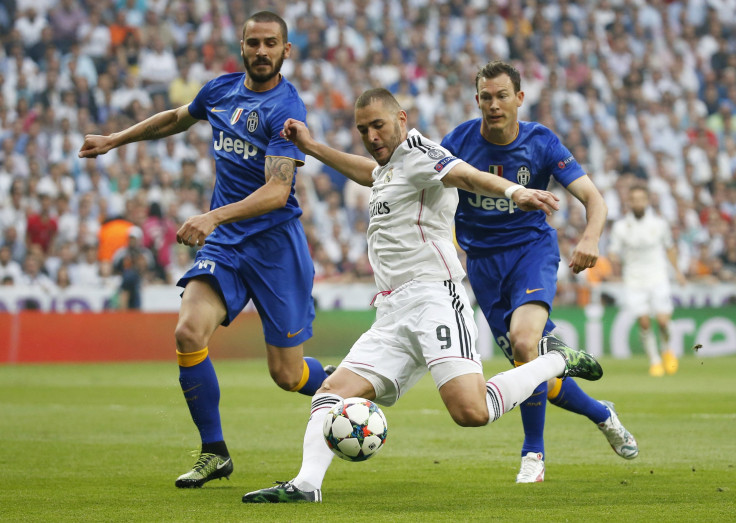 As the summer transfer session looms, Real Madrid president Florentino Perez and club supporters can only watch and brim with envy as archrivals Barcelona vie for the ever-rare treble. The Catalans sewed up the Spanish Primera title over the weekend and dismissed Bayern Munich for a spot in the Champions League final. They are also heavily favored to beat out Athletic Bilbao for the Copa del Rey, while Real Madrid look to regroup from a forgettable season.
Real Madrid is rarely down for long, and will no doubt make a serious effort to inject more talent into the squad, while allowing for young players like James Rodriguez, Toni Kroos and Rafael Varane to continue to mature. Recent reports are indicating a massive overhaul for some of the more established stars, and it appears only Cristiano Ronaldo is safe from the house cleaning.
First up on the agenda could be striker Karim Benzema. According to Daily Star, Madrid are so focused on re-acquiring striker and UCL semis spoiler Alvaro Morata from Juventus that they are willing to sell Benzema off "at the peak of his value" to "reinvest" in the younger Morata.
The separate pair of moves would require Los Blancos to trigger its £21.6 million buy-back clause in Morata's contract in order to pry him out of San Siro. Juventus signed the 22-year-old to a five-year, £15.8 million contract last summer but Madrid had the buy-back clauses inserted in the deal. However, they may have to pay a bigger premium given the buy-backs weren't supposed to be an option until the summers of 2016 and 2017.
From there, the 27-year-old Benzema, who has been linked to a Bernabeu exit many times since he joined in 2009 from Lyon, could go to a number of interested English clubs, including Manchester United, Arsenal and Liverpool.
The prolific scorer has totaled 87 goals in 188 appearances as Ronaldo's signature sidekick, but Morata is six years Benzema's junior and without even tapping into his prime has already shined bright on the sport's biggest stage. In his first season with the Serie A champs, Morata's scored eight goals in 28 appearances, a figure that could balloon should he play beside Ronaldo.
There's also the possibility Madrid cut their losses with winger Gareth Bale and allow the Welshman to make his long-speculated return to the United Kingdom after only two seasons.
Both Manchester United and Manchester City are pursuing the former Tottenham star, who has faced the wrath of Madrid supporters and Spanish media ever since he signed on with the club for a staggering £85 million. Bale has totaled 28 goals in 58 appearances since 2013, but his propensity to fade in big moments has made him a target for criticism by supporters and the media.
The Sun reported that City are so willing to thwart United's bid for Bale that they could offer as much as £80 million for his rights. That's an incredible bounty that exceeds what Barcelona shelled out for Luis Suarez last summer, and one can only wonder who Perez could acquire to put Madrid in line for a double or treble next term.
A war chest that rich could make the possible signings of United keeper David De Gea and Juventus midfielder Paul Pogba a reality. Los Blancos have been linked to the 24-year-old Spanish goalie for months, given his outstanding season with United nearly lifting the club atop the Premier League and with Iker Casillas another year older and nearing the end of his contract.
United manager Louis van Gaal stated after United's 1-1 draw with Arsenal on Sunday that he's quite aware De Gea faces a difficult decision in the coming weeks.
"It is not easy to choose between two great clubs. We would be very happy if he stays," Van Gaal said. "He is Spanish and his girlfriend is Spanish and he can go to another great club, so it is difficult for him to decide.
"David De Gea shall not leave us so easily because we are a great club and he wants to participate. He is still behind [Iker] Casillas but now a Spanish club is coming."
The presence of keeper Keylor Navas, who Madrid signed only last summer, could make the decision more difficult or easier for De Gea. And reports stating De Gea's already made his decision to join Madrid were recently called "premature" by Sky Sports. However, his somber exit from the pitch against Arsenal seemed to indicate that he might lean towards a departure.
Pogba, the 22-year-old French international with 12 goals and six assists in all competitions this term, has been tied to nearly every major club in Europe, including Los Blancos. United's Van Gaal will have £150 million to spend this summer, The Guardian reports, with Pogba being "at the top of his wishlist." Pogba only made three appearaces with United when he was on the club from 2011-2012.
Should Bale's purported sale be completed, Madrid could have enough to challenge United for Pogba, a player more than capable of feeding Ronaldo and possibly Morata at the top of the attack while creating his own scoring opportunities.
© Copyright IBTimes 2023. All rights reserved.