Real Madrid vs. Juventus 2015: News, Probable Lineups, Key Matchups For Champions League Semifinal Leg 2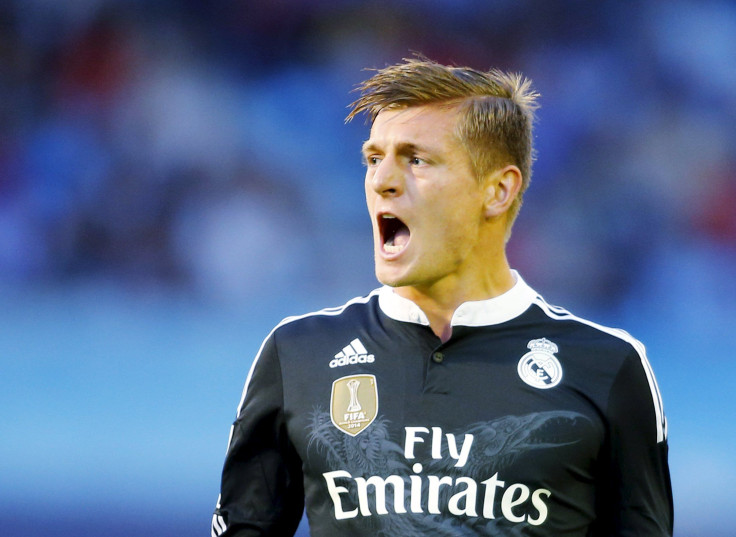 Real Madrid go into Wednesday's Champions League semifinal second leg against Juventus looking to prevent their season from further unraveling. Chasing a first Primera Division crown in three years and becoming the first team to win back-to-back Champions League titles, Madrid have seen their hopes of both suffer serious blows in the past week, while their fitness problems have deepened.
Going into the first leg of a semifinal for which they were strong favorites, Madrid were caught cold by Juventus in Turin. The Italian champions will now take a 2-1 advantage to the Spanish capital after Alvaro Morata and Carlos Tevez scored either side of Cristiano Ronaldo's equalizer. And Madrid's mood will since have been worsened by a 2-2 draw at home to Valencia that gives Barcelona a four point advantage in La Liga with just two matches remaining.
As if that weren't enough, the match also saw Toni Kroos limp off with a hamstring injury. While on Monday the German midfielder was able to do some light training, Gareth Bale sat out the session, raising doubts about his participation. Some much-needed positive news comes from the fact that Karim Benzema is expected to return after a month on the sidelines. Juventus, though, can now count upon the services of star midfielder Paul Pogba after he made his comeback in Juventus' 1-1 draw with Cagliari on Saturday. Here are three potential key matchups for the second leg at the Bernabeu.
Toni Kroos vs. Arturo Vidal
The extent of Real Madrid's need is likely to see Kroos selected even if his fitness is someway short of 100 percent. For a club of Madrid's resources that does not reflect well upon them, nor did the fact that Sergio Ramos was chosen to play in an unfamiliar and, on the evidence of his performance, clearly unsuited midfield role in Turin. It once again showed just how much they miss the balancing impact of the injured Luka Modric. Without the Croatian there will be a huge onus on Kroos to marshal what could well be a lightweight midfield trio also including James Rodriguez and Isco.
Juventus may not be able to match the wealth of Madrid's financial or playing resources, but it would be hard to argue that on Tuesday they won't be the team with the stronger, more balanced midfield. And with Madrid lacking a natural holding player, it could be a night for Arturo Vidal to provide concrete evidence that he is over a troublesome knee injury. The Chilean has been getting back into top gear in recent weeks and could be key in leading Juventus' breakaways and feeding his side's impressive front two.
Sergio Ramos and Raphael Varane vs. Carlos Tevez and Alvaro Morata
It was that front two, Morata and Tevez, that were integral to Juventus getting a first-leg win and Madrid will have to do markedly better in stopping their impressive movement and linkup play. With the Italian champions likely to have to do more defending away from home, the threat the duo provides on the counter is likely to be even more important. They could well be going up against a different defense than in Turin, however, with Ramos expected to move into the backline. The chances are that he will do so at the expense of Pepe rather than Raphael Varane, with the fiery Portuguese at fault for Juventus' opening goal last week and failing to cover himself in glory as Valencia found the net on Saturday. Whichever combination of the three starts they will have to be at their best to stop the in-form Juventus pair.
Iker Casillas vs. Gianluigi Buffon
Mutual respect abounds between the two defining goalkeepers of their generation. Casillas and Buffon have followed similar paths having both made their debuts as teenagers, spending most of their careers at one club and leading their countries to World Cup glory. Yet while Buffon, more than three years older at the age of 37, has largely maintained his consistent excellence between the sticks, Casillas continues to suggest that he is in permanent decline. When Jose Mourinho dropped the club captain three years ago it appeared a cynical demonstration of dressing-room power, but Carlo Ancelotti initially displayed little faith in the club legend either. Now the fact that he is back as the club's No. 1 feels like a political move from those above Ancelotti's head. Yet the continued speculation over David de Gea's possible arrival reflects that Casillas may not be in place for too much longer.
While he has largely avoided the spectacular errors of the type produced in last year's Champions League final and at the World Cup, Casillas still fails to breed confidence. Indeed, he has been at fault for goals in Madrid's past two matches and on Saturday earned, not for the first time, whistles from a large section of his own fans. In what could well be a game of fine margins on Wednesday, the greater stability of Juventus' goalkeeping great might just be decisive.
Probable Lineups
Real Madrid
G: Casillas
D: Carvajal, Varane, Ramos, Marcelo
M: James, Kroos, Isco
F: Bale, Benzema, Ronaldo
Juventus
G: Buffon
D: Lichtsteiner, Bonucci, Chiellini, Evra
M: Marchisio, Pirlo, Pogba
Vidal
F: Morata, Tevez
© Copyright IBTimes 2023. All rights reserved.