'Real Steel,' 'Footloose' Battle for Box Office No. 1 Spot [VIDEOS]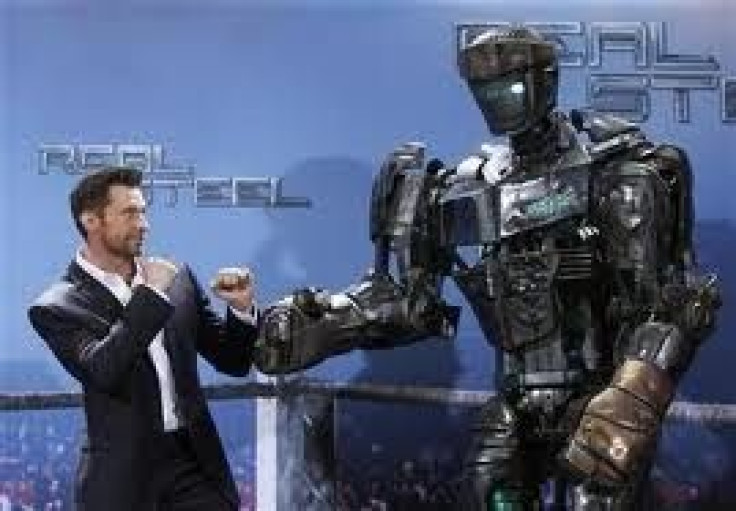 Real Steel and Footloose are battling for the top spot at the box office this weekend, with early estimates calling victory for Real Steel, according to the Web site Box Office Mojo.
Real Steel, starring Hugh Jackman raked in an estimated $16.3 million over the weekend, which would mark its second straight weekend at the No. 1 slot. Footloose, which opened this weekend, pulled in an estimated $16.1 million.
But early projections are based on estimates on Friday and Saturday and how movies typically hold up on Sunday. With a race this close in the early estimates, the two could switch places on Monday when final tallies are released.
One executive at Disney told The Associated Press that he expects Real Steel, which Disney is distributing, to remain on top. Why? Typically good family crowds on Sunday afternoons.
Absolutely, Dave Hollis, Disney's head of distribution, told The AP. The way we've been playing, the families who've been coming and the kind of day-time business we've had on each of the weekend days so far, we have the expectation that it won't be terribly close.
They're free to estimate as they will, but we expect to be No. 1.
Oh, they will, Dave Hollis. That means Paramount and its head of distribution, Don Harris.
Yes. They expect to be No. 1, too, when the final rankings are released Monday. Why? Good crowds in the Midwest and South, and the expectation that would continue through Sunday.
It's close enough to be a dead heat at this point, Harris told The AP. If we get that middle of the country that seems to be preoccupied with high school football on Friday and college football on Saturday, then it bodes well not only for a big Sunday but for the legs of the movie.
Good to know that when the final tallies come out Monday, none of this talk will even matter.
But what we can take away from early estimates is that Real Steel - the movie about robots and machines in the boxing ring - pulled in an impressive haul for the second straight weekend. The early numbers put its total at $51.7 million through two weekends and 10 days in theaters.
Meanwhile, the Footloose remake apparently did not have enough to take down the reigning No. 1. Footloose, starring Dennis Quaid and Dancing With the Stars' Julianne Hough, had not found favor with many critics. Last week, Hough responded to the criticism.
The Thing, a prequel to the 1982 horror movie, pulled in a lackluster $8.7 million in third. Things (pun intended) don't look much better for the movie next weekend, as it will have to run opposite Paranormal Activity 3.
Rounding out the top 5 were The Ides of March, which grossed $7.5 million in its second weekend, and Dolphin Tale, which grossed $6.3 million in its fourth.
© Copyright IBTimes 2023. All rights reserved.