Regulator Slams Signature Bank BOD's Claim That Takeover Was A 'Strong Anti-Crypto Message'
Officials of the New York State Department of Financial Services (NYDFS) have finally revealed the reason for their takeover of the collapsed lender Signature Bank, and while former Congressman Barney Frank claimed that the regulator's move was "a strong anti-crypto message," officials said the decision had nothing to do with cryptocurrency.
The NYDFS revealed this week that U.S. financial regulators lost faith in the leadership of Signature Bank. "The bank failed to provide reliable and consistent data, creating a significant crisis of confidence in the bank's leadership," the NYDFS shared in a statement to Bloomberg.
"The decision to take possession of the bank and hand it over to the FDIC was based on the current status of the bank and its ability to do business in a safe and sound manner on Monday," the state's Department of Financial Services added.
After the NYDFS, in coordination with the Federal Deposit Insurance Corporation (FDIC), seized Signature Bank last Sunday, it also removed the lender's top executives and said that the move was for the protection of its depositors and the stability of the U.S. financial system.
The state's DFS then placed Signature Bank into receivership, with the FDIC taking over the institution and setting up a bridge bank to serve its clients.
The bank's collapse, considered the third-largest bank failure in U.S. history, saw a surge of withdrawals which amounted to approximately 20% of the bank's deposits, Bloomberg reported, citing a person familiar with the matter.
This massive movement of depositors, who pulled out their deposits from the bank last Friday, was triggered by the $42 billion bank run that Silicon Valley Bank experienced on the same day.
Following the bank's seizure, former Congressman Frank, who was one of the Signature Bank's board of directors, partly pointed the blame on cryptocurrency.
"Digital currency was the new element entered into our system," Frank said in an interview Sunday. "A new and destabilizing — potentially destabilizing — element is introduced into the financial system. What we get is three failures," he added.
"I think part of what happened was that regulators wanted to send a very strong anti-crypto message," Frank said in another interview over the weekend. "We became the poster boy because there was no insolvency based on the fundamentals," the Democrat and former chairman of the House Financial Services Committee added.
For the former Congressman who co-sponsored the Dodd-Frank Act, Signature Bank would have been fine if state regulators did not step in and seized it since withdrawals slowed down Sunday.
"By Sunday morning, the executives of the bank believed they had satisfied the need for the data and had secured the capital from the discount window and elsewhere," Frank revealed.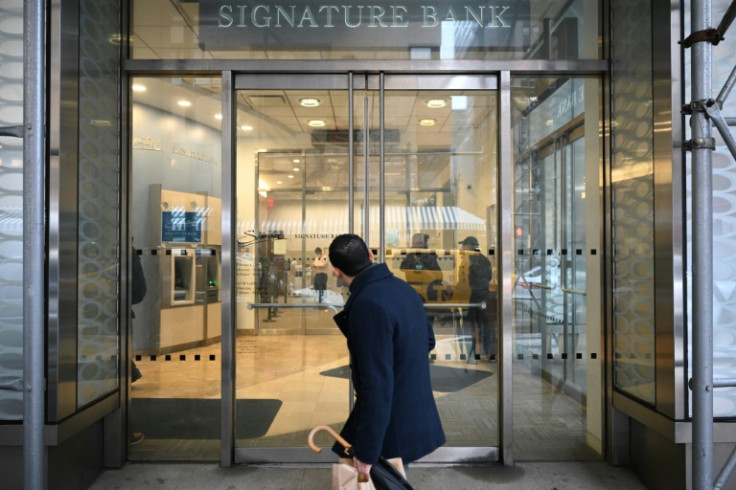 © Copyright IBTimes 2023. All rights reserved.