'Reign' Season 1 Spoilers: Episode 14 Synopsis Leaked Online; What Will Happen In 'Dirty Laundry'? [PHOTOS & VIDEO]
Mary Queen of Scots might finally be married, but that doesn't mean the drama on "Reign" is over. In fact, it might be getting worse.
When the CW show left off, Mary made her decision about who she would wed and chose Francis – but not before the two brothers got into a fistfight over her. Mary's choice left Bash in an uncomfortable situation with his family, leading Francis to threaten his life and basically exile him from the castle. But that wasn't the worst part for Bash. What really twisted the knife in his heart was when King Henry forced Bash to watch Mary and Francis consummate their marriage. By the end of episode 13 Bash was on his way out of the castle with two guards when they attempted to take his life.
Fortunately Bash managed to save his own life, but as episode 14 teases, he still has a rough road ahead of him. The synopsis teases that he'll encounter a "confused and terrified" young woman named Olivia, who managed to escape the "terrors of the woods." Risking his life, Bash will turn to Nostradamus in an effort to help Olivia and get to the bottom of the dangerous beings lurking in the woods.
As Bash is pulling his "knight in shining armor" duty, Mary and Francis will be returning from their honeymoon. And while the couple should be in bliss, Mary will instead be focused on a suspicious acting Lola. Her friend's strange behavior will lead Mary to uncover a "deception that changes everything."
And what might that deception be? More than likely Lola and Francis' hot hookup!
As TV Line reveals, Francis' fling with Mary's lady in waiting will come back to bite him because Lola is "still very much hung up on Mary's new husband." Will Francis take Lola as a mistress? Will Lola betray Mary?
Meanwhile King Henry will find himself "in a predicament that only his wife Catherine can get him out of." It seems safe for "Reign" viewers to assume that Henry must be pretty desperate to turn to Catherine.
Fans will have to wait and see what will happen when episode 14 of "Reign" airs on The CW on Thursday at 9 p.m. EDT. Check out the photos and video and let us know your thoughts by tweeting to @AmandaTVScoop.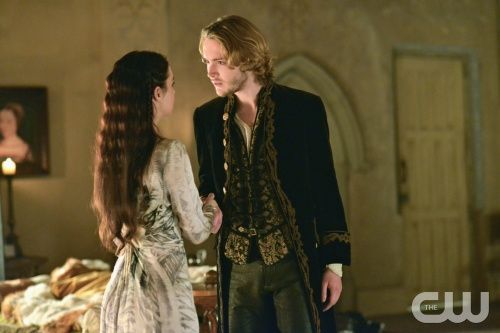 © Copyright IBTimes 2023. All rights reserved.