Remembering Robin Williams: How 'Mork & Mindy' Launched His Career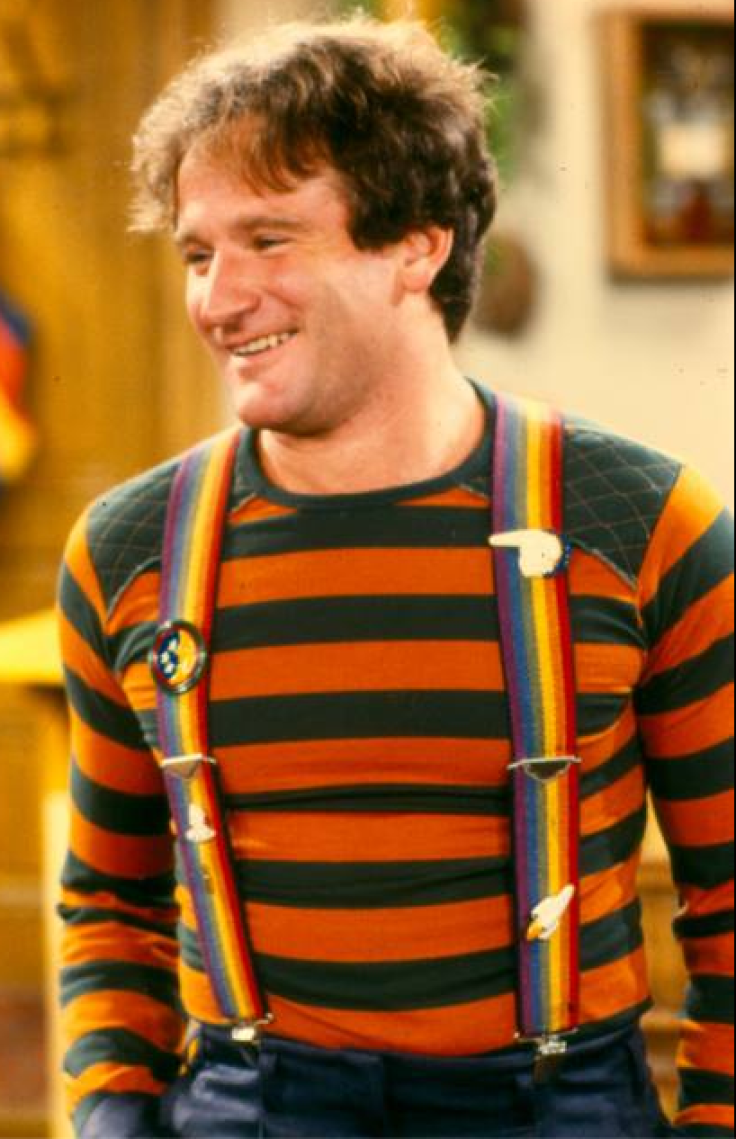 Robin Williams seemed to come from another planet, making it only fitting the iconic actor was introduced to many as an alien. The comedian, who was found dead of a suicide Monday, was such a dominant force in his film career, some fans may have overlooked the television role that launched a thousand characters: the strange alien named Mork from Ork.
Though he eventually starred on his own show, "Mork & Mindy," Mork was first introduced on "Happy Days," toward the end of its run when execs were trying to keep the show fresh. The inspiration for the character was producer Garry Marshall's son, who had just seen "Star Wars" and asked why "Happy Days" couldn't have an alien? In the auditions for the role a young Williams walked into Marshall's office and, when asked to take a seat, turned upside down on a chair with his head in the seat. Marshall gave Williams the role, saying, "He was the only alien to audition" for the part.
On Feb. 28, 1978, Mork knocked on the Fonz's door and Robin Williams was unleashed on the world. In the episode, "My Favorite Orkan" (a riff on the popular 1960s show "My Favorite Martian"), Mork tries (and fails) to take Richie Cunningham back to Mork's home planet of Ork. The character was not meant to last more than an episode, but Mork was so popular a spinoff series was soon in the works, aided by a contractual agreement between Paramount and ABC that required the network to pick up a certain number of shows from the studio, like it or not.
"Mork & Mindy" debuted on Sept. 14, 1978, starring Williams and Pam Dawber as his roommate and eventual wife. The series was set in Boulder, Colorado, where Mork learned the customs of life on earth, guided by Mindy and her family and friends. With Williams' innovative improvisational skill, the series soared in popularity, overtaking its parent series "Happy Days" in the ratings its first year and earning an Emmy nomination for Outstanding Comedy.
"Mork & Mindy" writers had an easy job in writing Mork. All they had to do was let Robin Williams be himself. At a press conference for his last TV show, CBS's "The Crazy Ones," Williams reminisced about the writers' reliance on his improvisational skills. "Literally they would put in the script, 'Mork does his thing here,'" Williams recalled, "which was just like 'Riff, riff little white boy. Here we go!'"
But the show was never able to duplicate the success of its debut season. ABC, in an attempt to reach a younger audience, moved "Mork & Mindy" to Sunday nights, where, in competition with CBS's "Archie Bunker's Place" and NBC's "The Sunday Big Event," the show's ratings dropped drastically -- counter to the expectations of ABC studio heads. ABC continued to toy with the show, giving a timely disco reworking of the theme song and constantly changing up the cast. The ever-changing show struggled to find an identity and, after 4 seasons and 95 episodes, ABC canceled the series.
"Mork & Mindy" was short-lived, but it launched an enduring and influential career. Though strange and new in the 1970s, Williams' comedy helped pave the way for the experimental, non-sequitur style that would penetrate iconic TV shows from "Seinfeld" to "It's Always Sunny in Philadelphia." In a now-tragic bookend, Williams returned to the small screen for one of his final roles, as a lead in CBS's "The Crazy Ones," which premiered in September. The series was canceled after one season, but Williams was nominated for a People's Choice Award for his performance.
What show or movie will you most remember Robin Williams for? Tweet your thoughts to @Ja9GarofaloTV.
© Copyright IBTimes 2023. All rights reserved.