Republican Ben Carson 'Disturbed' Over Transgender Civil Rights, Calls Debate Over Gender 'Absurd' And Harmful To Children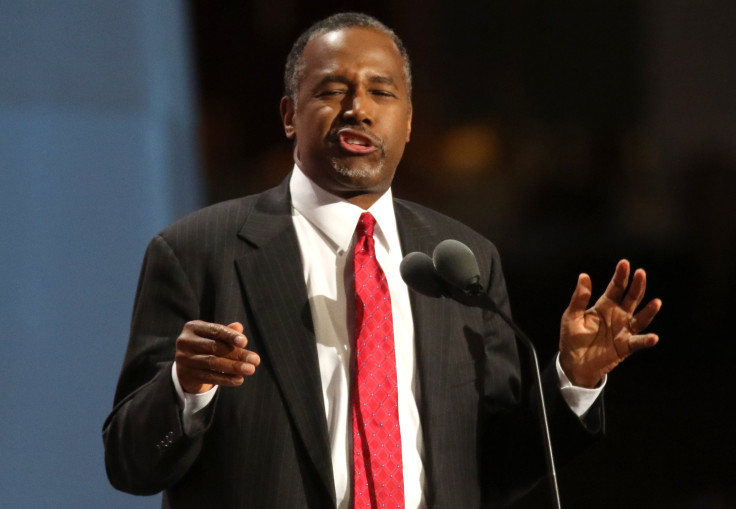 Former Republican presidential candidate Ben Carson called transgender people "absurd" hours before he addressed the Republican National Convention Tuesday night to defend GOP values. Carson was meeting with Republican delegates from Florida Tuesday when the former neurosurgeon said it was "the height of absurdity" for people to question the definitions for man and woman, the Palm Beach Post reported.
"You know, we look at this whole transgender thing. I got to tell you: For thousands of years, mankind has known what a man is and what a woman is. And now, all of a sudden we don't know anymore. Now, is that the height of absurdity? Because today you feel like a woman, even though everything about you genetically says that you're a man or vice versa?" he said. "Wouldn't that be the same as if you woke up tomorrow morning after seeing a movie about Afghanistan or reading some books and said, 'You know what? I'm Afghanistan [sic]. I know I don't look that way. My ancestors came from Sweden, or something, I don't know. But I really am. And if you say I'm not, you're a racist.' This is how absurd we have become!"
Carson said he was "disturbed" that "secular progressives" have made transgender issues a civil rights concern. "We have to be willing to call out people for this absolutely ridiculous stuff that they're trying to put over on us, that they're trying to put over on our children," he said.
Carson, who was twice baptized under the Seventh-day Adventist faith, has long had a difficult relationship with LGBT activists. He has said in the past that transgender people should get their own bathroom because it "is not fair for them to make everybody else uncomfortable." He has has said being gay is a choice, according to Yahoo News.
After Think Progress tweeted Wednesday about Carson's views, the ACLU tweeted back with a curt "no."
Carson largely used his platform at the Republican National Convention to attack presumptive Democratic presidential nominee Hillary Clinton.
"What would Hillary Clinton do if she was in fact president," Carson said. "We the people have the necessary obligation to fight this."
He added: "The secular progressive agenda is antithetical to the principles of the founding of this nation."
© Copyright IBTimes 2023. All rights reserved.