Republican Debate: CNN Reveals Candidate Lineup, Podium Layout For Tuesday's Matchup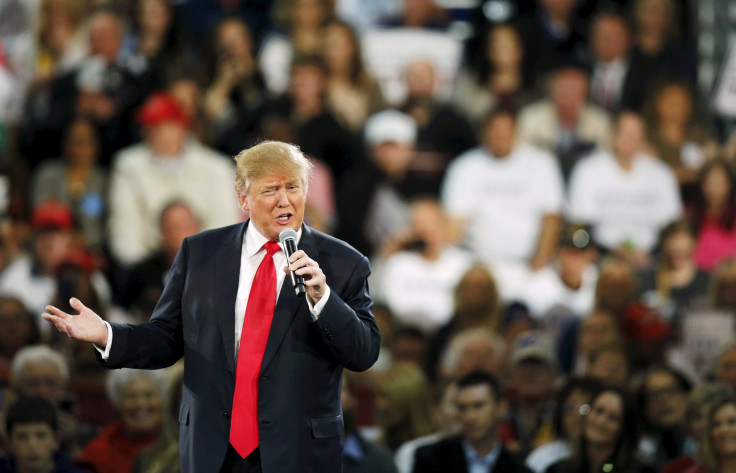 The last Republican debate of 2015 will see New Jersey Gov. Chris Christie reappear on the main stage after having been banished to the roster of also-rans in the last matchup of those seeking the GOP presidential nomination. Nine candidates will duke it out Tuesday evening in Las Vegas on the cusp of the official kickoff of the 2016 election season, which begins with the Iowa caucuses on Feb. 1, CNN said.
Front-runner Donald Trump is slated to take the center position, flanked on the right by Texas Sen. Ted Cruz, former Florida Gov. Jeb Bush, Christie and Sen. Rand Paul. On his left will be retired neurosurgeon Ben Carson, followed by Florida Sen. Marco Rubio, businesswoman Carly Fiorina and Ohio Gov. John Kasich. The main debate starts Tuesday at 8 p.m. EST.
Prior to the main event, CNN also will host an early debate comprised of four candidates — former Pennsylvania Sen. Rick Santorum, former Arkansas Gov. Mike Huckabee, South Carolina Sen. Lindsey Graham and former New York Gov. George Pataki. This debate starts at 6 p.m. EST.
To qualify for the main stage, candidates had to meet one of three criteria of early state polls conducted between Oct. 29 and Dec. 3 -- an average of 3.5 percent nationally, 4 percent in New Hampshire and 4 percent in Iowa. In addition, their positions on the podium were determined by the average of national polls conducted between November and December.
Sen. Paul almost didn't make the make the main stage. But a poll released by Fox News on Sunday saved him at the last minute with 5 percent support from Iowa respondents. While Christie was previously relegated to the undercard round of the last Republican debate, a poll performed by WBUR found his support surging to 12 percent in New Hampshire, up from 6 percent in November. Meanwhile Trump continues to hold a commanding lead with 27 percent support in New Hampshire. But in Iowa, Cruz leads Trump by 2 percentage points with 28 percent support, according to the Fox News poll.
© Copyright IBTimes 2023. All rights reserved.
FOLLOW MORE IBT NEWS ON THE BELOW CHANNELS