Republican Presidential Debate: Jon Huntsman Gets Aggressive
ANALYSIS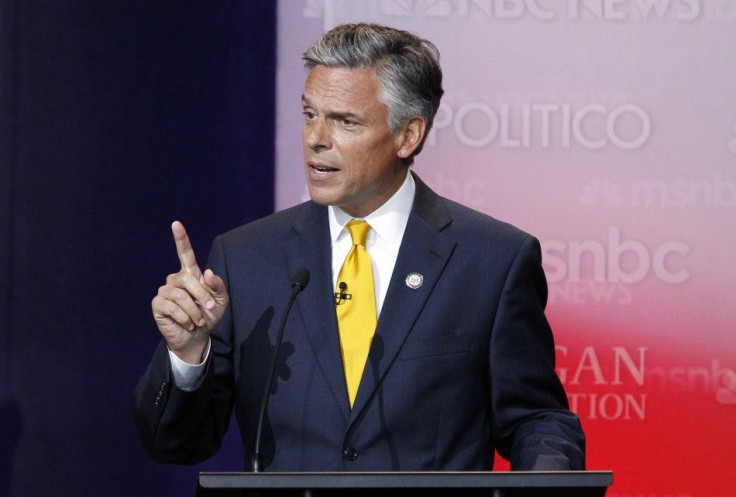 Former Utah Gov. Jon Huntsman delivered a forceful performance during Wednesday's Republican presidential debate, drawing on his experience as a governor and an ambassador to China to distinguish himself from heavyweights Mitt Romney and Rick Perry.
Huntsman has struggled to propel himself into the top tier of candidates, and on Wednesday he made his case by directly challenging Perry and Romney, considered to be the main contenders for the GOP nomination. He also invoked his jobs-creation record from his tenure as governor, offering a rebuttal to Perry and Romney's squabbling over who had been a more effective jobs creator.
Huntsman has faced criticism for serving as the Obama administration's ambassador to China, but he sought to turn that weakness into an advantage. Romney recently released an economic plan that called for sanctions against China artificially devaluing its currency, and Huntsman seized on a question about that proposal to underscore the expertise he had gleaned.
I'd have to say, Mitt, now is not the time in a recession to enter a trade war, Huntsman said.
On President Barack Obama's health care overhaul, Huntsman drew a contrast between Perry's outright denunciation of the law and the health care reform he oversaw in Utah, addressing Perry as Rick during his response and noting that we did better than Rick, in terms of covering the uninsured, and we don't have a mandate.
I believe that once Obamacare is repealed -- and it will be -- the question will then be, what do we do now? said Huntsman. And I'm here to tell you that what we did in Utah is going to be a perfect example of what we do now.
Further sharpening his differences with Perry, Huntsman again critiqued the Texas governor for questioning the validity of climate change and evolution.
When you make comments that fly in the face of what 98 out of 100 climate scientists have said, when you call to question evolution, all I'm saying is that in order for the Republican Party to win, we can't run from science, said Huntsman. We can't run from mainstream conservative philosophy.
© Copyright IBTimes 2023. All rights reserved.