Republicans Gather At Texas Megachurch To Shore Up Evangelical Support For 2016 Election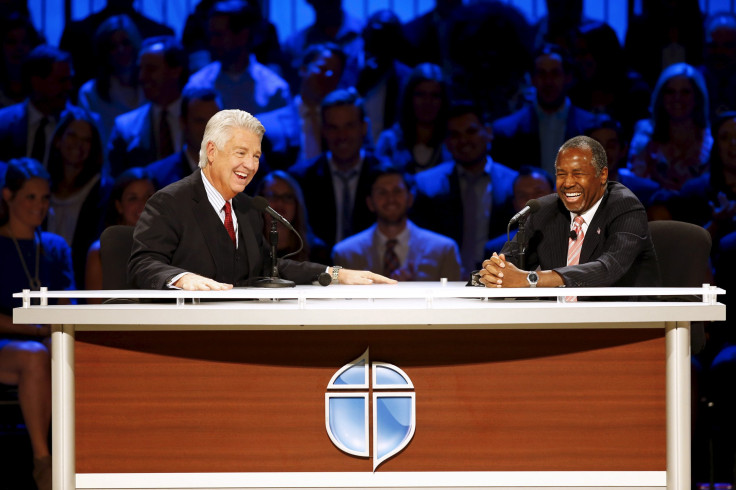 Six Republican presidential candidates gathered at a megachurch in Plano, Texas, to tout their bona fides when it comes to religious liberty and other matters of faith -- issues that evangelical voters have prioritized in national elections. While those subjects may not be an overall priority for voters nationally, winning the evangelical base is still seen as critical for any Republican hoping to earn the party's nomination.
The Faith and Freedom Coalition, a nonprofit organization founded by Christian Coalition founder Ralph Reed, partnered with the fast-growing "megachurch" Prestonwood Baptist for Sunday's presidential forum. The group invited all presidential candidates to the four-hour event, which drew some 7,000 spectators, but none of the Democratic candidates accepted the invitation, nor did Republican front-runner Donald Trump.
But former Florida Gov. Jeb Bush, retired neurosurgeon Ben Carson, Texas Sen. Ted Cruz, former HP CEO Carly Fiorina, former Arkansas Gov. Mike Huckabee and former Pennsylvania Sen. Rick Santorum all took to the stage to woo the evangelical voters, who will play a key role in choosing the Republican party's nominee. Issues discussed at the event ranged from abortion to religious liberty protests in the wake of the Supreme Court decision on gay marriage. All candidates attempted to drive home the point that religious freedom is under attack and the country needs more conservative leaders with Christian roots to steer the nation back on course.
"Religious liberty is under threat today like it never has been in this nation," Cruz said. "As these threats grow darker and darker, they are waking people up in Texas and the country."
Carson, who already is popular with many evangelicals and currently is second in popularity behind Trump in the Republican race, drew applause and a standing ovation when he said it's "time for us to bring God back to our country."
Bush emphasized the need to balance the rights of gay Americans with those who have certain religious values. "We need to pass laws at the federal and state level to protect religious conscience," he said. "A big country should be able to sort these things out."
Believers Beware
The majority of Americans don't prioritize religious faith as an important criterion when it comes to choosing a president -- a May poll from the Barna Group found only 9 percent of American adults look at a candidate's religious faith. But that number jumps significantly when considering evangelical voters: 45 percent said it was the most important factor.
And while evangelicals made up just 26 percent of the electorate in the 2014 midterms -- a rate consistent with previous elections -- they're still the constituency that serves as the gateway to the Republican nomination. Republican candidates are gunning for these voters in the early primaries in Iowa, South Carolina and Texas where evangelicals play a big role.
The Texas primary, set for March 1, is earlier than usual this year and may carry some unusual significance. It's no wonder the forum was held there; Prestonwood, the megachurch that hosted and co-sponsored the forum, boasts about 40,000 members at its various campuses in the Dallas area alone.
"This event is important for Republican party politics," Jim Riddlesperger, a political science professor at Texas Christian University, told the Dallas Morning News. "It's a significant opportunity for them to get exposure. They are beating the bushes for votes, and when there's a significant opportunity, they will take it."
© Copyright IBTimes 2023. All rights reserved.