Republicans Loeffler, Perdue Endorse $2,000 Checks As McConnell Hints At Senate Roadblocks
KEY POINTS
Kelly Loeffler and David Perdue have thrown in with a bipartisan coalition demanding the Senate pass $2,000 relief checks
McConnell has been resistant, saying that any measure must include an investigation into voter fraud allegations and a repeal of section 230
Bernie Sanders says if the Senate doesn't vote, he'll hold them in session over New Year's
Georgia Republican Sens. Kelly Loeffler and David Perdue, who both face a runoff election on Jan. 5, are supporting a bipartisan coalition for Senate Majority Leader Mitch McConnell to bring $2,000 relief checks to a vote. The proposal passed the House on Monday, but McConnell has hinted that he'd resist the efforts unless they were bundled with less popular legislation from President Trump.
McConnell has already blocked an attempt to pass the checks through unanimous consent Tuesday, saying that any increase to relief checks must include Trump's repeal of section 230 protections for social media platforms and an investigation into Trump's wild accusations of voter fraud.
"Those are the three important subjects the President has linked together," McConnell said. "This week the Senate will begin a process to bring these three priorities into focus."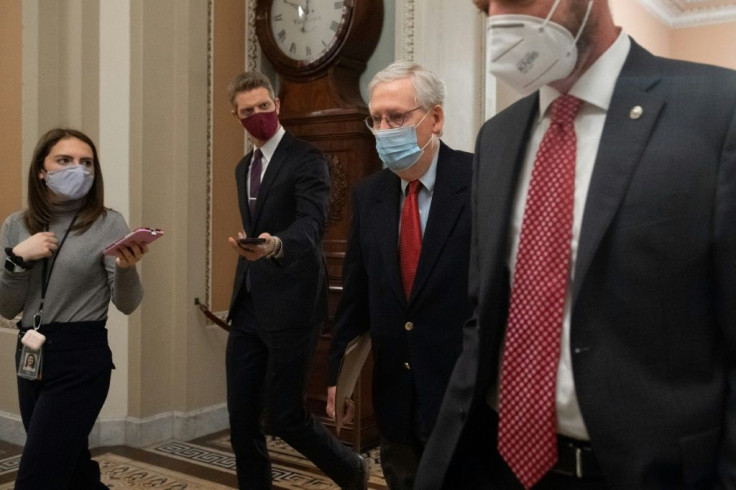 McConnell may find more resistance than he expects. A growing number of Republican senators are calling for a distinct relief check bill. That list includes Loeffler and Perdue, the embattled senators who are in a tight race to hold their seats. Other prominent defectors include Marco Rubio of Florida and Josh Hawley of Missouri.
"I agree with the President that millions of working-class families are in dire need of additional relief," Rubio said in a statement. "I share many of my colleagues' concern about the long-term effects of additional spending, but we cannot ignore the fact that millions of working-class families across the nation are still in dire need of relief."
The tight timeline of McConnell's other priority, overriding Trump's veto of the annual military spending bill, gives these senators more leverage. House procedures can easily bog down if sabotaged, and Sen. Bernie Sanders, D-Vt., has pledged he won't let the Senate go home until checks are brought up for a vote.
"Let me be clear: If Senator McConnell doesn't agree to an up or down vote to provide the working people of our country a $2,000 direct payment, Congress will not be going home for New Year's Eve," Sanders said in a statement Monday. "Let's do our job."
That delay could prove disastrous for McConnel's coalition if Loeffler and Perdue are kept from campaigning. Trump has also voiced support for Sanders, promising a fight if McConnell ignores him.
© Copyright IBTimes 2023. All rights reserved.