Resist Trump: Bernie Sanders, Elizabeth Warren Spearhead Battle Against POTUS' Repeals, Cabinet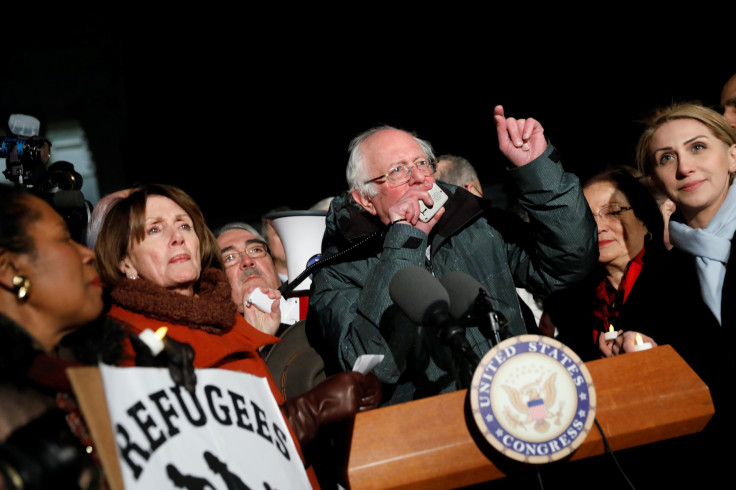 A resistance movement is breathing life back into the embattled Democratic Party. Several opposing voices on the left are gaining ground in popularity as they battle against President Donald Trump's controversial executive orders, including a travel ban on seven Muslim-majority nations and repeals slashing federal regulations meant to prevent another catastrophic economic downturn.
Sen. Bernie Sanders of Vermont has become one of the Democratic Party's most influential figures in the wake of its political upset in the 2016 election, taking on Trump at every turn; from rejecting the president's orders allowing the Keystone XL and Dakota Access pipelines to resume construction, to the White House's immigration ban which sparked massive protests across U.S. airports over the weekend.
Also leading the pack is Sen. Elizabeth Warren of Massachusetts, an anti-Wall Street crusader against who has taken a decisively more active role in opposing Trump. Warren spearheaded resistance efforts following Trump's travel orders, delivering a speech at Boston's Logan International Airport Saturday night.
"We will make our voices heard all around this world," Warren said over a speakerphone to a group of demonstrators Saturday. "We have all heard about this order that President Trump has given. It is illegal. It is unconstitutional. It will be overturned."
"An attack on anyone for their religious beliefs is an attack on the very foundation of democracy," Warren continued. "We will not turn away children, we will not turn away families, and we will not turn away people who tried to help Americans. We will not turn away anyone because of their religion. We are a better people than that."
Sanders then continued the battle against Trump's travel ban on Monday night, speaking at the steps of the Supreme Court in Washington, D.C., with a number of other Democratic leaders, including Senate Minority Leader Chuck Schumer and House Minority Leader Nancy Pelosi.
"Thank you all for coming out tonight to send a very loud message to Mr. Trump, and that is your ban in denying people the right to visit our country contradicts everything that this country stands for," Sanders said to cheering protesters Monday night. "Our job is to bring people throughout the world closer together, not to divide them up. Not only is this ban a violation of what we as American's stand for, it will make us less safe, not more safe."
Meanwhile, the two Democrats have been rallying their party to vote against several members of Trump's incoming Cabinet – though their efforts will likely be derailed by Republicans, who have just enough votes to appoint each of the president's nominees without any Democratic support. Sanders was vocal in his opposition to Betsy DeVos, Trump's pick for secretary of education, in an email sent by his press office to International Business Times Tuesday.
"I voted against Betsy DeVos for secretary of education. We must strengthen public education in America, not destroy it," Sanders said in the statement. "In the richest nation in the history of the world, we need to move toward universal childcare and free tuition at public colleges and universities. We must have a qualified and knowledgeable secretary of education, not a multi-billionaire who with her family has made hundreds of millions in campaign contributions to Republicans and right-wing causes. The U.S. Senate should not approve Betsy DeVos as secretary of education."
© Copyright IBTimes 2022. All rights reserved.
FOLLOW MORE IBT NEWS ON THE BELOW CHANNELS