How Many People Are Detained? Trump's Immigration Ban Could Skyrocket Detention Populations To Millions Annually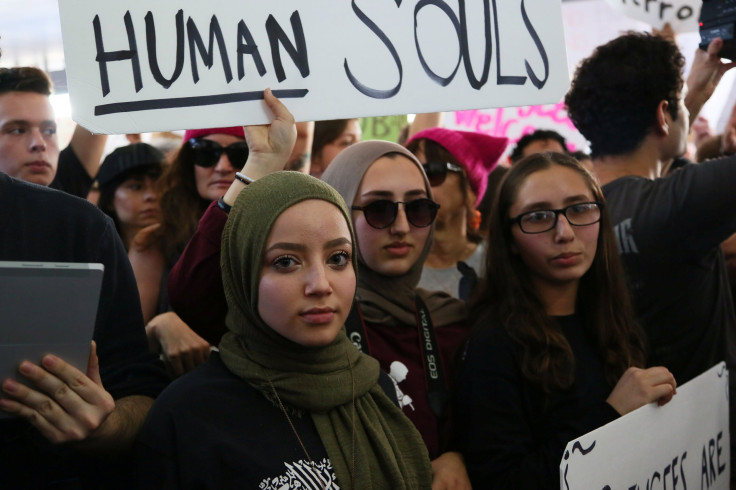 President Donald Trump's ban on immigration from seven Muslim-majority nations sent shockwaves across America over the weekend when countless permanent residents, visa holders and immigrants were detained in U.S. airports for questioning and potential deportation, sparking massive protests in terminals and baggage claim centers.
Trump's executive orders were blocked by four federal judges, and by Monday everyone being indefinitely held in airports had reportedly been released to return home, with a number of those being deported to their respective native nations. But the president's orders have communities fearing Trump could seek to expand America's detention center population.
More than 440,000 immigrants are detained each year in over 200 detention centers throughout the nation under former President Barack Obama's administration. But Trump's White House could send those populations into the millions if the president fulfills certain campaign promises as he's done during his first several days in office. Those promises include deporting up to 3 million people within his first 100 days as well as building new detention centers along the U.S.-Mexico border.
Trump's closest allies and advisors said the president was keen on his promised deportations and travel bans despite opposition efforts. Former New York City Mayor Rudy Giuliani, who was reportedly considered for a position on Trump's White House cabinet, said the president asked him to form a coalition to create a legal "Muslim ban" while expressing the need to detain as many immigrants in the U.S. as possible, during an interview with Fox News Saturday night.
"What we should do is, first of all, we should develop detention centers for them… they should go into a detention center," Giuliani said Saturday night. "They should be held! They should be held, and then we should exert all the pressure that we have – which is enormous, by the way – to deport them to the countries where they're supposed to go to."
The American Civil Liberties Union, the nonpartisan civil rights organization, previously warned of detention center populations and deportations increasing under Trump as a "human rights crisis waiting to happen" during an interview with International Business Times. But this weekend was the first sign the president certainly intends on keeping his word – even if it creates backlash from his loudest opponents.
© Copyright IBTimes 2023. All rights reserved.