Trump's Regulation Executive Order: How It Works And Which Rules The Administration Will Go After First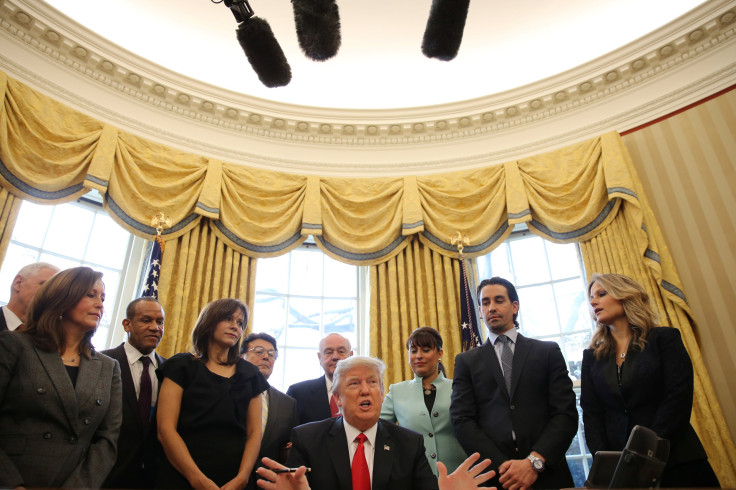 President Donald Trump's latest executive order, often referred to as a "two for one" rule, will make it extremely difficult for executive agencies to introduce new regulations and may terminate major laws at the Environmental Protection Agency and parts of the Dodd-Frank Wall Street Reform Act, experts told International Business Times. Still, such repeals may be more difficult to enact than the administration thinks.
The new action states that for every new regulation introduced to the Office of Management and Budget, two must be "repealed," and the "total incremental cost of all new regulations, including repealed regulations" must amount to a cost of "no greater than zero."
The order does not require simultaneous removal of the two rules set for repeal with the introduction of the new regulation, and exempted national security and military rules, an official told Reuters.
But it will certainly make new regulations hard to enact, as it requires agency rules to have zero costs, according to Thomas Lenard, a senior fellow and president emeritus at the Technology Policy Institute, a think tank that focuses on regulation in the information sector.
"There's been an order for 35 years requiring agencies to present a cost-benefit analysis," Lenard said, referring to former President Ronald Reagan's 1981 executive order, which sought to decrease the cost of regulation by forcing government bodies to show that rules harbored a positive financial outcome.
"This doesn't talk at all about the benefits of regulation."
The law, he added, lacked clarity, but would most likely "just put a break on the issuance of new regulation," rather than result in a litany of repeals, as the processes of implementing and rescinding rules are the same. That process can take months and even years.
"To repeal a regulation, you'd have to go through the same process—the sort of notice and comment process," Lenard said, noting that this will only happen in the event the rule is actually enforced. "It's not always automatic when word goes out from the White House."
The rule will certainly give the Office of Management and Budget plenty of power to reject new regulations, said Joseph Rubin, senior counsel at the Washington, D.C.-based corporate law firm Arnall Golden Gregory, LLC. While Rubin added that the extensive repeal process will render the order less effective than the administration might like, it could streamline a surplus of rules among executive agencies.
"The perception is that there are a lot of rules that overlap, but some might be more efficient than others, or some might cost more than others," he said, citing job-training programs as an example. "If there's a new way to do job training, this [order] says get rid of the least effective ones and find a better one … They're trying to look at it from an overarching perspective."
Although Rubin said he expected the main impact of the law to be a "moratorium on new rules," he did list EPA laws as regulations that could come under fire, especially given the appointment of former Oklahoma Attorney General Scott Pruit, who has spent years combatting EPA regulation.
One EPA law vulnerable to repeal is a proposal to ban chlorpyrifos, the chemical used in insecticides suspected of causing negative neurological, psychological and behavioral changes in children, particularly when their mothers are exposed to the toxin while pregnant. The deadline for its comment period is March 31, allowing regulators and members of the relevant industry ample time to question certain portions ahead of implementation.
Rubin also listed the Dodd-Frank Wall Street Reform and Consumer Protection Act as a law that could come under fire, specifically its rule requiring companies to publicly disclose payments made for the right to commercial use of another country's oil, natural gas and mineral deposits—something long opposed by ExxonMobil Corp. Not only has Trump expressed his desire to "dismantle" Dodd-Frank as recently as Monday afternoon, but his nominee for Secretary of State, former Exxon Chief Executive Rex Tillerson, is likely to be confirmed by the Senate this week.
© Copyright IBTimes 2023. All rights reserved.
FOLLOW MORE IBT NEWS ON THE BELOW CHANNELS