'Revenge' Season 4 Spoilers: David Reveals Shocking Betrayal In Episode 6 [RECAP]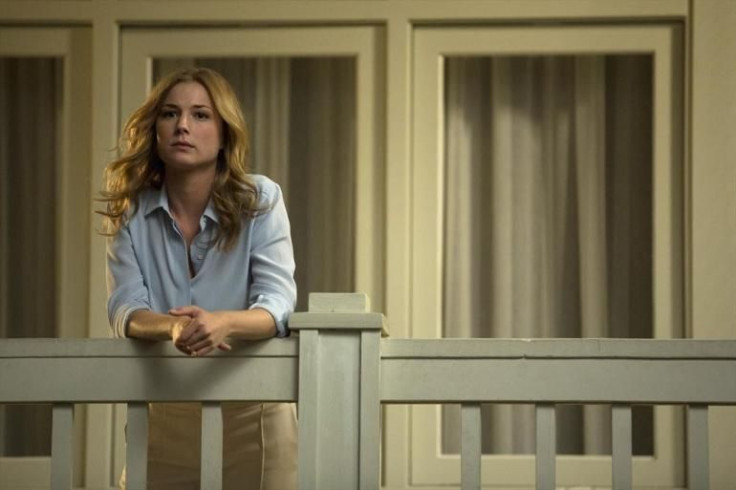 We knew David's (James Tupper) return to "Revenge" would cause drama but we definitely weren't anticipating his reprisal to be this destructive! Episode 6 of the hit ABC drama teased just how dark David's mysterious storyline would be in the Season 4 episode "Damage."
Tonight's installment of "Revenge" kicked off with David revealing to Victoria (Madeline Stowe) why he was so enthusiastic on participating in the live interview, which was set up through his manipulative daughter. According to David, he wanted to explain to the world (and for those who thought he was still guilty) that he wasn't a terrorist or a threat. But by the time "Damage" concluded, David's danger-levels rose to an all-time high after Emily (Emily VanCamp) discovered a shocking truth that her father was hiding.
After doing some major digging around, Emily finally pieced together the puzzle of her father's warped story that proved he wasn't held captive by Conrad (Henry Czerny) in a prison. In fact, Emily came to the conclusion that her father had staged the entire dungeon-esque prison (thanks to some rust) in order to hide something even more traumatizing. And because of that, her desire to reveal the truth to her father about being his daughter was once again been postponed. Talk about a slow burn!
Emily wanted to find out her father's motives before dropping the bomb on him that "Amanda" was actually alive, a move Nolan (Gabriel Mann) wasn't too fond of. Unfortunately, poor Nolan is the one feeling the repercussions of Emily's lies -- in the form of a bloody nose.
David was convinced that Nolan had betrayed him and his daughter. Instead of giving Amanda the money (that David had compiled for his daughter) like instructed, David believed that Nolan had stolen his daughter's inheritance and spent it himself -- an allegation that was made on live TV.

"She died without knowing that you betrayed her, that you betrayed me, and for that, I will never forgive you," David said to Nolan. Now how's that for good television? We can assume that Nolan is most likely regretting his decision to support the man he once considered a father.
Prior to the interview, David had approached Nolan asking him to attend the interview so that he could have someone "on his side" (a line that Victoria had also used to express her loyalty, which we found peculiar). However, instead of Nolan portraying the role of David's rock, it was him who was crushed when Emily's father accused him of theft in front of thousands of viewers.
"This was all an elaborate trap. You knew I would fall for it because I trusted you like a father," Nolan said after interview. But that comment only angered David. And instead of receiving an apology, Nolan ended up with a bloody nose.
"Your lying finally caught up to me," Nolan said to Emily after she found him lying on the floor with a battered face. That's when Emily explained to Nolan that in addition to her father hiding a secret, the man who tried to run David down was the same culprit that Charlotte (Christa B. Allen) had killed earlier in episode 6 after he kidnapped her. (Is anyone else wondering when Charlotte had time to learn parkour?)
Another exciting storyline of episode 6 was when Charlotte paid her brother a visit before checking herself into rehab . After encouraging his little sister to always be truthful with him, Charlotte dished to Daniel (Joshua Bowman) a secret she had been hiding about Emily.
"There's something you should know," she said before the episode concluded.
Do you think Charlotte told Daniel that Emily is actually Amanda? Sound off in the comments section below with your thoughts on tonight's episode of "Revenge."
© Copyright IBTimes 2023. All rights reserved.