Ric Flair 30 For 30: WWE Legend Slept With 10,000 Women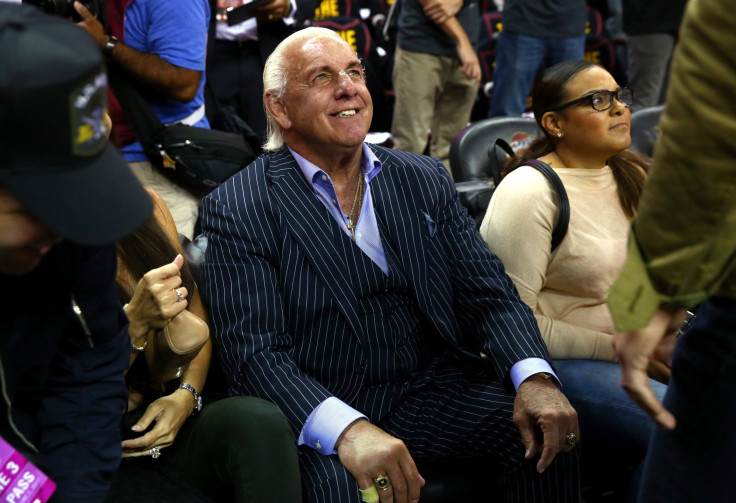 Former WWE star Ric Flair made some outstanding revelations in ESPN's "30 for 30" documentary titled "Nature Boy," saying he's slept with "maybe 10,000" women over the years.
The WWE Hall of Famer's documentary that aired Tuesday comes months after his serious health condition when he was put in a medically induced coma state due to heart-related problems.
In the documentary, Flair spoke out about his drinking habits, his personal and sexual life. While mentioning about the thousands of women he slept with, Flair also talked about monogamy: "I probably took it real serious for about a day... I mean, I tried, but it just – I was miserable."
Flair, who has been married four times, recalled telling a psychologist about his drinking habits in the 1980s: "I'll drink at least 10 beers, and probably five mixed drinks (every day)." After learning that he had been going on for 20 years, the psychologist said: "that's not possible."
"Oh yeah, it is," Flair said in the documentary. "By the time I got through with that son of a b----, he was laying on the couch and I was on the chair talking to him."
Former wrestler Nickla Ann Roberts a.k.a "Baby Doll" backed Flair's claims about drinking. "There was hardly a day that he went without having at least several drinks. You can be an alcoholic and be fully functional. I never saw him show up at the show inebriated, but Flair could drink. How he still has a liver, I don't know."
Talking about his near death situation in August, Flair said: "There's no way I should be alive after some of the stuff I've done," adding, "I liked it. It was eye-opening. I figured, if you're going to do it, you might as well open up."
The WWE legend was hospitalized on Aug. 11 and was forced to undergo a surgery due to his "tough medical issues."
Twitter users reacted to Flair's bizarre revelations in the documentary.
"So excited for my Dad," Flair's daughter Charlotte said in a tweet. During Flair's hospitalization, his daughter kept fans updated about his health condition.
"After an incredibly hard week, my dad is getting better. There is still a long road to go and he's not out of the woods just yet but I want to again thank everyone for their support on behalf of myself and my family. My dad has given his life to sports entertainment. To everyone competing tonight, you know he'd be backstage watching if he could. Give it a little extra flair for him tonight," she wrote on Aug. 21 on her Instagram account.
Several of Flair's colleagues also congratulated the WWE legend and expressed excitement about the documentary.
© Copyright IBTimes 2023. All rights reserved.