Rights Group Calls For Global Protection For Hong Kong Democracy Activists Targeted By China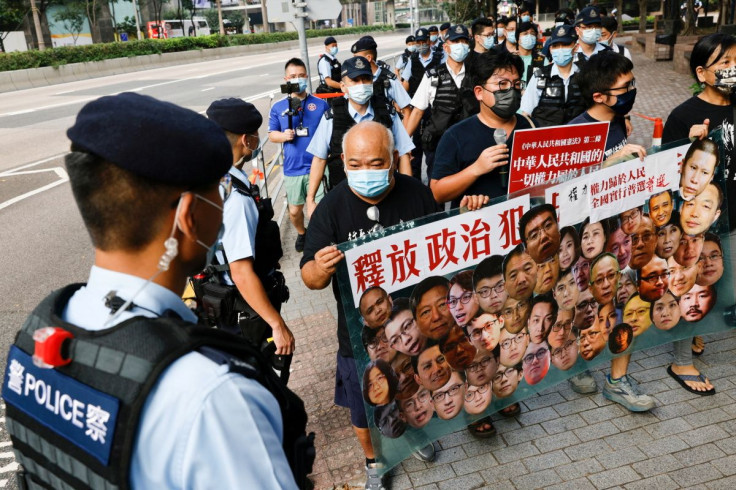 KEY POINTS
HK Chief Executive John Lee warned that the activists 'will be pursued for life'
There's more to be done to protect the freedoms of diasporas: HRW's Maya Wang
Says Beijing wants to eliminate the possibility of Chinese people ruling themselves peacefully
As Hong Kong doubles down on arrest warrants against overseas-based democracy activists with unreserved threats, an international rights group said nations where the targeted activists are based in "can do better" in protecting them.
After arrest warrants were issued Monday against overseas-based activists Nathan Law, Anna Kwok and Finn Lau, unionist Mung Siu-tat, online commentator Yuan Gong-yi and former lawmakers Dennis Kwok and Ted Hui, Hong Kong's Chief Executive John Lee Ka-chiu said the activists should just surrender.
"The only way to end their destiny of being an abscondee, who will be pursued for life, is to surrender," he said. He threatened that the activists, accused of colluding with foreign powers to sanction China and Hong Kong, will "spend their days in fear" if they do not surrender.
Lee went on to urge the public to assist the Hong Kong police in their efforts to arrest the activists. A bounty of HK$1 million (approximately $127,600) each has been offered for any information that will lead to the arrest of the accused.
Steven Li, chief superintendent of China's national security department, said the activists "committed very serious offenses that endanger national security," accusing them of advocating "for sanctions to damage Hong Kong's interests and intimidate Hong Kong's officials."
The activists had fled the city after Beijing imposed a national security law in mid-2020, following widespread pro-democracy protests the previous year, which made it illegal for anyone in the world to advocate for democratic reform in the city.
International human rights advocacy group Human Rights Watch (HRW) detailed in a 2021 report how Hong Kong, once dubbed as Asia's "protest capital," turned from protecting basic civil and political rights to prohibiting even peaceful protests.
"Beijing's aggressive stance towards Taiwan's democracy comes from the same source as its elimination of Hong Kong's semi-democracy: it is a highly repressive Leninist state that does not tolerate freedoms," Maya Wang, associate Asia Director at Human Rights Watch, told International Business Times. "Its impulse is to eliminate all threats, which includes the possibility that people from China can possibly rule themselves in a peaceful, democratic manner."
Just last month, Taiwan warned that the Chinese government will attempt to interfere in the island's January elections by illegally funding Beijing-friendly candidates using group tours or messaging and communications apps.
China has repeatedly claimed Taiwan as its territory, even simulating military blockades around the island. Taiwan has rejected China's claims and has been forging stronger defense ties with the other democracies, especially the U.S., Japan and Australia.
The difference between Hong Kong and Taiwan is a 1997 "one country, two systems" agreement between China and Britain, wherein Beijing pledged to give Hong Kong a "high degree of autonomy." It appears the agreement "no longer exists," Wang noted.
The accused activists are based in several countries, including Britain, Australia and the U.S. These countries do not have any extradition treaties with China. But Wang said nations where Chinese diasporas are based "can do better" in ensuring democracy advocates' safety and protection.
"Much more needs to be done for the diasporas to feel safe and their freedoms protected – they should enjoy the same right to freedoms of association, assembly, as everyone else in these countries," Wang explained via email.
The 2019 protests saw Hong Kong making "history" in its fight for freedom when millions of protesters took to the streets as the police responded with batons, pepper spray, rubber bullets and water cannons. The protests signified a growing discontent with China's approach toward Hong Kong.
As Beijing intensifies efforts to isolate critics and rights activists, Hong Kongers anger over the Chinese government's heavy-handed approach will only ignite the flames of public discontent further, Wang said.
© Copyright IBTimes 2023. All rights reserved.