Rihanna Shames Donald Trump On Twitter Over Puerto Rico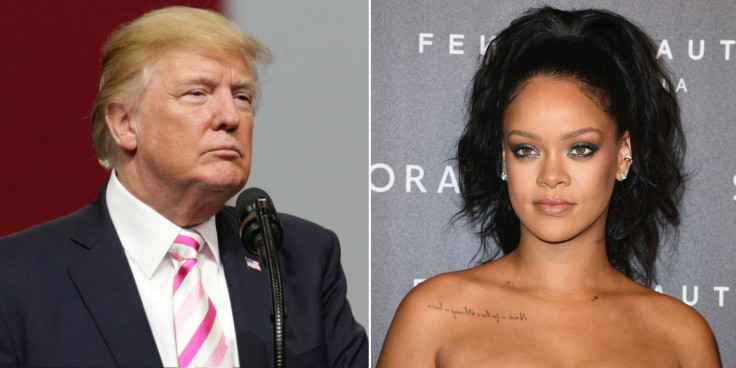 Since Hurricane Maria hit Puerto Rico earlier this month, its citizens have been left with little-to-no power, little drinking water, food, supplies, and the list goes on.
Many American citizens and celebrities alike have been tweeting their support of the United States territory, to both raise awareness of the dire situation they are in and to raise funds via online donation outlets. Some people are even calling out President Donald Trump directly on social media asking him to do more for Puerto Rico and its people, his people.
Singer/Fenty Beauty creator Rihanna is one of those calling upon President Trump to be more vocal and proactive on the situation.
"Dear @realDonaldTrump I know you've probably already seen this, but I just wanted to make sure! Don't let your people die like this," she tweeted on Thursday along with a photo of the Daily News' Wednesday front cover, which featured a story about the tragedy in Puerto Rico.
This isn't the first time the Barbados-born singer tweeted about the natural disasters that recently hit.
In a series of consecutive tweets on Sept. 21, she wrote: "The Carribean, Mexico, Texas and Florida have taken some awful hits in the last few weeks! We must all do what we can to help! There is much suffering yet to come-lost buildings, lost jobs, lost hope!!! Sending my love and prayers to everyone affected!!"
Though she started out by calling just her general fans and followers and anyone who would listen to help the cause, now she is calling out President Trump. She's calling him out to do more to both aid storm-savaged Puerto Rico and to increase the amount he's talking about the troubles they are having to help raise more awareness.
On Tuesday, she tweeted to President Trump a link to a Shade Room Instagram post all about what the citizens of Puerto Rico are going through and what they need. The woman speaking in one of the videos in the post said, "There's no water, there's no cash, the hospital is completely full, with no generators so they have open windows, they cannot do surgeries."
Rihanna continued her quest to get President Trump to notice her, but more importantly, to notice Puerto Rico and its needs, when she quote-tweeted on Wednesday a post by CBS News containing a short clip of their video interview with the San Juan mayor, Carmen Yulín Cruz. It also had a quote from the mayor's interview as the caption, which read: " I know that leaders aren't supposed to cry...But we are having a humanitarian crisis here."
With the performer tweeting the Daily News cover story, it looks like Rihanna is not giving up and will keep on using her voice to speak up and speak out, until someone, namely President Trump, listens to her and all the others asking for additional help to be given to Puerto Rico in its immense time of need.
When applause is earned, she does give it, though, as she did just that later Thursday morning on Twitter. When CNN Breaking News tweeted about five former presidents expanding their hurricane relief works to include Puerto Rico and US Virgin Islands, Rihanna quote-tweeted it and applauded them for their support.
© Copyright IBTimes 2023. All rights reserved.