Robert Pattinson Heads to VMAs Without Kristen Stewart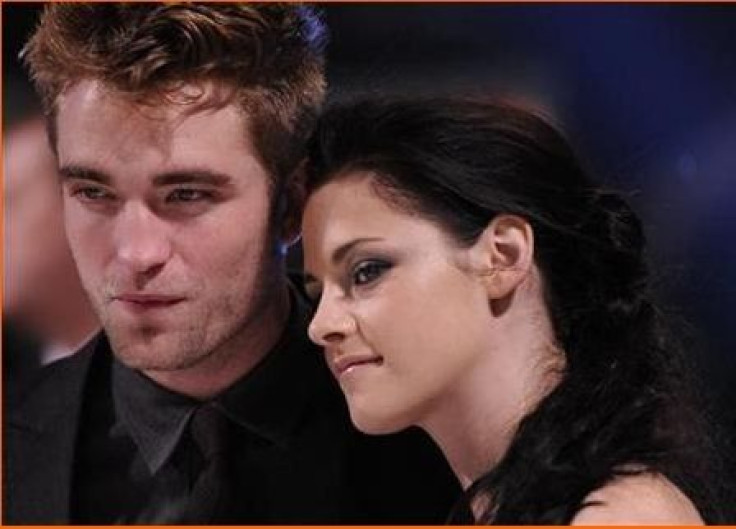 Since joining the "Twilight" franchise, Robert Pattinson and Kristen Stewart have become staples at MTV awards shows, even winning "best kiss" at the MTV movie awards four years in a row. The honor has become so expected for them throughout their involvement in the five-film teen vampire drama that they have even developed a routine around it, often teasing audience members with a farcical buildup before eventually giving them an onstage kiss.
But after Stewart's very public cheating, Pattinson will be appearing alone at tonight's MTV Video Music Awards, where he is scheduled to present a new clip from their coming film "Breaking Dawn: Part 2," reports People.
Pattinson will reportedly appear on stage for the clip, along with some of his other "Twilight" costars, including Taylor Lautner. Stewart, however, will most likely be conspicuously absent from the ceremony as she is slated to appear at the Toronto International Film Festival for the opening of her new film "On the Road."
The festival will be the first red carpet event for Stewart, let alone public function, since news of her affair broke. The star has reputedly been laying low out of embarrassment, while hoping to rekindle a relationship with Pattinson, although the two have repeatedly denied a romantic relationship over the years. They only openly acknowledged dating when Kristen issued a public apology to Pattinson for her "momentary indiscretion." But gossip sites went into overdrive last night when Stewart was spotted wearing a T-shirt of Pattinson's at LAX, speculating that the star was trying to prove her commitment.
But comedian Kevin Hart, 32, who will be hosting this year's VMAs, has hinted that he might not hold back any punches in making jokes at the expense of the absent actress. Hart was previously told by MTV to "refrain from mentioning" the affair between Stewart and her director Rupert Sanders, out of fear of jeopardizing the close relationship the company has with the "Twilight" series, according to Hollywood Life.
""The beauty of me being the host is you don't know what to expect," Hart told reporters during a recent press conference. "Nobody is off limits. I think it's my job to put the room in a place where people can relax and have a good time. And the best way to do that is to show people they can poke fun at themselves."
© Copyright IBTimes 2023. All rights reserved.