Robin Thicke's 'Blurred Lines': Smash-Hit Single Breaks Radio Audience Record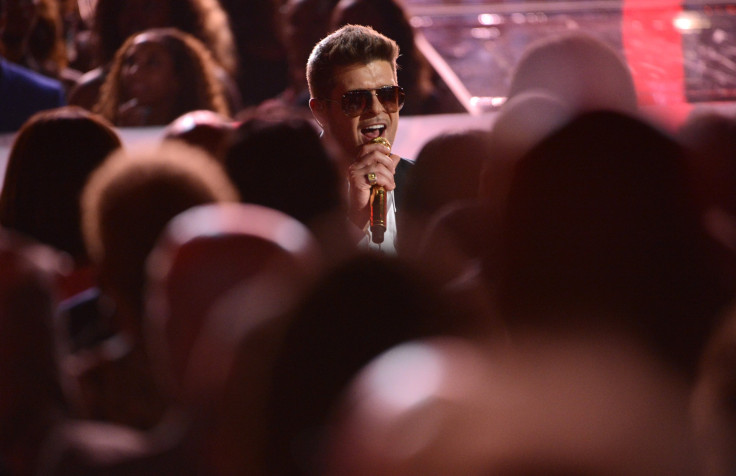 It's the official summer anthem. As Robin Thicke's "Blurred Lines" dominates the music landscape with its sexually suggestive lyrics and raunchy video, the catchy song continues to rack up accolades and awards.
The song has undeniably garnered massive radio airplay, breaking the record for "the highest radio audience ever recorded," according to a press release issued by the Interscope Records label of the Universal Music Group. "As of this week, the track has reached more than 242.65 million listeners, breaking the previous record of 188.8 million," Interscope said.
According to Interscope, "Blurred Lines" also broke the record for the biggest number of downloads in one week so far this year when it was downloaded more than 428,000 times during the week ending June 23. Additionally, the song is sitting atop the Billboard Hot 100 chart for the seventh consecutive week.
The controversy surrounding the song undoubtedly helped increase sales. Thicke has been roundly criticized for the lyrics and music video, which many have indicated seem misogynistic and "rapey."
In an interview with Time, Thicke addressed the controversy surrounding the song. "Art is supposed to create conversation, so we knew there would be conversation, and that I don't mind," he said. "It was only the one article that the lady wrote where she was implying that the lyrics of the song suggested rape or something, and I was like, 'Now wait a second, that's not fair.' I thought that that was irresponsible. But what art is supposed to do is make us talk about what's going on in the world, and where we are as men and women and all those kinds of the things. I don't mind having that conversation."
The rhythm-and-blues crooner added, "I just wanted to make a fun, silly video because I hadn't made one of those."
"Blurred Lines" is the title track off Thicke's forthcoming album, which is due to be released July 30 via Star Trak/Interscope Records in standard, deluxe and super deluxe packages.
© Copyright IBTimes 2023. All rights reserved.