Rockefeller Center Christmas Tree Lighting Drama: Mariah Carey Divorce Talks Delay Performance, NBC Pulls Her Opening Gig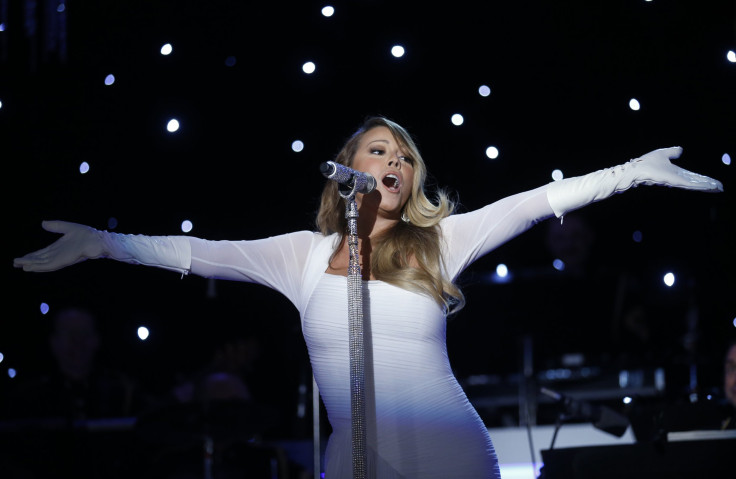 Update: TMZ is reporting that NBC has decided to allow Mariah Carey to perform live Wednesday night.
Mariah Carey's divorce is costing her more than just lawyer fees. TMZ is reporting that the singer's performance at the 2014 Rockefeller Center Christmas Tree Lighting ceremony was pulled by NBC executives after she failed to arrive on time for the show's taping Tuesday night.
According to the report, Carey, 44, was scheduled to sing her hit Christmas single "All I Want for Christmas Is You" in Rockefeller Center in New York City, but her divorce negotiations with actor and TV host Nick Cannon caused a major delay. While fans waited outside to view her live performance, Carey reportedly stayed in her hotel to discuss her split from Cannon, 34.
"When she pulled up to Rockefeller Center more than three hours late, she was still on the phone and people overheard her continuing to talk divorce," reads the report.
Carey's tardiness reportedly "enraged" NBC executives, who told the award-winning singer they were scrapping her appearance. "Mariah's people were told to just go home," reports TMZ. "We're told she really wanted to perform, but the network had clearly had enough."
Carey was one of several singers scheduled to perform as part of NBC's annual tree lighting "Christmas in Rockefeller Center" special. Her performance was originally planned to open the holiday program. The ceremony will air Wednesday at 8 p.m. EST.
Cannon announced his separation from Carey in August after six years of marriage. Since then, they have been publicly cordial for the sake of their children, 3-year-old twins Monroe and Moroccan. InTouch Weekly reported that despite having an "extremely toxic" relationship, the estranged couple spent Thanksgiving together with their kids.
"I wish her nothing but the best," Cannon said of Carey during an interview with Extra TV in October. "We are in contact constantly."
© Copyright IBTimes 2023. All rights reserved.