Roger Federer News: Wins At Dubai, Out At Davis Cup, Indian Wells On Horizon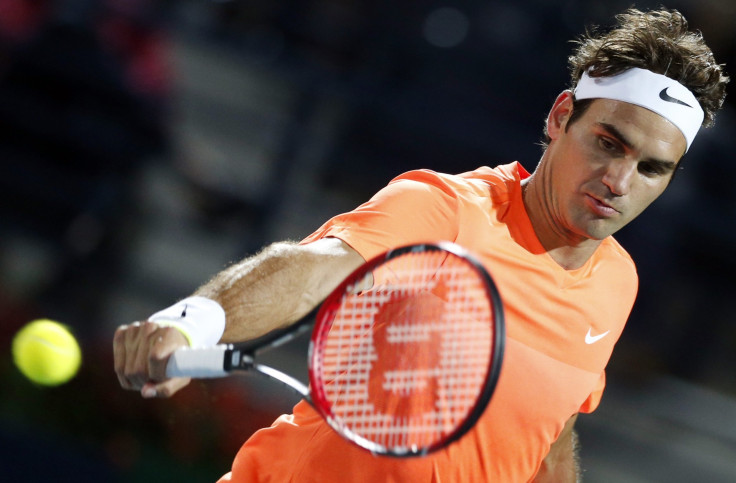 World No. 2 Roger Federer has been playing in elite form, easily winning his first-round matchup at The Dubai Tennis Championships on Monday, with Indian Wells on the horizon and the French Open looming in the distance. The Swiss star has opted to sit out the Davis Cup this year, perhaps getting some well-deserved rest and a mental break.
Federer led the Swiss to a Davis Cup championship last year and has opted to skip the competition after finally helping his country earn a win. The 33-year-old has been straightforward in his comments about the extra stress and rigors the cup brings.
"It wasn't a difficult decision," he said at the Dubai tournament. "I have played for so long, and I think by winning it I can finally do whatever I please, to be quite honest."
The Swiss team will also be without star and Australian Open champion Stan Wawrinka. The Swiss will have to make due with far lesser talent, as their two best players focus on upcoming ATP tournaments. Federer, who has a 50-17 career Davis Cup record, seems to be intent on building toward Grand Slams and minding his personal form rather than promoting the small European country's tennis standing.
"[The Davis Cup] been a big burden for me throughout my career and one of the things that have caused more difficulties in my life than many other things, I must say," Federer said.
Federer is currently playing in Dubai and will make his way to the states in early March to play at California's Indian Wells. The tournament, with the first round beginning March 11, is one of the important nine ATP Would Tour Masters 1000 series and the most prestigious tournaments outside of grand slams.
Federer has a successful history at Indian Wells, winning the tournament a record four times including three in a row from 2004-2006. Last year, he lost in the final to Novak Djokovic in heartbreakingly close fashion. The 17-time Grand Slam winner was playing perhaps his best tennis of the year going into the 2014 California masters event, cruising his way to the final. He will look to repeat or build off that success this year.
Dubai and Indian Wells are important tests and pit stops leading up the French Open, the second Grand Slam of the year that begins May 24. The Parisian tournament has historically given Federer trouble and last year he was shockingly bounced by Ernests Gulbis before reaching the quarterfinals. He's only won the tournament once, mostly because rival Rafael Nadal is nearly unbeatable at Roland Garros. Federer won his lone French Open championship (and the final Grand Slam he hadn't earned) in 2009 after Nadal was upset by Robin Soderling, whom Federer then beat in the final. Even Federer's Spanish rival was happy for his 2009 capstone achievement.
Nadal told the Spanish paper El Pais in 2014 that he was so moved he cried for Federer after the win.
"I am one of those people who believes that when you work towards something and you deserve it, the logical thing is for you to achieve it," he added.
Nadal recently lost on clay in a semifinal at the Rio Open, perhaps showing a dip in form as the buildup toward Roland Garros continues. If Federer keeps his form in Dubai and perhaps finds his fifth win at Indian Wells, the two classic rivals might make for a competitive matchup in Paris. Meanwhile, top-ranked Novak Djokovic may be primed for his first French Open title after two trips to the final.
Before any of that happens, however, there is a lot of tennis to be played and the best competition in the world will likely play at Indian Wells. Federer has found success there before on the hard courts he often prefers. The March tournament will be a good barometer of exactly where Federer stands, and if he might be able to add an 18th Grand Slam title to his already impressive resume.
While Federer still possesses a polished ground game, a consistent serve, and a flare for jaw-dropping moments, he still looks a step (or two) slower than his prime. Yet his chances to thrive in a sport mostly dominated by players in their mid and late 20s continue to be strong.
© Copyright IBTimes 2023. All rights reserved.
FOLLOW MORE IBT NEWS ON THE BELOW CHANNELS