'Rogue One': Why Neo-Nazis Are Calling For Boycott Of Star Wars Movie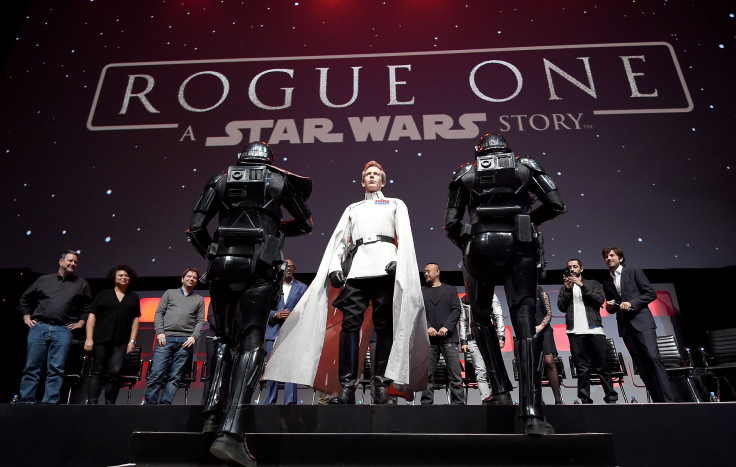 Perhaps emboldened by the current political climate, white supremacists are now stepping up calls for a boycott of the upcoming "Star Wars" film "Rogue One."
"Rogue One: A Star Wars Story," a prequel to the hugely successful franchise which returned to screens last year with "The Force Awakens," is set for release on Dec. 15. But already a section of the internet housing neo-Nazis has decided the movie isn't for them.
The criticism from the alt-right follows its objections to the casting of "The Force Awakens," which featured a black male, John Boyega, and a female, Daisy Ridley, in the lead roles. Similarly, "Rogue One" has actress Felicity Jones in the lead role.
Upon the releases of the first trailer in August, one neo-Nazi blog described the film as "nothing but a Jew masturbation fantasy of anti-White hate," in which "nearly all of the major characters are non-Whites and the main character is an empowered White female."
On a similarly themed blog claimed it reiterates "Disney's hatred for white males. Unless, of course, they are cast as villains."
Comments from two writers on the upcoming spinoff have fanned the flames of white-supremacist hatred yet further. Following Donald Trump's election victory last month, "Rogue One" writer Chris Weitz tweeted: "Please note that the Empire is a white supremacist (human) organization." Fellow writer Gary Whitta then responded: "Opposed by a multi-cultural group led by brave women."
The tweets were since deleted but were nonetheless cited this week on a Reddit forum with the moniker r/altright, which also called for a boycott.
"They are brainwashing kids into hating white men," one user wrote. "All the villains are white and all the 'good guys' are minorities and women."
"Pretty hard-pressed these days to find any form of media content that isn't blatantly anti-White (or anti-Capitalist, for that matter)," read another post.
Yet opposition to white supremacy is built into the fabric of Star Wars. The soldiers of the Galactic Empire, Stormtroopers, share a name with the paramilitary wing of the Nazi Party.
And, if history is any guide, the opposition of neo-Nazis is unlikely to do the box-office takings of "Rogue One" any harm. Following similar boycott calls, "The Force Awakens" went on to become the third-highest-grossing film of all time, taking in over $2 billion worldwide.
© Copyright IBTimes 2022. All rights reserved.
FOLLOW MORE IBT NEWS ON THE BELOW CHANNELS