Ron Paul 2012: Why Does he Have Insane Internet Support?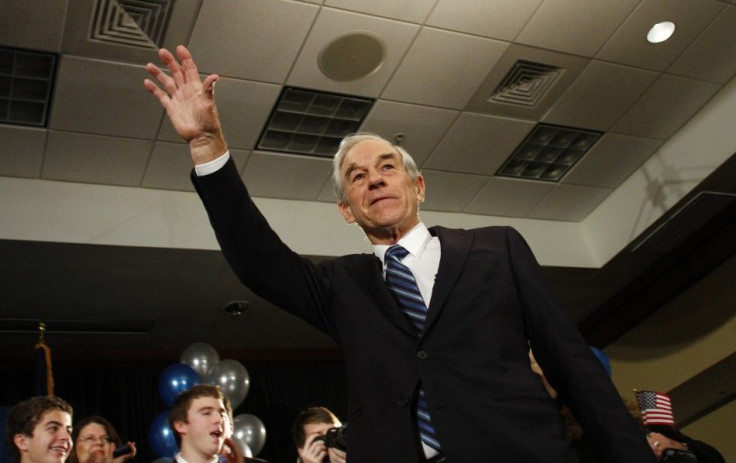 The libertarian Congressman from Texas hasn't had a real-world victory in any of the four Republican presidential primaries held so far. His best performance was in New Hampshire where he was placed closely behind the GOP frontrunner Mitt Romney, drawing 22.9 percent of the total votes cast. However, Paul, unmistakeably, happens to win - with an overwhelmingly high margin - almost every online election poll, regardless of whether it is hosted by mainstream media or by a niche political blog.
Speaking from a news organization's perspective, stories on Paul do a better job in attracting site traffic, when compared to the stories on all the other candidates who are currently in the race for the GOP nomination, including heavily hyped and funded former Massachusetts governor Mitt Romney.
Despite his baffling Internet celebrity status, Paul hasn't been able to win a single presidential primary. Why?
Because the Internet frenzy isn't about Paul; it's about his supporters.
Paul apparently has struck a chord with a particular Internet demographic that is presumably highly disproportionate from the people who are actually voting in the elections.
The Paul phenomenon is driven by a collective effort from people who are on the World Wide Web, many of them not necessarily U.S. citizens eligible to vote in the presidential elections. Blogs operating outside of the U.S. - for instance Belgians for Ron Paul and Canada Votes Ron Paul - actively campaign in favor of him, while the fact remains that their blog posts most likely won't turn into actual votes.
The Canadians or Belgians or whoever the case maybe, are mainly targeting the Americans, with pro-Paul blog posts and massive opinion poll votes, in a bid to build an image of Paul as the next likely U.S. President.
Here is a typical pro-Paul post from Canada Votes for Ron Paul blog: I didn't even vote in the last Canadian election because I simply didn't want any of them in office. I didn't think any of them were offering much change. It seemed like I would be doing my country a better favor by staying home with my family.
But Canada is in trouble. The United States is in even more trouble, the post continues with detailed clarifications on why the U.S. in trouble, and on why Paul is The Savior.
Sure, having people worldwide and Reggae music videos to support election campaign is cool. But unfortunately that is not enough to make anyone the President.
Theory of Ron Paul Media Blackout:
There is a popular pro-Paul theory that the mainstream media has conspired to boycott him from election coverage. However, the popular media continue to deny it. Here is what Business Insider wrote, after being inundated with angry emails from Paul supporters: Every time we publish something about Ron Paul, we are reminded that Ron Paul is, if not President of the United States, at least President of The Internet. The Internet just can't get enough of him.
We can't write about him enough. Because Ron Paul supporters are absolutely bat-shit crazy about the man. And any time we say anything about him, good or bad, they go nuts about it - pro and con, the article says.
While this may reflect the collective opinion of news editors, a recent study conducted by HighBeam Research showed that Paul received less than one-twentieth of the coverage received by fellow losers Rick Santorum and Newt Gingrich in Florida media, before the presidential primary.
The news organizations, however, are more concerned that their online opinion polls are affected by Paul fans voting in exceedingly huge numbers, which tampers its ability to predict the actual winner.
Matt Margolis who ran the GOP Straw Polls, which Paul dominated, during his 2008 run for presidential nomination, explained to Wired: Paul's success is the result of his supporters' coordinated efforts to show themselves and their power in these polls.
According to Margolis, Paul fans visit sites and vote repeatedly and encourage others to do the same through messages on social networking sites, while most readers will vote once or twice and then move on.
There is certainly a higher frequency of multiple voting among Paul supporters than others, Margolis said adding: I was perfectly fine with giving them the opportunity to vote for him. But they make the data of the poll almost useless by their methods.
Despite their unfailing dedication towards Paul's campaign, some of his supporters indulge in such extreme manifestations of worship that they end up hurting their own cause. A recent pro-Paul advertisement posted by a YouTube user NHLiberty4Paul, using images of Republican Jon Huntsman's adopted daughters, was widely panned for being insensitive, racist and stupid. The advert called Huntsman the Manchurian candidate, for having adopted daughters from China and India.
© Copyright IBTimes 2023. All rights reserved.