Ronda Rousey's Ex-Boyfriend Shares Some Bitter Comments About Their Relationship: 'I Did Her A Favor'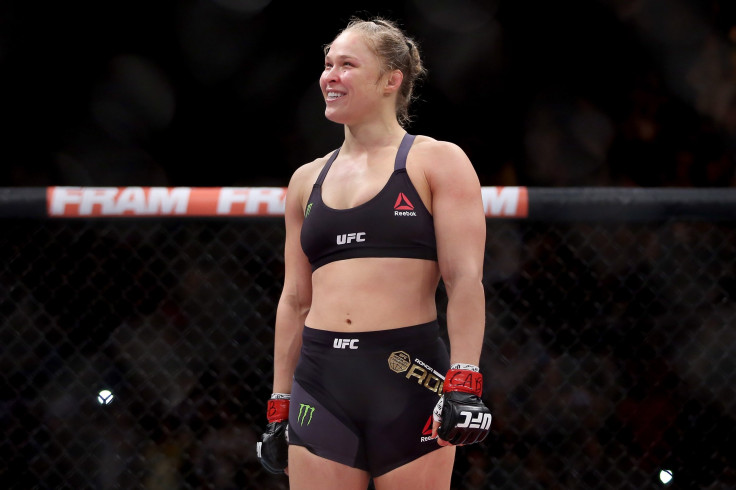 Coming off her big UFC 190 win against Bethe Correia, Ronda Rousey is officially one of the biggest faces in professional sports right now. Unfortunately, it seems as though her ex-boyfriend, fellow MMA fighter Brendan Schaub, isn't among her biggest fans anymore.
Speaking on Joe Rogan's "Fight Companion" podcast over the weekend, Schaub got off on a tangent and made the circumstances of their split a little too public for the setting. According to MMA news site BloodyElbow, one of Rogen's guests, Eddie Bravo, joked that Schaub should get back together with Rousey, 28, now that her star is on the rise and she's going to be collecting a pretty hefty paycheck from restaurant chain Carl's Jr., as she's signed as their new spokesperson.
"Believe me, I did her a favor man. I'm not that guy for the job. I'm just not," Schaub told the podcast listeners (via TMZ). Rogen then joked that it was because he wasn't quite man enough, which is when things started to get a little personal for the 32-year-old fighter.
"I'm too much [of a man]. She needs a guy who's going to take a backseat. That's not me. She also needs a guy that's going to say 'yes ma'am,'" he said. "She's so successful, she's surrounded by people that worship her and go ' yes, yes, that's a great idea.' But when I said 'I don't think that's a good idea,' now I'm a hater. I have no financial gain from you. I don't need anything from you, I've earned everything myself."
It was clear that Schaub wanted to get some things off his chest, but Rogen politely requested they not have this particular conversation without Rousey there to defend herself. Schaub agreed and apologized to the host before they moved on from the subject.
For those that are unfamiliar with Rousey's former flame, he got his start in the UFC by way of the Spike reality TV show "The Ultimate Fighter." He was the runner-up in the 2009 "Heavyweights" season, losing to Roy Nelson. Since then, according to his official UFC bio, he's gone on to hold a career record of 11-5-0. In addition to his fighting career, which has taken a backseat since December 2014, he also co-hosts the "Fighter and The Kid" podcast.
While he clearly seems like he's got some unresolved issues regarding the circumstances of his breakup with Rousey, the heavyweight fighter typically has nothing but great things to say about his ex-girlfriend professionally. Following her stunning 34-second win at UFC 190, Schaub opened up on his podcast about the legacy of the female fighter.
"There's just no competition. It's not the UFC's fault. It's not Ronda's fault. There's no one for her. She's just that good," he said (via Fox Sports). "You are witnessing greatness. I promise you, in our lifetimes we will never see another female fighter like Ronda. We just won't. The game hasn't caught up to her."
You can check out the video of the fighter's comments about Rousey below:
© Copyright IBTimes 2023. All rights reserved.