Roy Moore Dated Wife Kayla While She Was Married To Ex-Husband: Report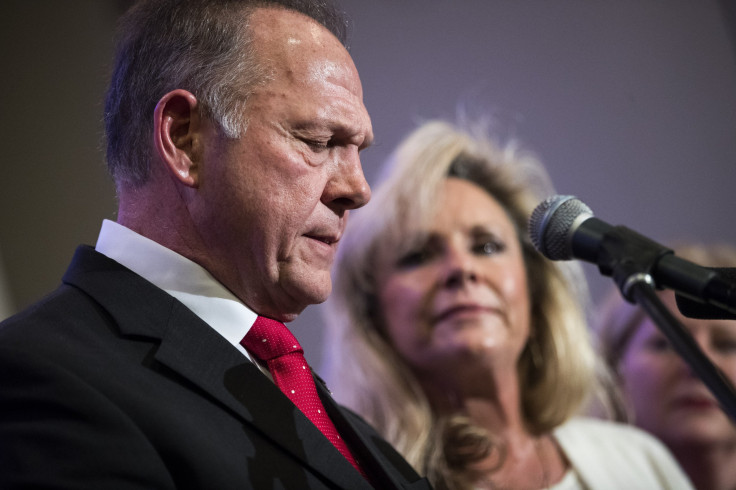 Alabama Republican Senate candidate Roy Moore's account of when he began dating his wife Kayla would place the beginning of their relationship before her divorce from her first husband, according to court documents obtained by the Washington Examiner that they published in a report Tuesday.
The report came amid several sexual harassment allegations, dating back to the late 1970s, by women against the retired judge. Moore's campaign was trying to defend the candidate against the allegations when he was also accused of disputing minute details of the accusers' versions of events.
Moore claimed in his 2005 memoir "So Help Me God: The Ten Commandments, Judicial Tyranny, and the Battle for Religious Freedom" to have met Kayla at a church gathering in Gadsden, Alabama, the week before Christmas in 1984.
"I was determined to get to know her, but Kayla, divorced and with a beautiful little girl, Heather, who was nearly a year old, was not interested in a relationship with anyone," he later wrote of the encounter in his book, AL.com reported.
However, divorce records obtained by the Washington Examiner stated Kayla had not yet filed divorce from her first husband, John Charles Heald, when she caught Moore's attention at the Christmas gathering.
The same records showed Kayla filed for divorce Dec. 28, 1984, at a courthouse in Floyd County, Gadsden, which was finalized April 19. A permanent custody judgment for her daughter Heather was issued Jan. 9, 1989.
However, Moore's account of their courtship disputes the records. According to the retired judge, he and Kayla began dating "soon after" she visited the law office of his colleague "early in the new year" of 1985. They dated for "about a year," he claimed in his memoir, before becoming engaged and then married Dec. 14, 1985.
Moore was 38 years old when he married 24-year-old Kayla Kisor and according to his book, they met a year before. Moore wrote about his first encounter with Kayla at a Christmas party.
"Sitting with her mother on the sofa against the wall was a beautiful young woman," Moore wrote in his book. "I learned that her name was Kayla."
In an interview earlier this year, Moore said the first time he laid eyes on his future wife was at a dance recital when she was 14 or 15 years old, eight years before formally meeting her, according to the New York Daily News.
"I saw her at a dance recital, and I was standing at the back of the auditorium and I saw her," he had said. "I remember her name, it was Kayla Kisor. KK. But I remember that and I didn't meet her there. It was, oh gosh, eight years later or something, I met her. And when she told me her name, I remembered."
"Of course, she was younger and she said I don't think so and brushed it off. And then I told her and identified it was the dance. It was something I had never forgotten," Moore wrote in his memoir.
The Washington Examiner on Tuesday asked Moore's campaign to explain the apparent contradictions between the candidate's account of his relationship with Kayla and information contained in the public records.
"Regardless of when they met, Judge and Kayla did not date while she was still with her ex-husband or legally married," campaign spokesman Brett Doster said in an email.
© Copyright IBTimes 2023. All rights reserved.