Royal Family Giving Prince Harry 'Space He Needs' 1 Year After Oprah Interview, Expert Claims
KEY POINTS
A royal expert believes the "heartbreak" caused by Harry and Meghan's interview with Oprah Winfrey has not yet healed
Kinsey Schofield thinks Princes Charles and William are giving Harry "space" to "create his place in the world"
The royal commentator believes Prince William and Prince Harry will fully reconcile in the future
It has been a year since Prince Harry and Meghan Markle sat down for a bombshell interview with Oprah Winfrey, and a royal expert believes the "heartbreak" it caused has not yet completely healed.
Weighing in on the Duke and Duchess of Sussex's relationship with the royal family one year after their interview with Winfrey, royal commentator Kinsey Schofield told Insider that she believes Prince Charles and Prince William are giving Prince Harry "the space he needs to navigate life outside of the royal family and create his place in the world."
"The Firm is working overtime to try to get the royal family's campaigns back in the spotlight and to show the royal family as compassionate individuals helping the less fortunate," Schofield said. "Time is a great healer and the day will come where Prince William and Prince Harry are friends again, but there was a lot of heartbreak and betrayal felt after the Oprah interview."
Last year, Prince Harry and Markle made several bombshell claims about the royal family and their decision to step back as working royals, including allegations that an unnamed royal family member raised concerns about their then-unborn child's skin color. They did not confirm which royal made the comments, but Prince Harry later said it was not Queen Elizabeth or Prince Philip.
Buckingham Palace called the issues the couple raised "concerning" and said they would be addressed by the royal family "privately," while Prince William told reporters that "we're very much not a racist family."
Shortly after the interview aired, Prince Harry told Gayle King that he has since talked to his father and his brother, but the conversations were "not productive."
Months later, an unnamed insider told Us Weekly in early December 2021 that Prince Charles and Prince Harry were still not "speaking very much" and that there were "a lot" of issues that they needed to work out before they can move forward.
Prince Harry's relationship with his father is said to have worsened after the Duke of Sussex made a public statement about Mahfouz Marei Mubarak bin Mahfouz, the Saudi billionaire who was reportedly offered an honorary knighthood by Prince Charles' closest aide Michael Fawcett in exchange for donations to the royal's charity, according to Insider. Fawcett stepped down from his role as the chief executive of The Prince's Foundation following the allegations of misconduct in September 2021.
In December last year, a spokesperson for Prince Harry told The Sunday Times that the royal had "expressed his concerns about the donor" after a meeting with him in 2013.
Despite the reports, the royal family continues to post about milestones involving Prince Harry and Markle's family on social media.
Prince William and Middleton wished the couple's son Archie a happy 2nd birthday in May 2021 and congratulated Prince Harry and Markle on the birth of their daughter Lilibet in June that year via their official Twitter account.
Prince Charles also praised not only Prince William's work in raising awareness of climate change but also Prince Harry's in an essay the Prince of Wales wrote for Newsweek earlier this year.
"Prince Charles is clearly realizing that he has to take on the conciliatory role of the grown-up that Prince Philip used to have," royal biographer Nigel Cawthorne, author of "Prince Philip: I Know I Am Rude," previously told Insider. "Charles will have to find his own way in keeping the family together rather than let it grow apart over quibbles."
Meanwhile, Brian Hoey, author of "Her Majesty Queen Elizabeth II," recently claimed that the Queen is likely eager to meet Prince Harry and Markle's daughter. He also suggested that a meeting between the monarch and Lili could signal that the rumored rift within the royal family has come to an end.
However, it remains unknown if the Duke of Sussex and his family will return to the U.K. for Prince Philip's memorial or the Queen's Platinum Jubilee celebration this year.
Prince Harry is still in a legal battle with the U.K.'s Home Office after the latter declined his request to personally pay for police protection while in his home country. A legal representative for the duke said the royal doesn't feel it is safe to bring his family to the U.K. without proper security arrangements in place.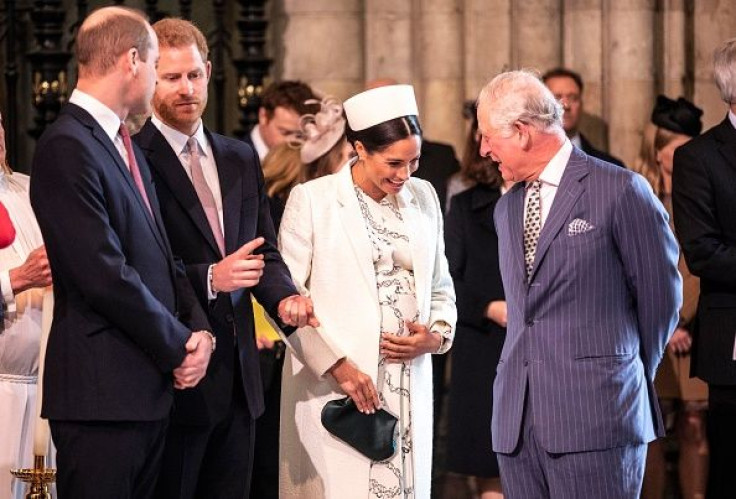 © Copyright IBTimes 2022. All rights reserved.
FOLLOW MORE IBT NEWS ON THE BELOW CHANNELS