Rubio In Silicon Valley: Tech Political Donations Flow Heavily To Florida Senator And Hillary Clinton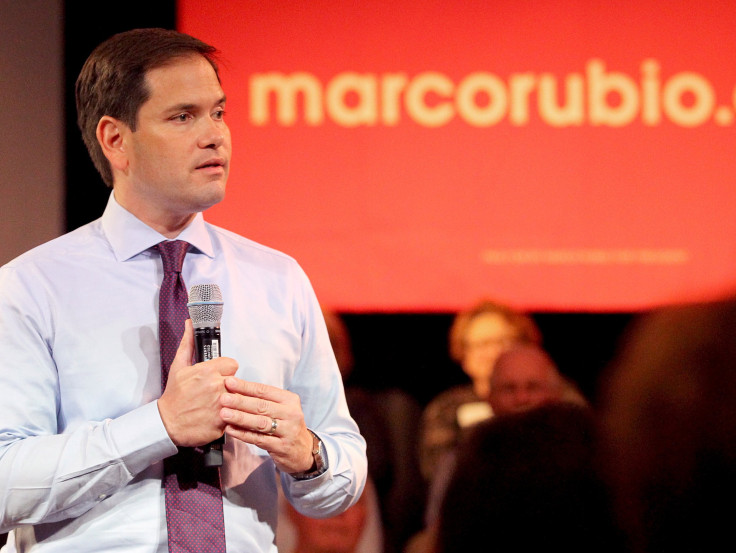 SAN FRANCISCO -- Sen. Marco Rubio, R-Fla., has raised the most money from the tech industry thus far, but Hillary Clinton is also quickly gaining traction among techies and Silicon Valley. The candidate and her super PAC collected more than $197,500 from individuals in the tech industry from July through September, federal data released this month show.
The former secretary of state pulled in more contributions from Silicon Valley during the period than any of her rival candidates, according to Crowdpac, a nonpartisan tech startup that analyzes data on contributions to candidates and their super PACs.
Trailing closely behind Clinton was Rubio who accumulated approximately $155,900 from the industry during the same time period. That's $120,727 more than the next Republican, former Florida Gov. Jeb Bush who raised just $35,173 during the three-month stretch. Rubio's strong fundraising shows that Republican techies may be starting to coalesce around the first-term senator.
Since the start of campaigning, Rubio and his super PAC lead the way with $3.2 million raised from the tech industry, followed by Bush with $1.5 million, Clinton with $502,000 and Sen. Bernie Sanders, D-Vt., totaling $189,000. Rubio's number is inflated by a $3 million infusion last spring from Oracle founder and Chairman Larry Ellison. Meanwhile, it appears that former Hewlett-Packard CEO Carly Fiorina's strong performance in recent polls has also begun to translate into more donations from her previous industry, and so far, she has raised a total of $69,000 from Silicon Valley donors.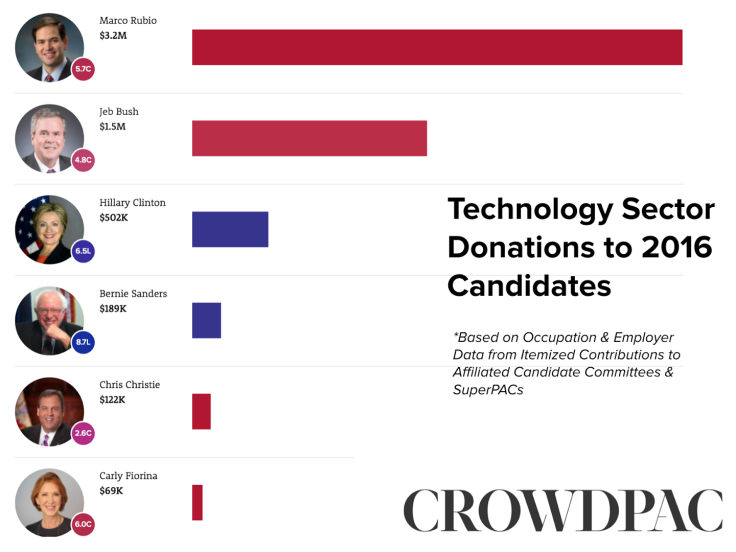 No Tech Candidate Yet
Silicon Valley has yet to become truly active in the 2016 election. The industry has so far donated just under $5.9 million to candidates and their super PACs, according to Crowdpac. By comparison, Silicon Valley put in more than $11.2 million into the 2012 election and is expected to surpass that figure this time around.
"There's a lot of opportunity. The valley is getting more political than I've ever seen it before," said Elliott Suthers, vice president at Highwire PR and the communications and media advisor for the McCain/Palin 2008 presidential campaign. "There's been a lot of advocacy groups and industry groups spending time in D.C., so there's obviously interest there. To me that would represent a huge opportunity for a candidate."
Rubio still has a way to go before securing Silicon Valley's full support, but some say the candidate has a strong shot at doing so thanks to his pro-business views and his stance on H1B visas that would allow the tech industry to bring in more immigrant workers. Additionally, Rubio's youth, energy and optimism could prove attractive to the tech industry as was the case for President Barack Obama in the last two elections.
"Rubio does appeal to that generational sense of optimism the valley has," said Dallas Lawrence, chief political advertising strategist for Rubicon Project, an online advertising firm. Lawrence also served as the former senior fundraiser for the 2000 Silicon Valley Bush for President Team. "It helps that [Rubio is] one of the younger candidates running, so generationally, he's also more aligned with the new up-and-coming leadership of Silicon Valley."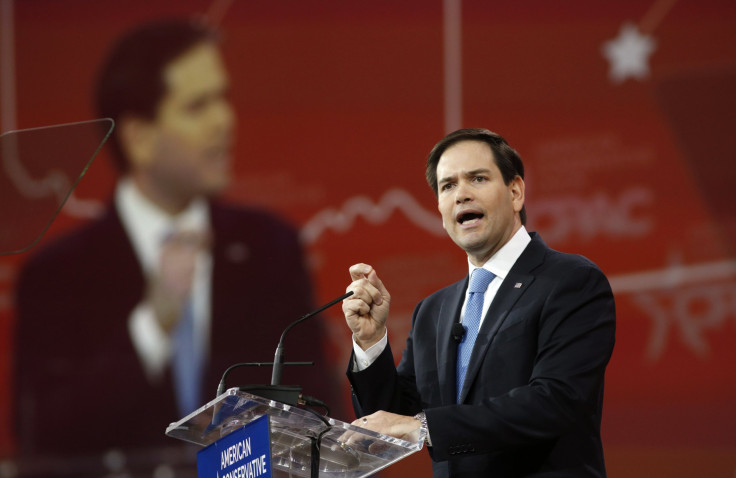 That has already translated into support from other notable tech industry leaders, including Facebook CEO Mark Zuckerberg and Cisco Executive Chairman John Chambers, both of whom have placed contributions to Rubio's presidential campaign.
Ultimately, however, it may prove tough for any Republican to rally the tech industry. With history favoring Democrats -- the Bay Area has voted blue in every presidential election going back to 1984 -- and the presence of socially-conscious leaders like Apple CEO Tim Cook, Silicon Valley very likely may throw its support behind whoever Obama endorses.
This way of thinking has already begun to reflect in donations for Clinton, who has received hundreds of donations from numerous employees from tech giants like Apple, Google, Facebook and Microsoft.
"When it comes to the business issues, many of these CEOs align with the Republican party's platform. When it comes to the social issues, they align with the Democrat party's platform," Lawrence said. "The candidate who will be successful is the one who can thread the needle between both of those."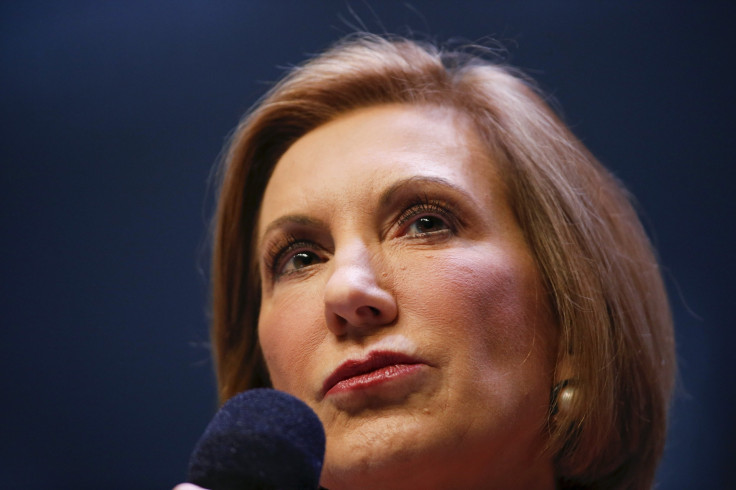 So You're Saying There's A Chance?
For Fiorina, who has moved into the top three among various polls tracking the Republican race, the latest filings show the former HP CEO is gaining traction among those in tech, a big shift from last spring when her poll numbers and fundraising was paltry.
Fiorina has yet to challenge other Republican candidates for the tech industry's support -- she trails Rubio, Bush and New Jersey Gov. Chris Christie in Silicon Valley donations -- but the candidate is showing there's a chance she could rally an industry she once played a key role in.
"In Silicon Valley, the support for Carly will fall largely around ideological lines with the libertarian-leaning folks being very supportive," said John Mracek, CEO of NetSeer, based in Mountain View, an online media and audience-targeting company. Fiorina has been clear about her support for small government and light regulation -- views that have the potential to resound with some of the tech industry's libertarian, big-name venture capitalists like Marc Andreessen and Peter Thiel, Mracek said.
In August, venture capitalist Tom Perkins, one of the HP board members who led Fiorina's 2005 ouster from the company, donated $25,000 to the candidate's super PAC and took out a full-page ad in the New York Times with a letter in her support. Fiorina has also rallied support from dozens of employees at companies like Microsoft, Amazon, Cisco, IBM, and five donations for a total $1,878 from HP employees.
Perkins' support is a sign that should Fiorina continue making gains, and other big-money techies may also give the former CEO a second look. Should Fiorina still be around as the GOP pool thins out, Silicon Valley may decide to go ahead and back one of its own.
"She's not the best person who could ever come out of Silicon Valley but is somebody who does have a [tech] mindset," said Tasso Roumeliotis, CEO of Location Labs by AVG, a mobile security firm. "It's a mindset that I would like to have in the White House, and it's better than the rest of the field."
© Copyright IBTimes 2022. All rights reserved.
FOLLOW MORE IBT NEWS ON THE BELOW CHANNELS