Jeb Bush Woos Silicon Valley By Throwing Washington Under An Uber: 'Like General Motors In 1975'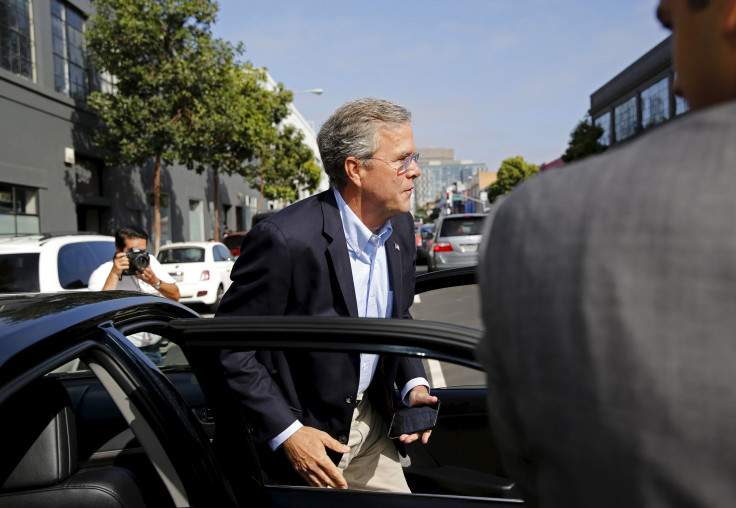 SAN FRANCISCO — Republican presidential candidate and former Florida Gov. Jeb Bush pleaded his case to Silicon Valley Thursday by going on a technology blitz that included riding around the Bay Area using Uber, launching a LinkedIn Influencer profile and holding a town hall meeting with the employees of a local startup.
Bush, the Republican frontrunner, is using his time in California to position himself as the right candidate for the tech industry following comments from Democratic candidate Hillary Clinton that were critical of the so-called "gig economy" in which companies like Uber and Airbnb operate.
"The government today in Washington looks more like General Motors in 1975," Bush said. "The government of the future needs to look at lot more like Thumbtack to be honest with you -- lower costs, higher quality, focused on outcomes, really committed to the citizens, or in your case, your professionals and your customers."
Bush spoke at the headquarters of Thumbtack, a 6-year-old tech startup. Thumbtack is a marketplace that connects small businesses and professionals with customers for all kinds of jobs, ranging from house remodeling to tennis lessons. The former Florida governor answered a variety of questions of interest to techies, including net neutrality, the threat of cyber terrorism, and the economy.
"My personal belief is the interaction of all of us together in a fair and just society with as few rules as possible -- not more rules but fewer rules -- will create more prosperity, more innovation, more benefits than the command-and-control old approach of hierarchal regulations and large government trying to solve our problems for us," said Bush, a noticeable contrast to Clinton, who said she will crack down on companies who misclassify employees as independent contractors.
The former Florida governor also used his time at the Thumbtack to advocate for less government and for more services that lower costs for consumers, like Uber and Thumbtack. Bush is not the first Republican to try and position himself as the right candidate for Silicon Valley, with fellow Republican and former HP chief executive Carly Fiorina doing the same, but Bush is certainly putting his money where his mouth is -- Bush spent $1,400 on Uber rides in late June alone.
Regardless, Bush and other Republicans candidates face an uphill battle when it comes to gaining the tech industry's support. The San Francisco Bay Area has voted blue in every election since 1984, and many of the industry's leaders, including Yahoo CEO Marissa Mayer, Google co-founder Sergey Brin and Netflix CEO Reed Hastings, donated to President Barack Obama in 2012.
Jake Poses, Thumbtack's vice president of product, said he will probably not vote for Bush based on his social views. For example, Poses asked Bush his thoughts on discrimination based on sexual orientation, to which the candidate said he supported state-level legislation to end that kind of behavior. "I appreciate him saying I shouldn't be discriminated against, but I do believe that if he had more conviction about it, he should" handle it at the federal level, Poses said.
"I give him credit for understanding that startups in San Francisco are having a real and measurable impact on the lives of many Americans," Poses said. "I probably will not vote for him, but that is because I put a premium on views on social issues. I think that actually is the pervailing view of most people in the Silicon Valley community. That's part of the ethos of what's out here."
© Copyright IBTimes 2022. All rights reserved.
FOLLOW MORE IBT NEWS ON THE BELOW CHANNELS