Russell Simmons Coins #NotMe Hashtag Amid Rape Accusations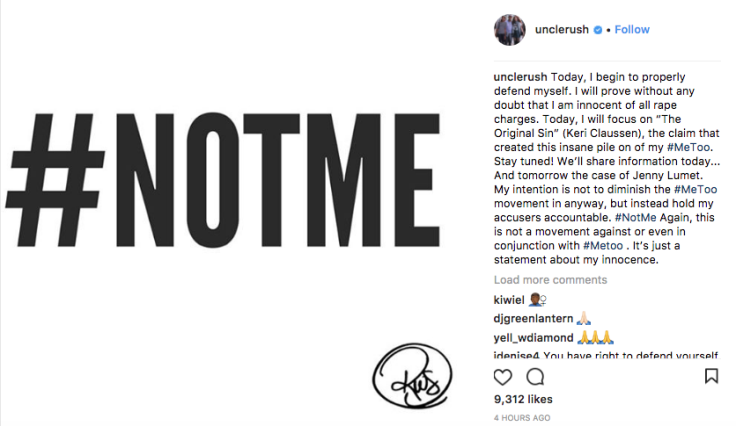 Russell Simmons, the Def Jam co-founder and hip-hop mogul, has started a "#NotMe" hashtag campaign on socia media in order to clear his name as three more women accuse him of rape and sexual misconduct.
Simmons took to his "unclerush" Instagram account Thursday afternoon to "defend" himself after allegations of rape came to light this week in addition to last month's reports in which he was accused by Keri Claussen Khalighi of sexually assaulting her in 1991, when she was 17 and he was about 33 years old. Brett Ratner was also named in those allegations for having allegedly watched Simmons sexually assault her.
Simmons' Twitter account using the same "unclerush" handle appears to have been deleted as of Thursday afternoon.
"Today, I begin to properly defend myself," Simmons wrote on his Thursday Instagram post featuring a large #NOTME hashtag meme.
"I will prove without any doubt that I am innocent of all rape charges. Today, I will focus on 'The Original Sin' (Keri Claussen), the claim that created this insane pile on of my #MeToo. Stay tuned! We'll share information today... And tomorrow the case of Jenny Lumet. My intention is not to diminish the #MeToomovement in anyway, but instead hold my accusers accountable. #NotMe Again, this is not a movement against or even in conjunction with #Metoo . It's just a statement about my innocence."
Simmons, 60, told the New York Times that he's attempting to turn his life around but continued to deny the accusations of sexual assault from Drew Dixon and several other women dating back to the early 1990s.
"I have re-dedicated myself to spiritual learning, healing and working on behalf of the communities to which I have devoted my life," reads Simmons' statement on Wednesday. "I have accepted that I can and should get dirt on my sleeves if it means witnessing the birth of a new consciousness about women.
"What I will not accept is responsibility for what I have not done. I have conducted my life with a message of peace and love. Although I have been candid about how I have lived in books and interviews detailing my flaws, I will relentlessly fight against any untruthful character assassination that paints me as a man of violence," he told the Times.
© Copyright IBTimes 2023. All rights reserved.