Sacha Baron Cohen Auctions 'Waterboard Kit' Autographed By Dick Cheney On eBay
The "waterboarding kit," signed by Dick Cheney on Sacha Baron Cohen's new show "Who is America," was put on sale on eBay Sunday, where bids went to over $3,000 for the item.
A few weeks ago, Sacha Baron Cohen released a teaser for his new show, "Who Is America." In it he had former Vice President Dick Cheney sign a "waterboarding kit".
The video starts off with text that says: "Imagine if Sacha Boren Cohen had been undercover secretly filming a new show for a year." The scene then cuts to Cheney. A voice in the video can be heard in the back asking Cheney if he could sign their waterboarding kit, to which Cheney agrees. "It's the first time I've ever signed a waterboarding kit," Cheney can be heard saying in the short video.
The same waterboarding kit, with Cheney's autograph, seemed to have turned up on eBay at the price of a few thousand dollars.
The sale was started by a character on the show, Erran Morad, an Israeli colonel who is an "anti-terrorist expert." Showtime has yet to confirm if the post was made by the network.
"Here is a rare opportunity to own a WATER BOARD BOTTLE SIGNED BY the Godfather of the sport — American war hero and all-around mensch, VICE-PRESIDENT DICK CHENEY," the description posted by ermo43 read before it was taken down. "Unlike the cheap domestic water board kits you can buy on Amazon, this is a professional grade piece of military hardware. Fully functioning, it have seen many hours active use by me, both on the frontline of the War on Terror and also in my own home… if you too live in a bungalow, waterboarding is a great alternative to the 'naughty step.'"
The eBay listing garnered a lot of attention in the lead-up to the show. The initial price of the item was $1. But bids went up to $1,700 by Sunday afternoon according to reports.
Bidding had gathered momentum by Monday morning with over 77 bids and a total of $3,801, at the time of reporting.
Many raised questions that ranged from asking whether the bids were real to doubting the authenticity of the item on social media platforms.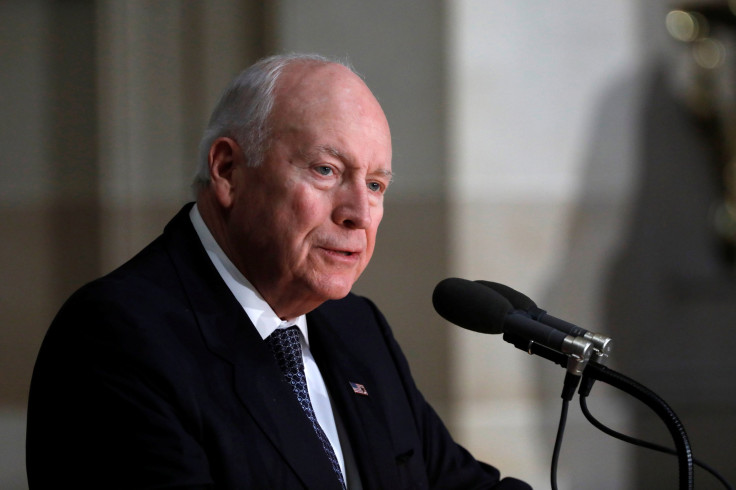 As of now, the post has been taken down. The link to the listing, which is still available on the tweet shared by Colonel Morad, now shows an error message.
Cohen posted another promo for the episode, a day before the episode aired, that had the segment with Cheney. It was aired on Sunday evening. The teaser shows the voice asking Cheney "You started so many wars, Afghanistan, Iraq 1, Iraq 2. Which was your favorite war and why?"
"So I think it was what we did in Desert Storm," Cheney replied.
Cheney, who served as vice president during George W. Bush's term, was known for defending enhanced interrogation techniques. Waterboarding is one such technique which was employed during Bush's "War on terror." It is basically simulated drowning, whereby water is poured over a person's face to make them feel as though they are drowning.
In May, Cheney told Fox Business that the U.S. should revive enhanced interrogation techniques. "If it were my call I would not discontinue those programs. I'd have them active and ready to go," Cheney had said. "And I'd go back and study them and learn."
FOR FREE to continue reading
✔️ Unlock the full content of International Business Times UK for free
offer available for a limited time only
✔️ Easily manage your Newsletters subscriptions and save your favourite articles
✔️ No payment method required
Already have an account? Log in
© Copyright IBTimes 2023. All rights reserved.