Salt Bae's Instagram Fame Inspires Dance: Chef Nusret Gökçe Responds To Meme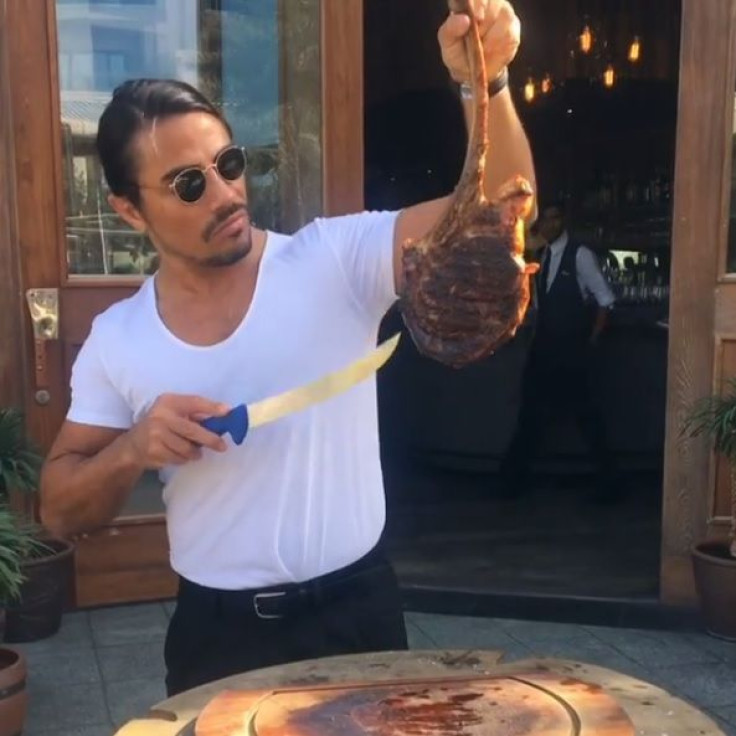 "Salt Bae" is in awe of his newfound stardom. The Turkish chef, née Nusret Gökçe, garnered attention after hos posted a video of himself throwing sea salt on a steak with panache the internet had never seen. The video on Instagram has been viewed more than 10 million times and he's garnered more than 3.5 million followers.
"I'm the happiest man in the world," Gökçe, 34, told NBC News from Dubai Sunday. "So far, we've been the conversation." He added: "Everybody is doing the same move."
The pizazz people see in Gökçe's videos is his passion for food. "All of my feelings are coming from inside of the meat down to when I put the salt onto the meat," he said. "The shape of the meat and the taste of it starting from the top down is a part of me."
Gökçe has an elementary-level school education, NBC News reported. He was unable to continue with his studies because his family did not have the financial means. The chef credited his work ethic for his success.
"Since I was 14, I worked more than 13 hours a day as a kitchen runner for a butcher," he said. "My life hasn't changed now. I still keep going to work from the morning until midnight."
Gökçe garnered the attention of Oscar-winner Leonardo DiCaprio, who ate at his restaurant, Nusr-et, last week. "He was impressed with Mr. Nusret," Gökçe's manager, Noyan Ersolmaz, told NBC News.
"Salt Bae" opened his first restaurant when he was 27 years old. "I was always wishing and wishing to open up a restaurant," he said. "Without much money, I traveled to Argentina to see the meat industry and after that, I wanted to travel to the U.S., but I was refused a visa five or six times, but I never gave up."
Gökçe's signature move even inspired a dance. He posted the clip to his Instagram page last week.
Follow me on Twitter @mariamzzarella
© Copyright IBTimes 2023. All rights reserved.