'Salvation' Season 1 Spoilers: Episode 12 Synopsis Released; What Will Happen Next?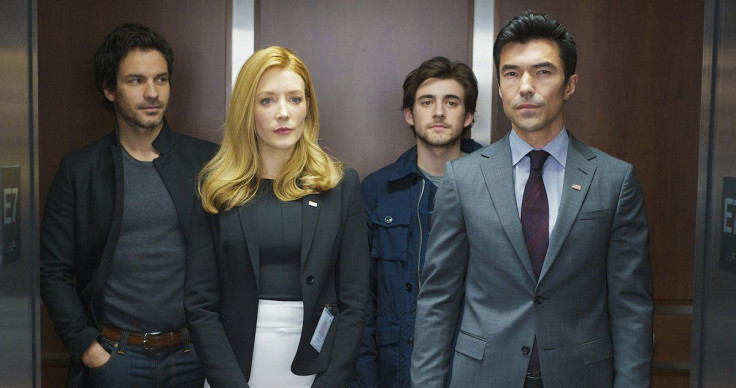 Darius, Grace and Harris think that there's foul play in President Mackenzie's death.
According to the synopsis for Season 1, episode 12 of CBS' "Salvation," Darius (Santiago Cabrera), Grace (Jennifer Finnigan) and Harris (Ian Anthony Dale) join forces to prove that President Mackenzie (Tovah Feldshuh) was murdered.
President Mackenzie died at the end of Season 1, episode 10, after suffering from what appeared to be a severe chest pain while addressing the nation. President Mackenzie had been unwell long before her death, so no one from the government immediately suspected that there was foul play involved her sudden demise.
If President Mackenzie was really murdered, then the most obvious suspect behind the assassination is her successor, Monroe Bennett (Sasha Roiz). In episode 10, Claire (Erica Luttrell) told Harris that there's a certain group that had taken President Mackenzie's failing health as an opportunity to advance their position in the government. When asked who the members of this group are, Claire told Harris that she doesn't know exactly. She, however, claimed that Calhoun (Brian Markinson) is involved.
But when Harris confronted Calhoun about it, the former secretary of defense refused the accusations against him, including the assassination attempt on Grace. "I didn't go after Grace," Calhoun told Harris, before advising him to open his eyes. "You've been played. You really think I could be in charge of all this? That I can mastermind all this without help on the inside? … You've got the wrong guy. They're probably watching, so step carefully. There are land mines everywhere."
In Season 1, episode 11, Harris seemingly realized who the real enemy is. After working with the new president, Bennett, on getting rid of the hacker group RE/SYST, Harris told Grace that "something is rotten at the highest levels [of the government]. Our democracy hangs a thread, and so does the world right now. [So I'm going to do] whatever I have to."
Elsewhere in next week's episode, as seen in the promotional photos for the hour, Grace meets with Amanda (Shazi Raja) and is reunited with her daughter Zoe (Rachel Drance). While Zoe is alive and looks well, it remains to be seen whether Dylan (André Dae Kim) has survived the government's attack on RE/SYST's headquarters.
"Salvation" Season 1, episode 12, titled "The Wormwood Prophecy," airs on Wednesday, Sept. 13, at 9 p.m. EDT on CBS.
© Copyright IBTimes 2023. All rights reserved.