Samsung Galaxy S4 Release Date Nears With May 1 Launch For T-Mobile, April 16 Pre-Order For AT&T, Late June Or July Release For Verizon?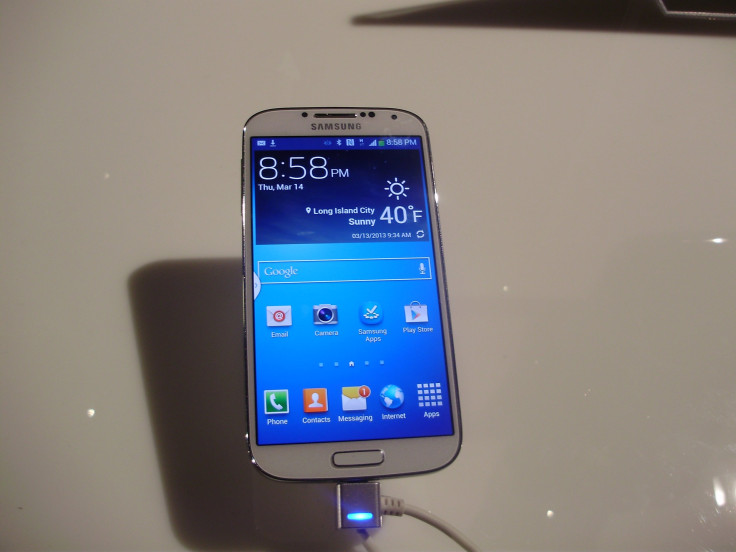 Price, pre-order and U.S. release date information for the Samsung Galaxy S4 is trickling in slowly but surely. Currently, we have some concrete release details from two of the six carriers expected to power the smartphone, and possibly a third, but most remain tight-lipped in the early going.
The Galaxy S4 is slated for availability on Verizon, AT&T, Sprint, T-Mobile, U.S. Cellular and Cricket Wireless, and will likely be seen at many retailers such as Best Buy's Samsung store as well as at many online distributors.
International Business Times took a trip to several carrier retail stores Thursday and discovered that while some carriers are giving us the need to know information about their Galaxy S4 releases, others have kept even their sales associates in the dark.
However, we did get a tidbit of information from a Verizon associate who told us that the Galaxy S4 will likely be available in late June or July for between $199 and $299. According to the associate, Verizon usually releases Samsung Galaxy devices around that time and within the aforementioned price range, so the Galaxy S4 probably will not be much different.
This falls in step with the release date of the Samsung Galaxy S3, which launched on the Verizon network on July 12 of last year and was priced at $199 for the 16GB version and $249 for the 32GB version.
AT&T, T-Mobile, and Sprint sales associates were also clueless on details about the phone's release, despite price, pre-order and release date information having been confirmed for T-Mobile and AT&T in recent days.
T-Mobile CEO John Legere announced Tuesday that the Galaxy S4 will be available for just $99 with the company's new "UNcarrier" plans, with a $20 monthly fee paid over two-years, while AT&T announced Thursday that the Galaxy S4 will be available for pre-order starting April 16, selling for $249 with a new two-year contract.
There is no word on when Galaxy S4 handsets will ship to customers on AT&T but the release date on T-Mobile is set for May 1.
There has also been no further information from Sprint, Cricket Wireless or U.S. Cellular on the Galaxy S4 since their confirmation that they would carry the phone shortly after its unveiling in March. Though recent reports suggest that Sprint's Galaxy S4 is up for review at the FCC, as filings for the smartphone have surfaced alongside filings for a Metro PCS variant, indicating the discount carrier will also power the smartphone.
The Galaxy S4 is already available for pre-order in the U.K. on nine carriers and retailers and is slated to release on April 26. Contract and out-of-contract prices for the phone vary wildly between its distributors.
Similarly to the U.K., the U.S. will receive the GT-I9505 model of the Galaxy S4 with the Qualcomm Snapdragon 600 CPU.
Enthusiasts will have to sit tight in the coming days, weeks or even months for more developments on the Galaxy S4. It'll be interesting to see if this anticipation turns into quality sales for Samsung.
Update: U.S. Cellular has annouced that like AT&T, it will begin pre-orders April 16. The carrier has not yet released price information to the public.
© Copyright IBTimes 2022. All rights reserved.
FOLLOW MORE IBT NEWS ON THE BELOW CHANNELS