Samsung Galaxy S8 Review: 2017 Flagship Just Pretty Enough To Make You Think Twice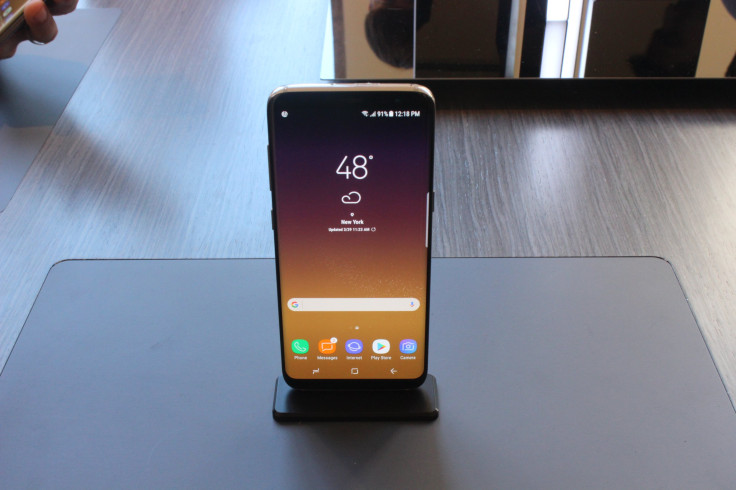 The Galaxy S8 and Galaxy S8 Plus have been on the market for just over one month and continue to be a hot topic among smartphone enthusiasts. Whether it's Samsung celebrating favorable sales of the handsets or hackers attempting to spoof the device's iris scanner, there is still a lot to say about the Galaxy S8.
The smartphone introduces to Samsung's line a new design and new software features, such as the AI assistant Bixby. It also touts several feature improvements, including a sharper and faster camera and more efficient processors.
Whether the Galaxy S8 is worth the buy is completely up to the consumer; however, there are many things to take into consideration when selecting a new premium smartphone. For a little assistance, here's our detailed review of the Samsung Galaxy S8.
Way Out Of Your League (Design And Display)
The Samsung Galaxy S8 is a beautiful smartphone. It stands out during a time when mobile devices have become just ubiquitous enough for many consumers to not care about design, and would rather just have a functional device. Its infinity display is expected to usher in a new trend of smartphones with no home button and possibly also optical fingerprint scanners in the future. The Galaxy S8 features a fingerprint scanner on its rear panel, but more on that later.
Even those in the know may find it striking that the Galaxy S8 features a 5.8-display, while being slightly smaller than the Galaxy S7 Edge, which features a 5.5-inch dual-edge curved display.
Phablet veterans will remember the days when a 5.3-inch display meant carrying around a monstrosity of a device. Not to mention the Samsung Galaxy Mega, which featured a 6.3-inch display before such screens were even fathomable to the average consumer. Now, the Galaxy S8 Plus features a 6.2-inch display and is slender enough to fit into a back pocket with ease. That is if users are brave enough to venture outside without a protective case, which we don't recommend.
Several teardowns and drop tests have determined that the Galaxy S8 is extremely fragile and hard to repair without professional assistance. With an exterior design made completely of glass, every corner of this device is a potential shatter point. While the Galaxy S8 may survive one or two face-down drops with just an adhesive screen protector, owners can pretty much expect naked handsets to succumb to the sidewalk at some point.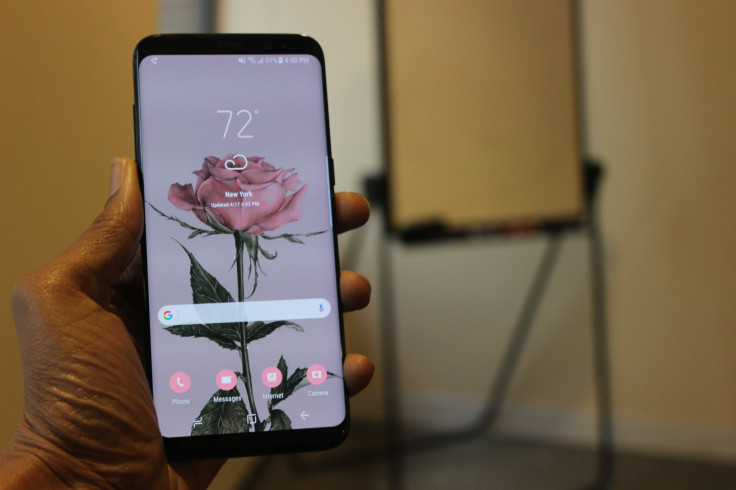 Still, the all-glass design makes the Galaxy S8 one of the most luxe electronic devices on the market. Move over iPhone, the Galaxy S8 could easily take top spot as the subject in aesthetic photography on social media. The Galaxy S8 infinity display complements Samsung's dual-edge curved screen, adding a perfect touch of -- what can this product do that my previous device doesn't? Many users may find the capacitive home button isn't sorely missed. However, it is very easy to forget gestures such as double-tapping the virtual home button to wake an idle handset. It's a gentle reminder that physical keys actually do serve a purpose, but having a built-in theater mode while watching Netflix is also a nice reprieve.
A far cry from the first-generation dual-edge Galaxy S6 Edge, which features wide curves and a flat back, the all around curves on the Galaxy S8 are less dramatic, which makes for easy handling. However, users may find the handset slippery and just forget about keeping smudges and fingerprints off of this device.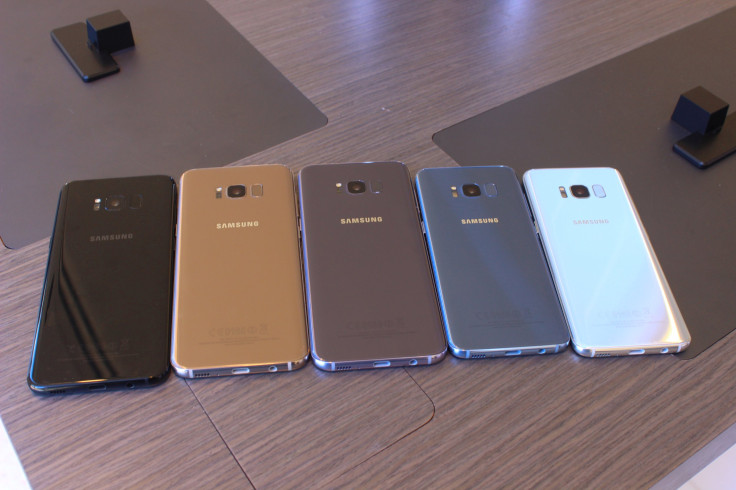 While we are typically fans of the special colors featured on Samsung's flagships, such as silver, pink and Coral Blue, this year's top color option in is Midnight Black. It's sleek and beautiful and has the feel similar to a black-on-black roadster. The uniformity of the black Galaxy S8 is striking, particularly since all other S8 models feature a black front panel and their distinct color option on the near. The special colors on most handsets will be hidden underneath a protective case, but with the black option, what you see is what you get.
Other options include Arctic Silver and the new Orchid Gray, both of which are available in the U.S. Maple Gold and Coral Blue options are available internationally.
Middle Of The Pack (Processing And Memory)
The Samsung Galaxy S8 features the latest processing hardware on the market, including the Qualcomm Snapdragon 835 chip for American markets and the Exynos 8895 chip for many international markets. These chips usher in new and improved technologies including 10-nanometer processing and gigabit download speeds, which all promise to make devices faster and more power efficient.
While benchmarks show the device's technical performance comparison against other well-known devices on the market, practical use of the Galaxy S8 is what would appeal to the average consumer. Users should find seamless interface interaction with minimal lag and near instant application loading. A strong Internet connection should generally support download completion in a few seconds and little to no buffering during a video.
The AnTuTu benchmark rated the Galaxy S8 as fourth the most powerful smartphone, behind the iPhone 7 Plus, iPhone 7 and Xiaomi Mi 6, though the device outperformed the OnePlus 3T, LeEco Pro 3 and the Cool C105.
The Galaxy S8 and Xiaomi Mi 6 are comparable by way of quality. Both devices run the Snapdragon 835 chip; however, the Galaxy S8 can support a higher, Quad HD, display resolution. The Xiaomi Mi 6 features higher memory and storage capacities.
The Galaxy S8 features 4GB of RAM and 64GB of internal storage, in addition to microSD storage expansion up to 256GB. Samsung's external storage capacity is commonplace at this point. For mobile enthusiasts, it may even be a bit underwhelming, considering many devices now support external storage up to 2TB. Still, most users should find storage support on the Galaxy S8 as more than sufficient.
Energy Hog (Battery)
Aspects of the Samsung Galaxy S8, such as its unique display and high-powered processors can all contribute to particularly speedy battery drain. Users who have battery-draining features activated on handsets should expect a quick depletion of battery power.
Simple ways to conserve battery power include keeping brightness low and turning off Wi-Fi. But keeping a charger nearby is recommended with the Galaxy S8, particularly if it is used as an all-around device. Both wired and wireless charging options feature a fast charging capability, which can detect low power levels and provide quicker charging speeds until a device is more stable.
Our ultimate battery test of was on a day of sightseeing during a recent trip in Dublin, Ireland. The Galaxy S8 was our designated camera phone, while a Galaxy S7 Edge served as our browser, map and music player.
The Galaxy S8 battery went from 100 percent to about 25 percent between 6:30 a.m. and 2 p.m. During this time the device's display brightness was set on high and Wi-Fi was enabled. We primarily used the camera app and Wi-Fi for social media sharing. Taking fewer photos between 12 p.m. and 2 p.m. also helped conserve some battery life.
At 2 p.m. we turned down the display brightness and shut off Wi-Fi to further conserve more battery power. By 4:30, the handset was at about 10 and we plugged into a portable charger. However, charger did not support fast charging, so replenishing the battery took time.
In comparison, the Galaxy S7 Edge went from between 90 percent and 55 percent between 6:30 a.m. and 4:30 p.m. While Wi-Fi was activated on this handset, the display brightness was turned down low. Overall, on a typical day of moderate to active function, users should expect Galaxy S8 handsets to quickly dip below 50 percent power and possibly also below 20 percent.
Once again, this 2017 flagship won't be the premium device to tackle the issue of finicky batteries. The Galaxy S8 features a 3,000mAh cell, while the Galaxy S8 Plus features a 3,500mAh. Many Galaxy S8 Plus owners have reported slightly better battery life on their handsets, with proper precautions set in place.
Our travel companion owns a Galaxy S8 Plus and was able to use the handset as an all-around device (camera, browser, map and music player), going from 100 to 10 percent between 6:30 a.m. and about 6 p.m.; with Wi-Fi off and display brightness set to high.
New Ways To Hide Bloatware (Software)
The TouchWiz interface has been renamed as the Samsung Experience and includes interesting aspects, such as a default setting, which allows users to access the app tray by swiping up or down on the home screen. With this setting, there is no app tray icon on the home screen, but users can set the interface back to the standard look if they desire. But even the absence of the app tray gives the Galaxy S8 home screen a sense of minimalism users won't find on other Samsung models.
It's completely up to users, how many apps they desire on their home screen or wants visible in their app tray, but there are several options for organizing applications on the Galaxy S8. More stock apps can now be disabled or uninstalled, making it easier for users to declutter busy screens, often full of carrier bloatware. Often users will see pre-installed folders for Google, Samsung, and carrier stock apps. Folders are a simple way for users to further organize apps and tuck away stock apps that cannot be disabled or uninstalled.
Android Nougat includes a 3D-touch-like feature that allows users to long press app icons and brings a drop-down menu of functions, which include selecting multiple items, moving apps around the interface, disabling/deleting apps and accessing app info.
Overall, users should find customizing the Galaxy S8 interface a much more simple task without having to root a handset.
Unfinished Business (Bixby)
Bixby was expected to be Samsung's standout feature for the Galaxy S8. A rival to other AI assistants such as Siri and Alexa, the feature released with the Galaxy S8. The software includes such aspects such as Bixby Vision, Bixby Voice, and Bixby Home.
These features are intended as updates to the standard AI assistant functions of asking the weather or asking a question to receive search engine results. Bixby Home, similar to Samsung's News Briefing feature, is a hub for the many menial information bites users may need from their smartphones. Swipe left on the Galaxy S8 screen and Bixby Home displays weather, reminders, Samsung Health details, among other things.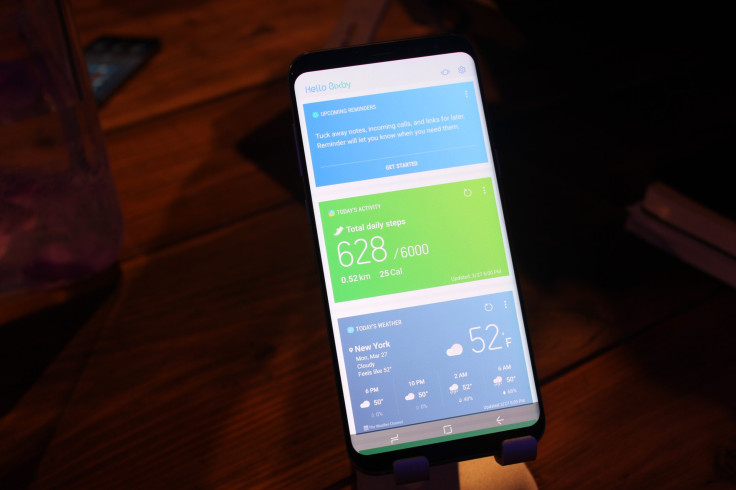 We haven't been able to access Bixby Home in several weeks, as the screen indicates there is a software update to be downloaded. However, the update has yet to download and install after several attempts. When we check for updates through settings, the handset's software appears to be all up to date. A hard reset may be required.
Bixby Voice is the assistant's primary feature, which not yet been introduced to the Galaxy S8. Bixby Voice allows users to dictate voice controls for various devices functions. The feature's release has been plagued with several delays. Most recently, reports indicate that Samsung has had trouble implementing the English syntax for Bixby to learn. Bixby Voice was supposed to release in April originally, but may not be available until late June.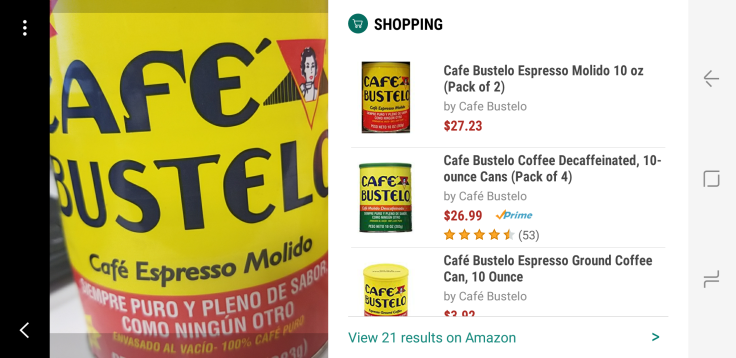 Bixby Vision works quite well and allows users to execute functions like identifying items to purchase or translating text. Users can press the Bixby Vision eye symbol in their camera app and hold it up to an item. If a user wants to purchase an item, they can press the shopping icon, which will then bring up several Amazon options, which they can purchase; sign into Amazon and check out.
To translate text users similarly hold the Bixby Vision camera app up to the text and select the text icon then translate. Highlight the text to be translated and Bixby Vision will auto detect the language and translate it into the indicated second language via Google Translate.
As a first generation feature, Bixby appears to have a lot of potential, but clearly, needs a lot of work. It will be interesting to see how Samsung's features advance as similar protocols, such as Google Lens enter the smartphone market.
Near Perfect Shot (Camera)
Most users should be satisfied with the cameras on the Galaxy S8, which includes a 12-megapixel rear camera and 8-megapixel front camera, both with f/1.7 aperture. Currently, the Galaxy S8 is rated as having the fourth best mobile camera on the market by DXO Benchmark. It is surpassed only by the HTC 11 and Google Pixel, by a one-to-two point difference and tied with the HTC 10.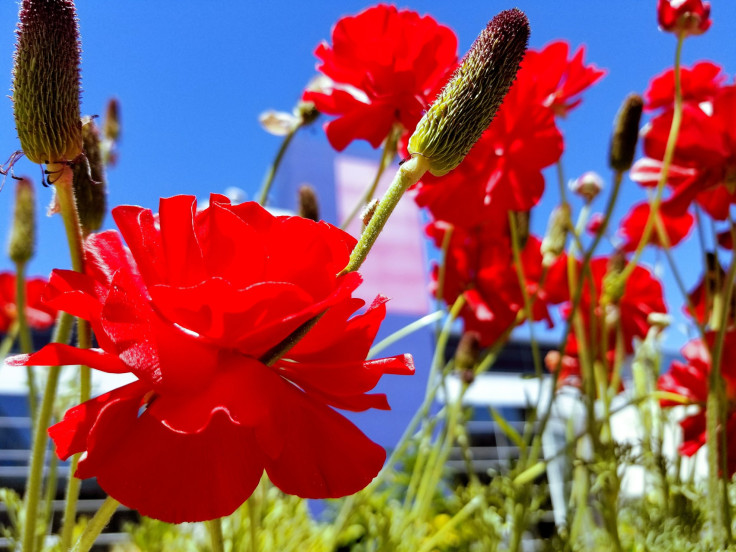 Shots with the Galaxy S8 are fast, clear and color accurate. Don't expect to spend a lot of time waiting for the lens to focus. Well-lit areas should yield favorable shots in one to two attempts. Low light shots are also detailed and impressive.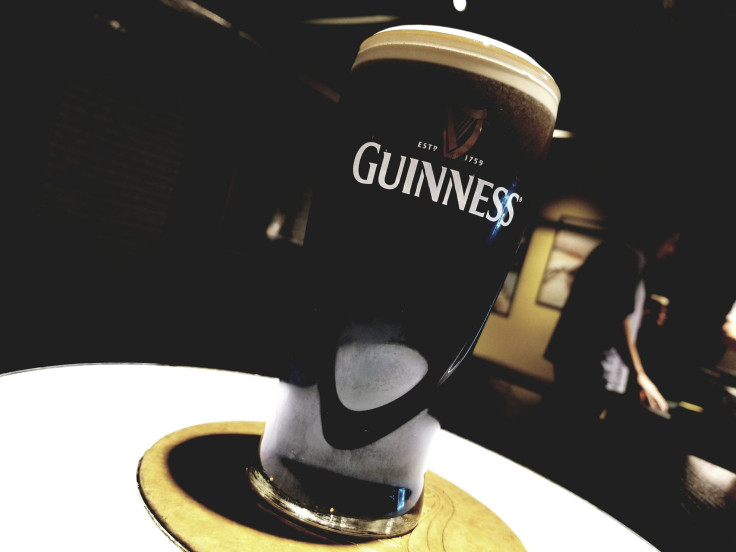 Users may find several features within the camera application useful, such as the auto-HDR mode, which gives, especially outdoor shots a special level of color accuracy and pop. Swipe right to access editing tools such as filters and stickers. Some filters are similar to Instagram (we recommend deep), while others are similar to Snapchat. Swipe right for other settings, such as panorama, pro mode, selective focus, and food mode. Swiping up or down will switch the camera from front to back facing or the opposite.
A favorite pastime of ours is taking photos out of the window of an airplane. The Galaxy S8 does not disappoint, particularly in the presence of detailed terrain, such a snow-capped mountains. Shots from several tens of thousands of feet are definitely great for testing the strength of the Galaxy S8 camera.
So Many Options (Biometrics)
Users have a host of methods to secure their information on the Galaxy S8. In fact, there are six security options on the handset, including iris scanning, facial recognition, and fingerprint scanning, in addition to the more standard pin, pattern and password options.
Iris scanning and facial recognition are newer options, with the latter being introduced to Samsung's line on the Galaxy S8. The Galaxy Note 7 was the first device by the Korean manufacturer to feature iris scanning.
While users can register all three biometrics options on their Galaxy S8 handset, the device will allow only three security options total to be activated at any given time.
For example, users can set fingerprint scanning, iris scanning, and pin, or facial recognition, fingerprint scanning, and pattern. Users cannot set iris scanning and facial recognition simultaneously and must choose one between pin, pattern, and password as a backup security measure, in the event the biometric options fail.
Our typical configuration is fingerprint scanning, iris scanning, and pin. More often than not, we end up simply inputting the pin, as biometrics on the Galaxy S8 has proven to be temperamental.
Between iris scanning, facial recognition, and fingerprint scanning, iris scanning has been the easiest to use. In an ideal situation, the iris-scanning viewfinder doesn't even have time to display before the handset is unlocked. If the situation is less than ideal, users may require a few attempts to unlock their device. Aspects such as dim lighting and improper angling can all prevent the Galaxy S8 iris scanner from getting an accurate reading. Users can expect to concede after at least two failed attempts.
Facial recognition has similar issues. The only exception is this biometric option does not include a viewfinder. This makes it harder for users to know whether they are properly presenting their face for recognition. This makes authentication fails more common. Reports have also indicated that the Galaxy S8 facial recognition can easily be duped by images and other spoofing measures. Because of this, many mobile banking applications have forgone using Galaxy S8 facial recognition as an authentication option.
The rear placement for the Galaxy S8 fingerprint scanner is new for Samsung and it is apparent that the design aspect was not carefully planned. Reports indicate Samsung decided last minute to put a capacitive fingerprint scanner on the rear of the handset, rather than an optical fingerprint scanner underneath the display on the front of the device.
The Galaxy S8 fingerprint scanner is located on the upper right of the handset, near the camera module. This has proven to be a cumbersome placement, as it is very easy to miss the scanner altogether and place a finger on the camera module, especially when the handset is in a case. The scanner is also prone to authentication failure due to improper finger placement.
Devices with rear-facing fingerprint scanners typically have a centered positioning, which makes it easier to locate the scanner without looking. Samsung has not given a definitive reason for the Galaxy S8 fingerprint scanner positioning.
Nice Phone, If You Can Get It (Verdict)
The Samsung Galaxy S8 is a solid device and does not disappoint on several fronts. Speed and processing, photography and design aesthetics are all on point.
The handset is clearly a stepping stone toward what Samsung hopes its devices will be in the future. Features such as Bixby, the infinity display, and virtual home key are all hints on what Samsung may elaborate on in future devices. Their implementation on the Galaxy S8 may seem clumsy, but most users should be able to overlook the incomplete feel of certain features, which are not yet mainstays on the market at large.
The biggest set back on this device is likely its price. Despite being a premium device, the $750 price tag for the Galaxy S8 and the $850 price of the Galaxy S8 Plus is sure to make many prospective smartphone customers think twice.
However, the price has not stopped several million people from purchasing the device so far. Recent reports indicate the Galaxy S8 is selling at double the rate of the Galaxy S7, which is a hopeful indicator that Samsung has the chops to continue to impress premium Android fans.
© Copyright IBTimes 2023. All rights reserved.
FOLLOW MORE IBT NEWS ON THE BELOW CHANNELS