Samsung Washing Machine Recall 2016: Full List Of Models Affected, How To Get A Refund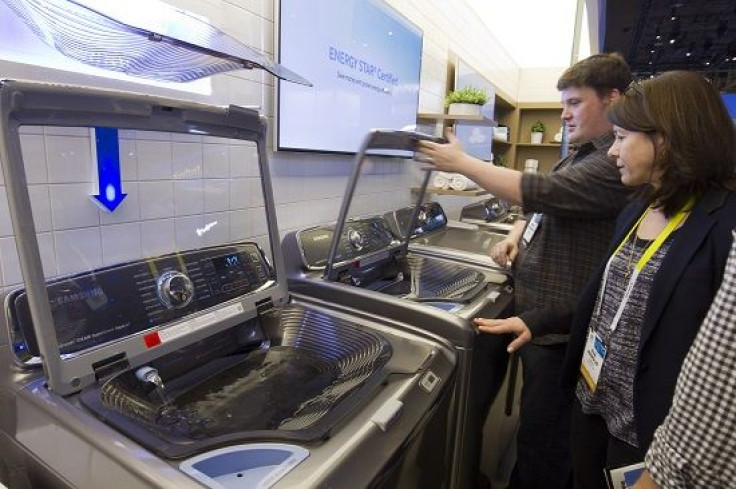 Samsung recalled 2.8 million of their top-load washing machines on Friday. At least nine people have been hurt, including shoulder injuries and broken jaws from the tops of the machines detaching from increased vibration. The machines have also lost balance from the excessive vibration.
Chances of the tops coming off increase when a laundry load is placed on a high-speed spin cycle. One woman in Texas claimed her machine "exploded with such ferocity that it penetrated the interior wall of her garage."
Samsung has received more than 700 related complaints from customers. Those who purchased the washing machines from places like Home Depot, Sears, Best Buy and other home appliance stores between March 2011 and November 2016 have been advised to proceed with caution when using their machines.
"Our priority is to reduce any safety risks in the home and to provide our customers with easy and simple choices in response to the recall," Samsung Electronics America's general manager of home appliances John Herrington said in a statement.
In order to fix the malfunction, Samsung is offering customers three options for a solution. Those who purchased the machine for anywhere from $450 to $1,500 can receive a full refund if they bought the machine within past 30 days since the recall was announced. However, those who have had the machine longer can either receive a free in-home repair or a rebate.
Those choosing to have the machine repaired will receive a one-year extended warranty from the manufacturer. The washer's top will also be reinforced. Customers who no longer want to use the machine can receive a rebate which can be used towards buying a new machine, either from Samsung or any other company. The rebate also includes free removal of the old machine and free installation of the new one.
Customers should expect to receive a home label kit with safety instructions and a control panel guide in the mail.
Below is a list of the serial numbers of the 34 recalled models.
-WA40J3000AW/A2
-WA45H7000AP/A2
-WA45H7000AW/A2
-WA45H7200AW/A2
-WA45K7600AW/A2
-WA45K7100AW/A2
-WA48H7400AW/A2
-WA48J7700AW/A2
-WA48J7770AP/A2
-WA48J7770AW/A2
-WA50K8600AV/A2
-WA50K8600AW/A2
-WA52J8700AP/A2
-WA52J8700AW/A2
-WA400PJHDWR/AA
-WA422PRHDWR/AA
-WA456DRHDSU/AA
-WA456DRHDWR/AA
-WA476DSHASU/A1
-WA476DSHAWR/A1
-WA484DSHASU/A1
-WA484DSHAWR/A1
-WA48H7400AP/A2
-WA50F9A6DSW/A2
-WA50F9A7DSP/A2
-WA50F9A7DSW/A2
-WA50F9A8DSP/A2
-WA50F9A8DSW/A2
-WA52J8060AW/A2
-WA5451ANW/XAA
-WA5471ABP/XAA
-WA5471ABW/XAA
-WA56H9000AP/A2
-WA56H9000AW/A2
This is the latest product Samsung has been forced to recall due to malfunctions. As of October 2016 the company has recalled about 1.9 million Galaxy Note 7s due to the phone's battery overheating and catching fire.
Customers who want more information on the washing machine recall can call Samsung toll-free from 8 a.m. to 10 p.m. at 866-264-5636.
© Copyright IBTimes 2023. All rights reserved.