San Bernardino Shooting: Syed Rizwan Farook, Tashfeen Malik Get Muslim Burials In FBI-Guarded Funeral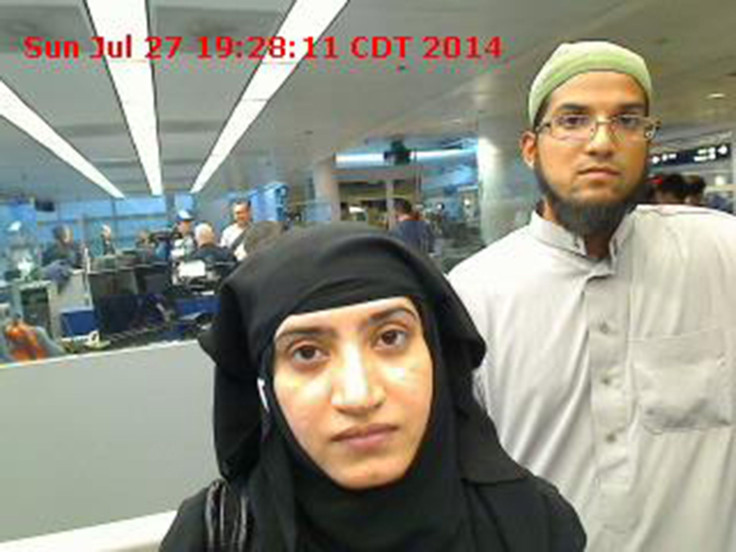 Syed Rizwan Farook and Tashfeen Malik, the shooters involved in the San Bernardino, California, attack earlier this month, received a Muslim burial Tuesday in a small funeral guarded by FBI agents, Reuters reported late Wednesday, citing sources. The couple was shot dead by police officials on Dec. 2 few hours after they opened fire at the Inland Regional Center social services agency, killing 14 people and injuring another 20.
The funeral was carried out in traditional Islamic rituals and the attackers' bodies were cleansed at a Muslim cemetery at a distance from San Bernardino, the people speaking on condition of anonymity told Reuters. One of the two sources, who attended the funeral, also said that it took nearly a week to find a graveyard willing to accept the bodies, as they all feared the graves would be desecrated.
The sources did not identify the cemetery where Farook and Malik were buried, but only said that it was far from the Southern California city where the attack took place.
About 10 people reportedly attended the funeral, one of the sources said, adding that members of Farook's family were present during the burial.
The other source who did not attend the funeral said that most Muslims in the community, including those who used to attend mosque with the couple, refused to participate in the burial or perform the funeral prayer, called Salat Al-Janazah, Reuters reported. "I don't forgive him myself," the source reportedly said, adding: "I pray mercy for him, and we Muslims know God is merciful. But he's also just."
According to Islamic tradition, a body should be buried as soon as possible, with families often putting loved ones to rest within 24 hours. But family members and community members had to wait for the shooters' bodies to be released by law enforcement officials and obtain permission from a cemetery, Reuters reported.
U.S.-born Farook, 28, and his Pakistani-born wife Malik, 29, left behind a 6-month-old daughter, who has been in state custody since the shooting. Farook's sister and brother-in-law, Saira and Farhan Khan, reportedly said that they hope to adopt their niece.
Meanwhile, the news of the burial comes hours after the head of FBI said that there was no evidence that Farook and Malik were part of a terrorist cell. FBI Director James Comey reportedly said Wednesday that investigators believe that the pair was inspired by the Islamic State group, also known as ISIS, but the attack was not conducted under the group's direction.
The couple had pledged allegiance to ISIS before they went on the shooting rampage.
Comey also reportedly said that the two had expressed support for "jihad and martyrdom" in private communications, like emails, as early as 2013, but did not voice their support on social media.
Reports surfaced earlier this week that Malik sent at least two private messages on Facebook to some of her Pakistani friends in 2012 and 2014, pledging support for jihad. The messages, which were described by one law enforcement official as "her private communications … to a small group of her friends," were posted before she entered the U.S. on a K-1 fiancée visa in July 2014, the Los Angeles Times reported.
The FBI continues its investigation into the lives of Farook and Malik to determine their motive behind the San Bernardino attack.
© Copyright IBTimes 2023. All rights reserved.