Sandara Park Retracts 'No Marriage' Vow: 'I Might Get Married Next Year'
KEY POINTS
Sandara Park appeared as a guest on MBC's South Korean talk show "Radio Star"
The 38-year-old singer cleared the rumors surrounding her and revealed her dating method
She previously declared in past interviews that she had no intention of getting married
Thirty-eight-year-old South Korean singer Sandara Park retracted her previous declaration that she did not want to get married during her appearance as a guest on MBC's talk show "Radio Star" in August.
Before the release of the episode, "Radio Star" released a teaser clip where the female K-Pop idol, who previously said she wouldn't get married, declared that she was all-in when it comes to love and could even get married next week, taking back her non-marriage vow from way back.
The episode teaser showing Sandara's latest stance on marriage caused a stir among netizens. While some criticized her for changing her stance, others defended her and said that the criticism she received was ridiculous.
However, when the episode finally aired, Sandara explained her latest statement and thoughts about marriage.
When asked by the hosts why she declared non-marriage early on, she said, "I don't know, there used to be people who absolutely want to get married, like So-hyun, but I don't really mind either way."
"Depending on the partner, I believe I can change my thoughts. If my partner says, 'I'm not into marriage,' then we'll just keep dating. Or if my partner wants to get married and if they manage to change my mind on the topic, I also think I could get married," Sandara added.
According to Sandara, her thoughts on marriage depend on her partner, whether he can change her mind on the topic or not.
"It's just... There are those people [who] think 'I [got to] get married next year,' so they're determined to catch someone just to do it. That's me," Sandara said, drawing laughter from the hosts and the other guests.
She clarified her statement, saying, "What I really meant was that I wouldn't do that just for marriage."
Meanwhile, when asked if she's an expert in a certain area of romance, Sandara stated that she was a cyber lover and "is number one in her country." Because of the dating ban while she was a trainee until the first five years after her debut as a K-Pop idol, she relied on online relationships instead so she won't get caught by their manager.
The singer-actress disclosed that she goes on dates in person these days but often asks around for advice because she claims she is not an expert in romantic relationships.
"These days, I go on dates in person. Also, I'm no expert in being in a romantic relationship because I don't have much experience," she explained.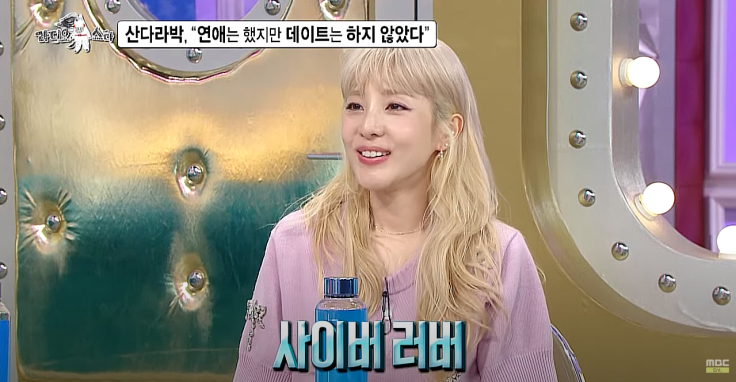 © Copyright IBTimes 2023. All rights reserved.