Sandusky Scandal: Penn State Alumni Trustees Seek Access To Freeh Report Documents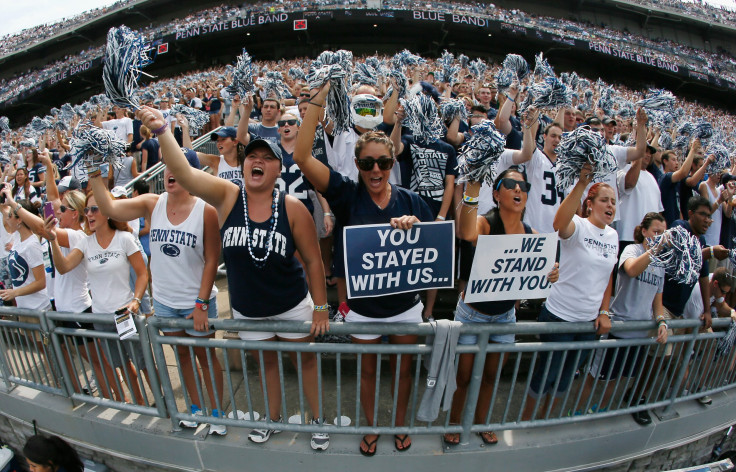 Nine alumni-elected members of Penn State University's board of trustees have requested access to the documents and evidence used to create a report that found leading members of the school's administration culpable for covering up child sex abuse perpetrated by former assistant football coach Jerry Sandusky.
The faction of the board sent a letter to Chairman Keith Masser, who leads Penn State's board of trustees, asking for access to the report's supporting documents, according to the Associated Press.
"Louis Freeh and his report greatly damaged the reputation of Penn State," trustee Albert Lord, who joined the board this year, said in a statement cited by the AP. "As fiduciaries of Penn State, we have both a legal as well as a moral obligation to ask questions about such an inherently incomplete work product."
Trustee Anthony Lubrano told Centre Daily News that he is interested in the notes from interviews with Penn State personnel. Lubrano claimed that many of those interviewed told him they were concerned that they had not had the opportunity to verify the accounts of their interviews.
"For all we know, there is significant misrepresentation or exculpatory information that Louis Freeh chose to ignore," he said.
The group set a Monday deadline for Masser to respond to their request.
The request for access to the Freeh report's supporting documents is the latest clash between the alumni-elected side of the board and the body's leadership. The alumni-elected faction has stated in the past that the report blamed the university's leadership without sufficient evidence, according to Philly.com.
The alumni faction recently lost board votes to reopen the Freeh investigation, and to have Penn State join a lawsuit against the NCAA, which banned the university from bowl games for four years, fined the school $60 million and eliminated some scholarships, though all will be reinstated by next season, according to TribLive.
The report, created by a team headed by Freeh, the former FBI director, found that Penn State President Graham Spanier, senior vice president Gary Schultz, Athletic Director Timothy Curley and Head Coach Joe Paterno, failed to take action against a child sexual predator harming children for more than a decade.
© Copyright IBTimes 2023. All rights reserved.