Sarah Palin Apologizes To Julian Assange: WikiLeaks Founder 'Opened People's Eyes To Democrat Candidates,' Republican Says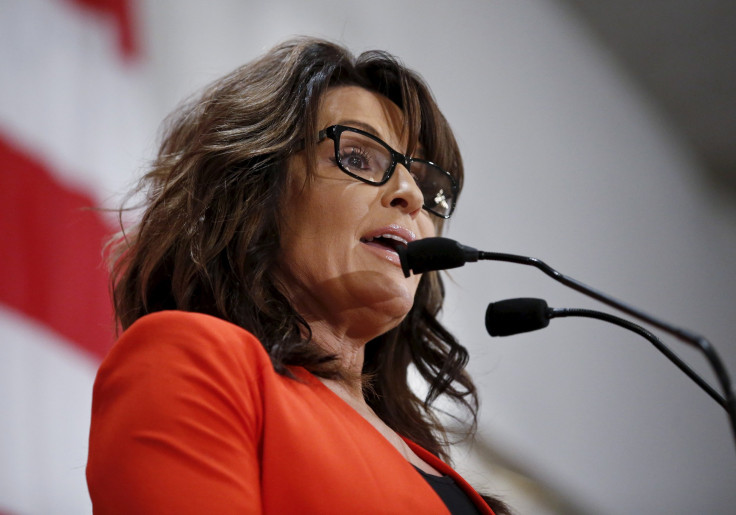 Former Alaska Governor Sarah Palin apologized to WikiLeaks founder Julian Assange in a Facebook post Tuesday, soon after the latter's interview with Fox News host Sean Hannity was aired.
The former vice presidential candidate took to Twitter and Facebook to apologize to the Wikileaks founder, also providing a link to Assange's Fox News interview. Palin's posts started with: "To Julian Assange: I apologize."
The apology was reportedly for her remarks — made in 2010 — where she compared Assange to the Al Qaeda and the Taliban. Palin had written on her Facebook page: "Assange is not a 'journalist,' any more than the 'editor' of al Qaeda's new English-language magazine Inspire is a 'journalist.'"
Just as WikiLeaks posted hacked emails from the Democratic National Committee, nominee Hillary Clinton and campaign manager John Podesta during the run up to the 2016 presidential election, the organization had posted hacked emails from Palin's account when she was John McCain's vice presidential pick during the 2008 election.
"[Assange] is an anti-American operative with blood on his hands. His past posting of classified documents revealed the identity of more than 100 Afghan sources to the Taliban. Why was he not pursued with the same urgency we pursue al Qaeda and Taliban leaders?" she wrote.
However, the Republican has now had a change of heart.
"I apologize for condemning Assange when he published my infamous (and proven noncontroversial, relatively boring) emails years ago," Palin wrote in her facebook post.
"As I said at the time of being targeted and my subsequent condemnation, though, the line must be drawn before our troops or innocent lives deserving protection would be put at risk as a result of published emails."
In the Fox News interview, Assange accused President Barack Obama of attempting to "delegitimize" Donald Trump's presidency and Palin used her social media post to say that the left has been "oh-so-guilty of atrocious actions and attitudes of which they've falsely accused others."
"This important information that finally opened people's eyes to democrat candidates and operatives would not have been exposed were it not for Julian Assange," Palin wrote on Facebook.
© Copyright IBTimes 2023. All rights reserved.