Sarah Silverman Offers Sheldon Adelson Sexual Favors 'To Fruition' If He Gives $100M To Obama [NSFW VIDEO]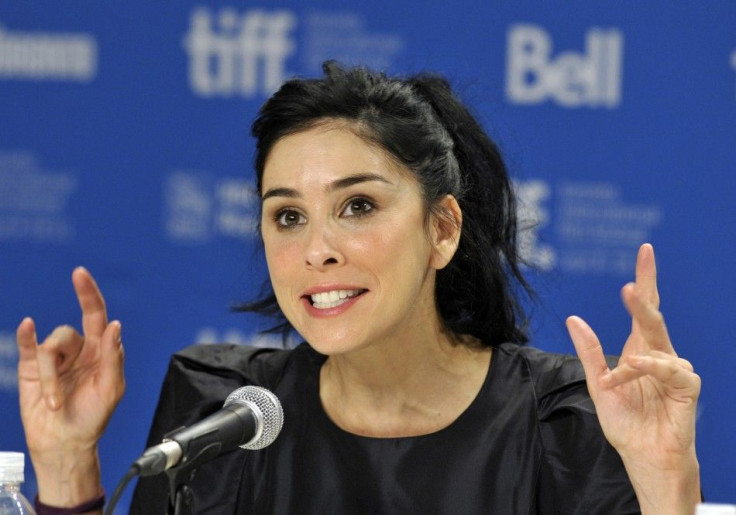 Sarah Silverman has a raunchy proposal for casino mogul Sheldon Adelson: Donate $100 million to Barack Obama instead of Mitt Romney and she'll offer to scissor him to fruition.
For those who don't know what scissoring is, Silverman demonstrates the lesbian sex act (in a bikini) with her dog at the end of the video. You can also get the definition at UrbanDictionary.com.
The proposal, made in a video that can be seen below, is a comedic take on Adelson's pledge to give $100 million to Romney's campaign (he's referred to as the ex-Massachusetts governor's sugar daddy in the video.) Adelson had backed failed Republican presidential candidate Newt Gingrich in the primaries, funding fierce attack ads against Romney in the process.
Sarah Silverman makes the offer to Sheldon Adelson in a video on the new website scissorsheldon.com.
Sheldon, I have a proposal for you and I'm serious, Silverman deadpans into the camera. If you give that $100 million to Obama instead of Romney, I will (well, I won't have sex with you because we're not married and I'm a nice girl), but I will scissor you wearing a bikini bottom through to fruition.
Silverman tries to convince Adelson to make the $100 million donation to Obama by highlighting the exclusivity of her offer.
Do you know how many billionaires are giving money to Romney? All of them. How many of them are getting scissored by a bikini-bottomed Jewess with big naturals? How many, Sheldon? Silverman says. You'll be the only elderly billionaire on the block to have traditional lesbian sex through to climax with a girl who had her own show on Comedy Central. I mean, talk about bragging rights.
Despite the low-brow humor contained in the video, the Scissor Sheldon website also contains information on Adelson that you would find on a traditional political website, with links to articles from Forbes, The Hill, The New Yorker and ABC News in a section titled Who Is The $100 Million Man?
Scissor Sheldon also features space where you can sign a petition to Stop Sheldon from donating to Romney's campaign.
The site appears to target Jewish voters. Adelson and Silverman are both Jewish, and the tycoon has lavishly funded Jewish causes, especially right-wing Jewish causes.
Billionaires are giving Romney a record-breaking amount of money for this campaign. One of these men, 78-year old casino magnate Sheldon Adelson, has committed to giving 100 million dollars to Romney. Adelson is the same man who stopped backing AIPAC for supporting aid to the Palestinians, freely mocked Obama at a Birthright event, and who Republican Senator John McCain suggests is bringing foreign money into American elections, Scissor Sheldon says. Adelson has said 'he will do whatever it takes' to defeat President Obama. American Jews overwhelmingly reject both Mr. Adelson's views and his outsized role in this election. Tell Mitt Romney to reject Sheldon Adelson's support. Sign this petition to keep Adelson's money out of politics.
© Copyright IBTimes 2023. All rights reserved.