SAT Test Tips 2016: How To Study For And Get A Good Score On The New Exam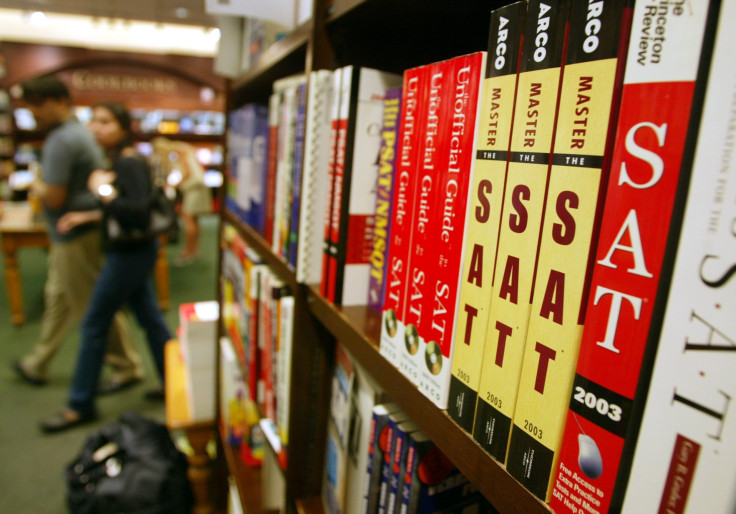 Don't freak out, but the SAT is coming. The first test date of the 2016-2017 school year is set for Oct. 1.
If you're among the 1.7 million students who will take the college readiness exam this year, you might be wondering how best to study up. Because the exam results can determine which college you go to and what scholarships you might receive, many people seek help in the form of test prep books, tutors or flashcards. But what's the right way to go about getting ready for the big test?
Here are five tips for studying for the SAT:
Know the format. Remember that the College Board debuted a redesigned SAT this past March. The new exam has an optional essay and doesn't take away points for wrong answers. It's scored on a 1600-point scale as opposed to 2400. There are only four answer choices for each question. The reading section focuses on texts, while the math section eases up on the geometry, according to Time.
Make a study schedule. You should start test prep about three months before the exam itself, but if you're short on time, that's OK, too, according to Khan Academy, a non-profit educational organization based in California. First, identify your strengths and weaknesses by taking a practice test. Then come up with a plan you will stick to. Magoosh, an online test prep company based in Berkeley, California, recommends setting aside 45- or 90-minute chunks of time throughout your week to practice and review.
Figure out a reading strategy. Take a few practice tests to figure out what's the best approach to passages — reading them quickly, reading them carefully or going right to the questions to see what you can knock out easily, according to PrepScholar. For writing questions, try reading them quietly under your breath to help you spot the errors.
Don't get tripped up by math terms. It's easy to get confused if you're rushing or nervous, so study up on what the test questions are actually asking you. If a problem says "plus," "combined" or "increased by," that means adding, according to Kaplan. If it refers to "a number" or "how much," think about variables. Once you've identified what a question means, you can look for patterns or draw a diagram to help you solve it.
Chill out the night before. It won't do you much good to cram. Relax, set an alarm for the next morning and get together your supplies: pencils, a calculator, batteries, the test ticket, ID, a snack, sweater, et cetera. Green Test Prep recommends eating a good, carb-heavy dinner like pasta so your body's in top shape for the exam. Then go to bed early. You can do it.*
Remember you can try again. If you bomb this SAT attempt, you can simply register for the test another time. SAT test dates for this school year include Nov. 5, Dec. 3, Jan. 21, March 11 and May 6. Check out the deadlines here.
© Copyright IBTimes 2023. All rights reserved.