Saudi Arabia expects its first budget surplus in a decade
Non-oil growth is gaining momentum despite covid and high energy prices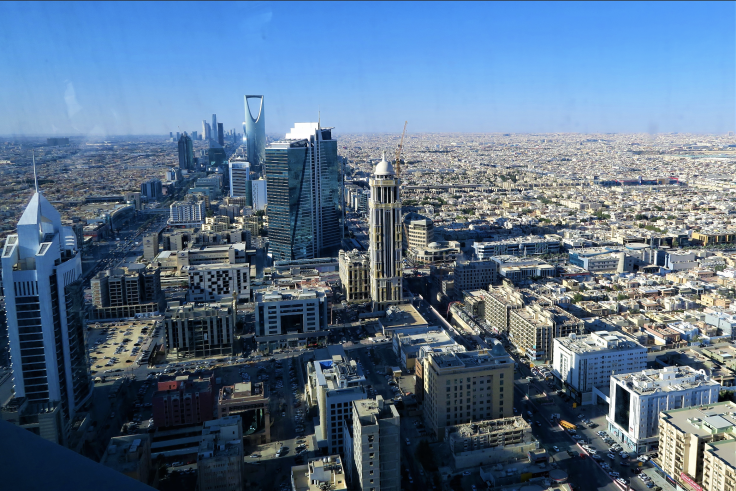 Saudi Arabia looks set to post its first budget surplus since oil prices crashed in 2014. Of course, the kingdom has been helped by surging oil prices as it emerges from the pandemic, but that isn't the whole story. The country's 'Vision 2030' is a framework aiming to reduce its dependence on oil revenue and is looking to boost non-oil sectors. The plan seems to be working despite recent obstacles.
Overall growth for 2021 was 3.3%, higher than the original official Saudi prediction of 2.9%. The fourth quarter was particularly impressive, with the economy expanding by 6.8%. High oil prices helped, with the oil economy growing 10.8%, but the non-oil gross domestic product also rose significantly, rising 5%.
It is the latter that is set to grow further. The oil sector was largely unaffected by the pandemic, but non-oil sector growth has been considerably dampened, with ongoing covid-19 outbreaks in some parts of the world continuing to slow things down. However, this is set to change as restrictions ease, and people learn to live with the virus.
The official growth predictions for 2022 are estimated to be 7.4%, and the non-oil sector will play a significant role. The nation's non-oil private sector has risen consistently for well over a year and, by the end of 2021, was expanding at its fastest rate since December 2017.
The non-oil sector is growing but is still being held back
While the sector has generally been rising, there are still fluctuations. For example, Saudi Arabian non-oil exports increased by 27.5% from January 2021 compared to the same period a year later. However, the Purchasing Manager's Index (PMI), compiled by IHS Market, fell from 53.9 in December to 53.2 in January 2022 due to a surge in virus cases. The sector still grew but at a slightly slower rate.
It is not just the coronavirus that is slowing growth. Although it benefits the kingdom's overall economy, the high price of oil is also making it harder for non-oil companies and organizations to operate.
Even so, the non-oil sector continues to grow, and the rate is likely to accelerate. The Saudi Arabian government plans to invest over $3 trillion in the domestic economy by 2030, and unemployment among nationals is at its lowest level since 2009. Companies across the country are recovering, and new businesses are rising at the fastest rate in seven years. These trends look set to continue.
An excellent example of how established private Saudi companies have fared is UNITRANS (United International Transportation) Group and its flagship brand Budget Saudi. Even though the vehicle rental industry has been impacted by both covid and high oil prices, the company, founded in 1978, is still going strong.
Fawaz Abdullah Danish, the company's President & Group CEO, says, "Business has been harder over the last couple of years, but for those who are prepared to adapt quickly and are well experienced, growth was possible. Like other non-oil businesses in the country, we still face challenges such as the microchip shortage that affected vehicle supply and a backlog in vessel movements delaying shipments."
Saudi businesses have successfully navigated the last few years and are set to grow
Danish continues, "We are fortunate in that we have a lot of history and experience and have been able to adapt and grow. We've done this through various innovative approaches and developments, keeping our focus always on our customers and their preferences. We still offer affordable rental vehicles, flexible and customized corporate leasing solutions, pre-owned car sales, premier limousine services, and other options to reach out to our customers.
"It is always important for businesses to listen to their customers and deliver what they want. We have been in this business for 44 years and have a network of locations and service centers spread across 25 cities in Saudi Arabia. So we have great opportunities to hear from our customers and reach out to them wherever they are, creating great experiences for them," he explains.
"For example, Budget Saudi stresses the importance of high-quality vehicles and world-class service. In addition, there is always a focus on hygiene, even before the covid-19 outbreak, because that is important to our clients. Furthermore, it's essential to operate with high ethical standards, transparency, and effective corporate governance. It is crucial to build trust, and as a result, our reputation helped us maintain and even increase our client base throughout the pandemic.
"From a business operations point of view, aspects such as adaptability, consistent development, and innovation are key. In addition, operations and services must be backed up by technical competency and effectiveness. We have also been focusing on logistics and fleet management solutions in line with the National Logistics Development Strategy, part of Vision 2030," Danish says.
"The pandemic and its adverse impact on businesses led to some closing. But the government initiatives to support business sectors and accelerate growth in Saudi Arabia have seen a recovery in the economy. The focus on the tourism sector and developing our country as a major tourist destination is bound to bring further opportunities. It is a very positive time."
The UNITRANS Group is just one example of how Saudi businesses and entrepreneurs are thriving. The group's net profit, after Zakat and tax, rose an impressive 8.6% in 2021 to SAR 220 million. The company's board has even recommended a 13% cash dividend for H2 2021.
This is an interesting period for Saudi Arabia. As it emerges from the shadow of the pandemic, the focus will be on achieving the goals of Vision 2030. As the country moves toward a non-oil-based economy, it will be fascinating to see how fast the sector will grow once the dampening effects of the pandemic are removed.