'Schitt's Creek' Finale: How Pop Series Is Celebrating The End
The last season of "Schitt's Creek" is coming to a close and the creators of the show, along with Pop TV, have decided on a special way to send the show out. An hourlong documentary will immediately follow the series finale airing on April 7 at 8 p.m. EDT.
"Best Wishes, Warmest Regards: A Schitt's Creek Farewell," directed by Amy Segal, will give a behind-the-scenes look into the hit comedy series with never-before-seen footage. The "Schitt's Creek" finale special is also expected to get quite emotional as the final Season 6 table read will also be displayed, cast tears and all.
"As we celebrate the end of 'Schitt's Creek' we couldn't do it without creating a special TV moment to send this historic series out on top," Pop TV president Brad Schwartz said in a statement, according to Deadline.
Father and son co-creators and stars Eugene Levy and Dan Levy will be interviewed for the special, along with their on-screen family, Catherine O'Hara and Annie Murphy. "Best Wishes" will also feature interviews from celebrity fans of the show -- such as Paula Abdul ("American Idol"), Will Arnett ("Arrested Development"), Carol Burnett ("Annie"), Tony Hale ("Veep"), Amy Sedaris ("Bojack Horseman"), and Johnny Weir ("Spinning Out").
The above trailer for the finale special shows the Levys filming one of the final, spoiler-filled scenes in which it appears multiple people behind the camera are crying, including Dan.
"This must-watch behind-the-scenes doc is the perfect way to honor a series that has made an impact in so many people's lives," Schwartz continued. "With enduring characters and stories filled with heart, humor, and honesty that will stand the test of time."
The "Schitt's Creek" finale will also air on Comedy Central and Logo.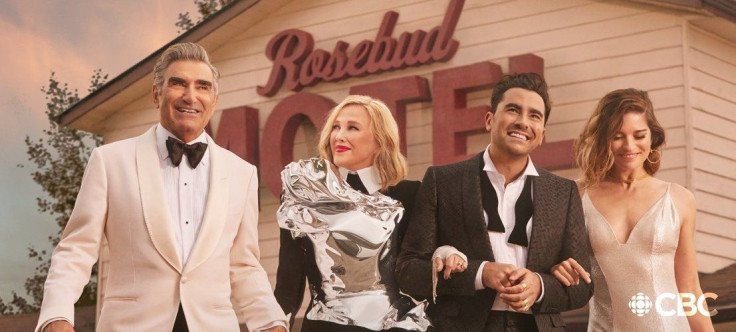 © Copyright IBTimes 2023. All rights reserved.