'Scream Queens' Season 1 Spoilers: Chanel No. 3 Reveals Famous Murderer Connection In 'Chainsaw'; Episode 3 Recap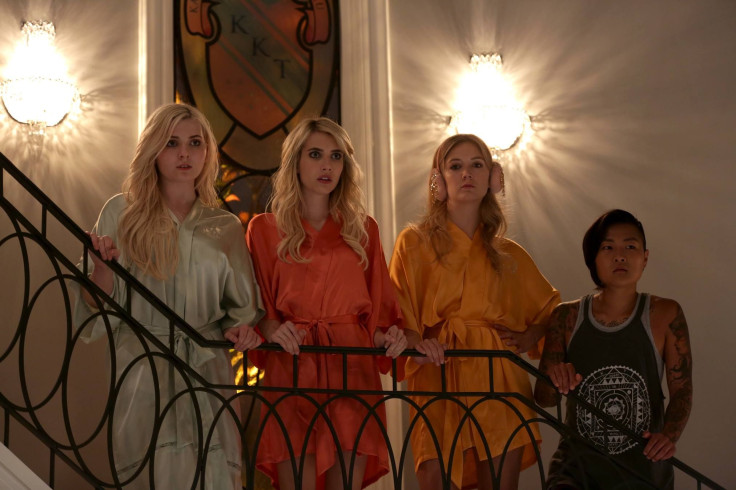 The hunt for the Red Devil continues. In episode 3 of Fox's new hit series "Scream Queens," the sisters of Kappa Kappa Tau continue to be hunted by the masked murdered. Find out which characters had an encounter with the killer in "Chainsaw."
The episode kicks off with an appearance by the Red Devil. Grace (Skyler Samuels) and Zayday (Keke Palmer) walk into a convenience store talking about Pete (Diego Boneta). Grace says she thinks she misjudged him and that he's likely not the killer. When a person in a Red Devil costume shows up, Grace tazes him. They discover it's a fellow classmate, Eugene, behind the disguise and not the killer.
Back at the Kappa house, Chanel (Emma Roberts) finds Chanel No. 2's (Ariana Grande) body missing from the freezer. Chanel No. 5 (Abigail Breslin) says she made the discovery. She also informs Chanel she no longer wants to be apart of her antics. Chanel threatens that she will "destroy" her.
During a vigil, the girls discover that their fellow classmates are dissociating themselves with Kappa, in the hopes of not being killed by the Red Devil. Chanel approaches Chad (Glen Powell) about how he's feeling about Boone's (Nick Jonas) death and says she wants to get back together with him. He says he won't because she's the president of the biggest sorority failure on campus. He tells her to "pray that all those donkey faced pledges" get murdered so she can be popular again. Chanel decides to make over Hester/Neck Brace (Lea Michele) in order to win back Chad's affections, unveiling her as her new Chanel No. 6.
During the vigil, Dean Munsch (Jamie Lee Curtis) announces she will be changing the school's mascot following the recent deaths to Coney the ice-cream cone. Coney soon after meet his tragic death when the Red Devil attacks him with a chainsaw.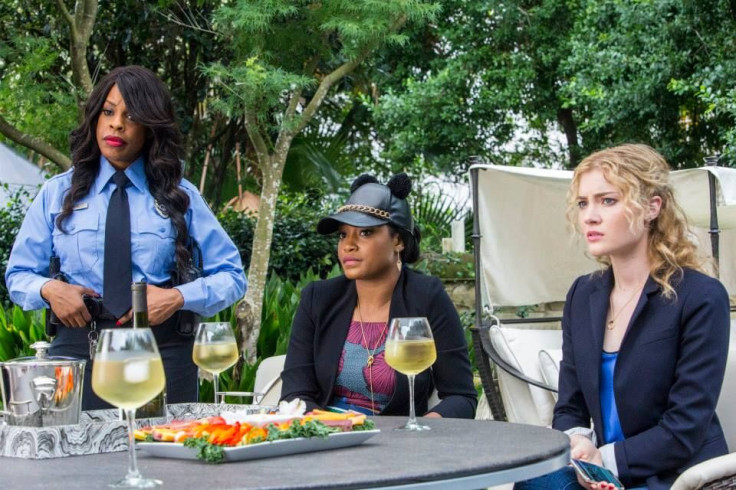 When Grace and Zayday begin to investigate into Chanel No. 2's disappearance, they find a blood stain on her carpet. They join security guard Denise (Niecy Nash) to go to Chanel No. 2's home and see if she's alive. Her parents tell the girls they think she's been drinking again. They also reveal that she used to have a fling with Chad and that he spent Thanksgiving in their home. They even produce a note written by Chad to their daughter. Chanel No. 5 and Chanel No. 3 (Billie Lord) later reveal they also went on dates with Chad.
After discovering the truth about Chad, Grace tells Pete she thinks he may be the killer and the baby that was born in Kappa house in 1995. Pete shares his own findings. He was able to track down one of the girls' names he found in Dean Munch's office file about the baby's birth and bathtub death. They decide to go on a road trip and hunt down the girl.
Inside the house Chanel No 3. approaches pledge Sam (Jeanna Han) and says she wants to be best friends because she has a secret she needs to share. She reveals that though she's a member of the Swanson frozen dinner family, her real dad is a famous murderer — Charles Manson. She says she's not the killer and needs an ablibi when the next murder happens to prove she's not guilty, despite her biological dad's deadly past.
Chanel No. 3 may not be the own Kappa capable of murder. Denise tells Zayday she suspects she may be the killer after finding out she houses a chainsaw under her bed and loves ABC's "How to Get Away With Murder."
Meanwhile the Dicky Dollar Scholars discuss Boone's death. Chad says he thinks his buddy was murdered, despite some speculation he may have committed suicide. As viewers will remember in episode 2, Boone did not die, but rather appeared to be in cohoots with the Red Devil. Chad says they will go after the Red Devil to revenge their brother's death. The brothers manage to find not one, but two Red Devils. Equipped with chainsaws, the Red Devils fight the Dicky Dollar Scholars. When one of the Red Devils goes to kill Chad one of his brothers runs to save him and gets his arms chopped off.
After catching Gigi (Nasim Pedrad) attending Grace's dad Wes' (Oliver Hudson) college class, Dean Munsch asks her to meet. She informs the former Kappa she needs her to move into Kappa house for a week to help her keep an eye on the girls. After they move in, Gigi is unable to go to sleep listening to Dean Munsch's slasher movie noise machine and decides to sleeps on the coach. She's only there for a moment when the Red Devil appears, chainsaw in hand. Wes hears the commotion from outside and tries to save her. He's stabbed in the arm in the process. When Dean Munsch comes out of her room, Wes says he thinks she's the killer.
Do you think Dean Munsch is the killer? Share your predictions in the comments section below!
"Scream Queens" Season 1, episode 4 airs Tuesday at 9 p.m. EDT on Fox.
© Copyright IBTimes 2023. All rights reserved.