'Scream Queens' Season 1 Spoilers: Grace Uncovers A New Clue About Who The Baby Is In Episode 4 [RECAP]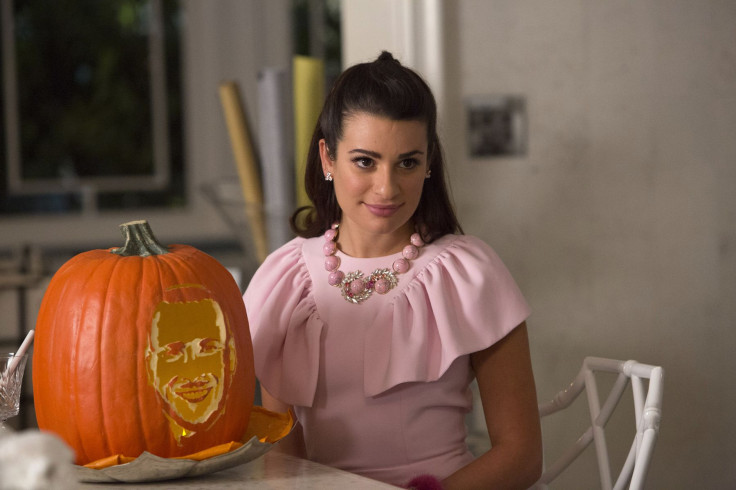 It's Chanel-o-ween, everyone! And yes… it's just as terrifyingly amazing as it sounds. In an attempt to boost her popularity, the Kappa Kappa Tau president (Emma Roberts) spends episode 4 of "Scream Queens" giving her "precious donkeys" the gift of gore by sending her "frumpy" fans severed heads and razor apples.
But in an ironic twist, it's Chanel who gets the most frightening present of all when Zayday (Keke Palmer) reveals during KKT's pumpkin carving session that she's running for sorority president -- against Chanel.
Earl Grey (Lucien Laviscount) is the one who urges Zayday to go head-to-head with Chanel, telling the poli-sci major that she has what it takes to beat the pumpkin spice-loving president. But Chanel promises the presidential-wannabe that this will be the last political race she'll ever run in … because she's going to kill her.
"I will assure you, you will not be winning an election anytime soon," Chanel says before threatening Zayday's life. The chapter president then spends the night sharpening her knives and coming up with a way to one-up Zayday's haunted house charity fundraiser.
While the Chanel's brainstorm a chilling event of their own, Dean Munsch (Jamie Lee Curtis) gets questioned by the police for the attack that took place in episode 3 of "Scream Queens." But the authorities aren't convinced the college's longtime administrator could be capable of something so horrific -- despite the questionable timing of the attack. [Munsch was "in her room" while Gigi (Nasim Pedrad) and Weston (Oliver Hudson) were attacked by the Red Devil.]
After Munsch gets questioned, Denise (Niecy Nash) abruptly runs in to the sorority house to let authorities know that a Dicky Dollar Scholar was laying dismembered in the street.
"I, Denise Hemphill, am gonna solve this crime," the security guard promises. But we're a bit skeptical considering Denise's crime-solving tactics involve stalking Zayday's Twitter account. If anyone is going to solve this Fox murder mystery it's Grace (Skyler Samuels) and Pete (Diego Boneta), who track down a 1995 KKT member while dressed as Kate Hudson and Matthew McConaughey from the iconic rom-com "How To Lose a Guy In 10 Days" in honor of Halloween.
"You come to talk to me about that night at Kappa house?" the woman says bluntly, revealing she's waited 20 years for someone to find her to discuss the terrible events that took place that night. "My life is split. Before that night and after," she says, confirming to the duo that the rumors are true.
A flashback from that dreadful night reveals Ms. Bean (Jan Hoag) wanted to turn Sophia's (McKaley Miller) dead body into sausages. But Munsch ultimately decides to bury the body.
"You're all going to have to leave school immediately," Munsch tells the sorority girls as they bury their sister, adding that she will take care of things so that her career isn't jeopardized by a dead pledge. "You're going to remember me as I truly am: Your guardian angel."
The former KKT member explains that Munsch "put the fear of God" into them that night.
"She's the devil that one," she says, before revealing that the baby born that night was a girl.
Luckily for Grace, she received that information before her source became another victim of the Red Devil.
After her meeting with the KKT member, Grace questions her father about the questionable death of her mother.
"Pretty convenient that she died in a fire," Grace begins. "All of her stuff got burned."
Weston's daughter then asks why he's lying to her.
"Something does not make sense. Why am I the only person in Kappa without a mother?" Grace says, suggesting that she might just be the baby who was born in the bathtub the night of Sophia's death. Is it possible Grace's father could be the killer, seeking revenge for the death of the mother of his child?
Grace then meets up with Pete in a run-down house -- one that Zayday reveals she's using as the location for her haunted house. But both Pete and Denise urge Zayday to reconsider, revealing the chilling history of the home. According to the bookworms, the house has been haunted by a wailing woman in black since 1995 -- the same year the Sophia gave birth to the mystery baby.
But the story only excites Zayday, forcing Denise to question the freshman's motives.
"I think the reason you want a haunted house party is because it's like a buffet for murderers," the security guard says, insinuating once again that Zayday is the murderer. But Zayday argues back that she knows why Denise has it out for her and it's because Denise once pledged for KKT but was rejected because she was black. Now Denise looks at Zayday and sees what she could have been -- if only she was given the chance to join KKT.
But Denise should be happy she's not a member of KKT -- after all, the sorority members are disappearing one by one. Chad (Glen Powell) and Hester (Lea Michele) uncover where all the missing bodies are when they pay the haunted house a visit prior to Zayday's fundraiser to "attack the crack." But while looking for the perfect, spooky room they find the decaying corpses of all the Red Devil's victims.
However, dead bodies don't stop Zayday's event from taking place. Not even the police will shut down the haunted house after hearing the raving reviews. While on the phone with the authorities in an attempt to shut the haunted house down, Zayday is kidnapped by a mysterious masked killer.
Grace then spends the rest of the night questioning Zayday's whereabouts and theorizing with Pete about who the wailing woman is. In the last scene of episode 4, it's revealed that the figure in black is none other than Gigi.
"Scream Queens" airs Tuesday nights at 9 p.m. EDT on Fox.
© Copyright IBTimes 2023. All rights reserved.