SEC Chairman Denies Smirching Legal Position Around Crypto, Says There's No Need For More Digital Currency
US SEC chairman Gary Gensler denied smirching legal position against cryptocurrency, saying there is no ongoing crackdown in the crypto industry and that America does not need any more digital currencies since it already has the dollar.
A few hours after the SEC published the press release announcing it filed a lawsuit against one of the world's largest cryptocurrency exchange platforms Coinbase, Gensler took to live television to tell the public that there is no need for more digital currencies.
"We don't need more digital currency. We already have digital currency. It's called the U.S. dollar. It's called euro. It's called the yen. They're all digital now," the SEC chairman said on CNBC's Squawk Box.
Gensler also responded to the perception that the Wall Street major regulator he is leading is making moves in an attempt to crack down on the emerging industry.
The SEC head honcho noted that the agency is utilizing "all available tools," which include having discussions with market players to ask for their compliance with the set regulations in the country.
On Monday, the financial regulator filed 13 charges against Binance, which is the world's largest crypto exchange by trading volume and Coinbase on Tuesday.
"These trading platforms, they call themselves exchanges, are co-mingling a number of functions," Gensler said at one point in the interview. "In traditional finance; we don't see the New York Stock Exchange also operating a hedge fund, making markets, and as we alleged in Binance, having a sister organization flooding the platform with transactions called wash trading," he added.
The lawsuits against Binance and Coinbase, according to the SEC chairman, took a while to produce due to the amount of work required.
"It takes time. We do things by the book," Gensler shared, noting "it's a lot of gumshoe, walking-the-beat investigation to build a case like what you've seen alleged in a 136-page complaint."
In its press release, the SEC shared that its lawsuit against Coinbase was filed in the US District Court for the Southern District of New York on Tuesday.
Aside from operating an unregistered exchange the SEC "alleges that Coinbase and CGI violated certain registration provisions of the Securities Exchange Act of 1934 and that Coinbase violated the securities offering registration provisions of the Securities Act of 1933."
The lawsuit "seeks injunctive relief, disgorgement of ill-gotten gains plus interest, penalties, and other equitable relief," the press release noted.
Meanwhile, the ASC, a task force consisting of multiple state securities regulators, released a Show Cause order against Coinbase on Tuesday alleging that the exchange violated securties law through its staking program.
Coinbase has 28 days to show cause on why it should cease and desist from offering its services and operating its platform.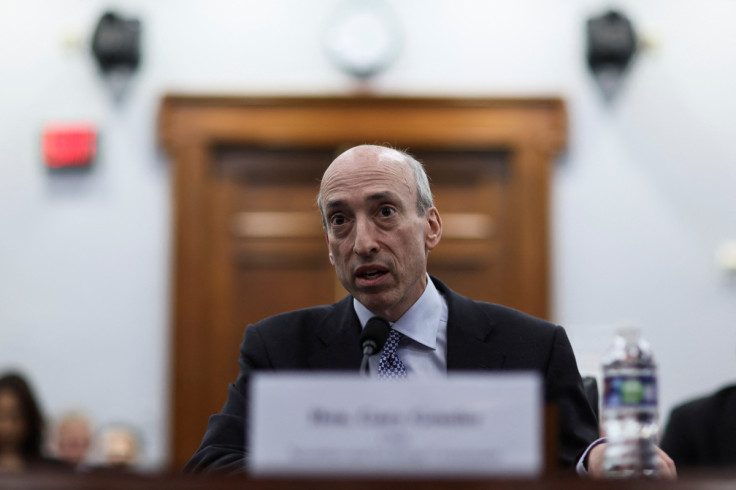 © Copyright IBTimes 2023. All rights reserved.